mrsmiley
Tiki Socialite

Joined: Apr 03, 2002
Posts: 3187
From: Las Vegas, NV


Posted:

2005-02-01 10:45 am

&nbspPermalink

This event is only barely tiki because he may only have a few "tiki" related sldes to show, BUT his slides shows are fantastic and I highly recommend going to them!! I give it a TWO ZAZZ up rating!

"Charles Phoenix <godblessamericana@yahoo.com> wrote:
>
> Hello!
>
>
>
> Tickets are on Sale now for
>
> THE RETRO VACATION SLIDE SHOW TOUR of the USA
>
> February 25, 26 & 27, 2005, Friday & Saturday, 8 p.m., Sunday,
2 p.m.
>
> Curtis Theater in Brea. To order tickets 310.506.4522 or
>
> http://www.ci.brea.ca.us/section.cfm?id=385
>
>
>
> Tickets go on sale next Thursday February 3 for
>
> CHARLES PHOENIX'S TOUR OF DOWNTOWN LOS ANGELES
>
> Experience the staggering similarities between downtown and
Disneyland!
>
> Tour dates: Saturdays and Sundays March 5, 6, 12 & 13, 2005
>
>
>
> And now for the Slide of the Week: BALI HAI RESTAURANT,
SHELTER ISLE,
> SAN DIEGO, 1962. On the marquee: EXOTIC CANTONESE CUISINE –
DANCING
> TONIGHT – POLYNESIAN FLOOR SHOW - near the marquee: A 1959
Rambler.
>
>
>
> Last week I couldn't leave San Diego without enjoying a
tiki-taste-treat
> sensation of the highest order- the lunch buffet at the Bali
Hai.
> Architecturally the restaurant is a cross between a Tiki hut
and a
> flying saucer.
>
>
>
> You may arrive by boat. They have a dock. It is on Shelter
Isle after
> all. But I arrived by car. The first thing you notice when you
get out
> of the car is what they call "The Goof" on the roof. Upon
closer
> inspection he seems to be half man-half tiki donning a chef's
hat and
> large hoop earrings similar to those worn by the lord of the
manor, Mr.
> Bali Hai himself, a half Mr. Potato / half Tiki God who greets
customers
> at the front door. Like countless others and I have been
before, I was
> charmed by his big wide eyes, red lips, hoop earrings and
friendly
> spirit (you can see him on the left in the slide).
>
>
>
> Once inside, I ogled the vintage décor until it was upstaged
by the
> lunch crowd that I would be dining with: a group of sensible
seniors
> that were most likely bussed in from somewhere far less
exotic. Together
> we lined up at the bank of chafing dishes helping ourselves to
sweet and
> sour pork, chicken chow mein and macaroni and cheese - which
by the way
> are especially good when stirred together on your plate into a
> pan-Americana goulash. And when washed down with a big
gulp-scale mai
> tai served in a Mr. Bali Hai souvenir Tiki mug – your stomach
will thank
> you. If you can bear to take your eyes off of your plate or
the buffet
> table, the view across the bay to the city's skyline is
absolutely
> picture perfect. One wonders (but not out loud of course) how
this space
> age Polynesian restaurant has survived on this perfect plot of
land for
> more than five decades.
>
>
>
> After I piled my final plate high with a slice of lemon cake
decorated
> with real live orchids and cottage cheese garnished with rip
kiwi slices
> (I eat healthy), I stumbled into the gift shop and just
couldn't resist
> a pair of Mr. Bali Hai salt and pepper shakers. Yes, any
restaurant with
> a gift shop is VERY special. And the Bali Hai is no exception!
>
>
>
> Here to you and another 50 years of the Bali Hai!
>
> Charles Phoenix
>
>
>
> P.S. Save the date
>
> June 16, 2005 THE RETRO SLIDE SHOW TOUR OF SOUTHERN CALIFORNIA
under the
> stars at the John Anson Ford Theater in Hollywood.
>
>
>
>
>
> http://www.godblessamericana.com "
_________________
I'm the most thirstiesterest of all!
TRADER VIC'S, Vintage, Vegas & more on EBAY 1957SPUTNIK
http://shop.ebay.com/1957sputnik/m.html
If you like it, it is ZAZZ! If you don't it is RAZZ!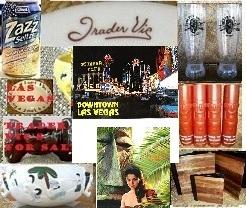 &nbsp


&nbsp