creativenative
Tiki Socialite

Joined: Feb 17, 2012
Posts: 147
From: Island of O'ahu


Posted:

2013-06-20 06:09 am

&nbspPermalink

First, great thread Kailuageoff. More Langford & Hall trivia. The first photo on page one (colorized) of this thread is from the movie BAMBOO BLONDE her only South Seas movie where her character didn't go to the South Seas. I posted a picture of nose art from the movie in the Nose Art thread. The girl on the nose is Francis but I didn't mention it because I didn't know she had this tiki presence.



John Hall has a lot of South Seas history as mentioned by Kailuageoff. But a couple more interesting facts about his part Tahitian relatives was that his cousin Benny Chapman who you sci-fi/monster fans will know him as the Creature from the Black Lagoon. He was a tall 6'6" Tahitian dancer so the creature was imposing. Another close relative (and maybe BigBro knows this already) is the famous late cinematographer Conrad Hall. Yes Conrad was part Tahitian.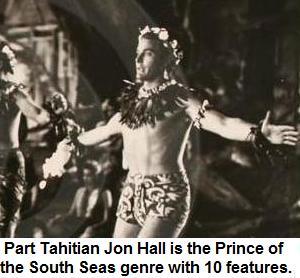 last three from the southseascinema.org website

P.S. in Lamour's biography she states she later avoided Hall because he was a womanizer, a ladies man. Weren't they all in Hollywood?

[ This Message was edited by: creativenative 2013-06-20 06:12 ]

&nbsp


&nbsp