HopeChest
Tiki Socialite

Joined: Oct 19, 2015
Posts: 381
From: East Bay, CA


Posted:

2017-04-06 12:13 pm

&nbspPermalink

Not sure if any of you are familiar with the show "Face Off" but it's a fantastic show of incredibly talented prosthetic makeup artists who create original characters according to that episode's theme. This upcoming week (Tuesday night) is tiki themed and the in-progress pic has me SO jazzed:




"The final five must create a representation of a Hawaiian god or goddess" - BRING IT!!

http://www.syfy.com/faceoff


&nbsp


&nbsp

mike and marie
Tiki Socialite

Joined: Jun 24, 2008
Posts: 352

Posted:

2017-07-03 7:07 pm

&nbspPermalink

Looking for tiki (and Witco) on Cannon lately.

Not much on the first two seasons, but something interesting on season three (autumn/winter 1973). Two episodes featured a restaurant that was very obviously a Tiki palace at one point, probably in the 60s, but was already undergoing Tiki Devolution as it was captured for the episodes.

Looks like pretty much standard mid-late century modern restaurant fare: big salad with whole tomatoes and ham slices, basket of bread wrapped with cloth napkin, steak plate ... but look at the bamboo in the background and the lauhala matting walls!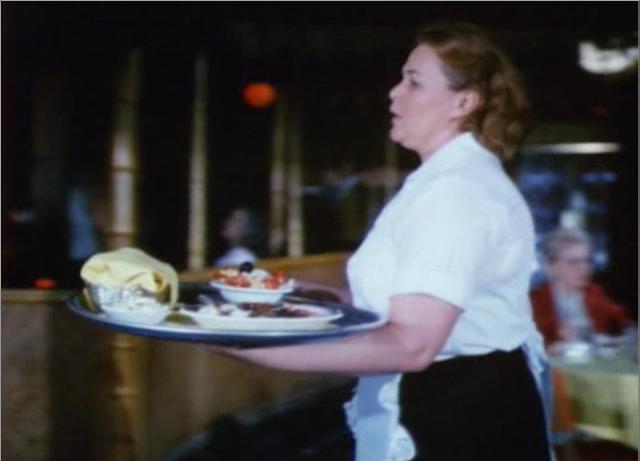 Various shots of the interior show interesting lamps, raincape matting, and what looks like an actual tiki back on the wall!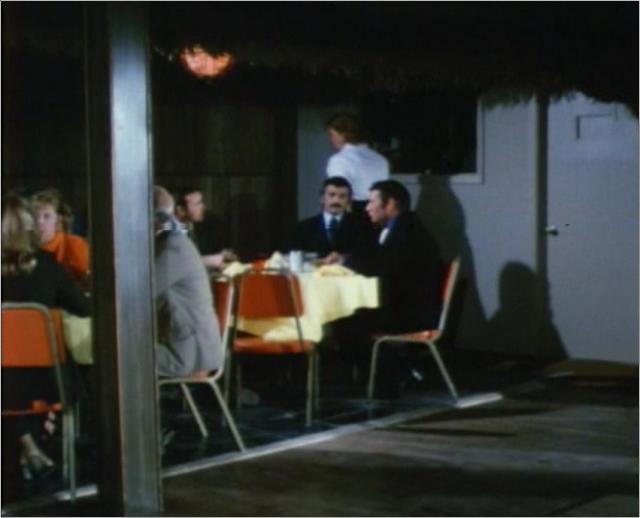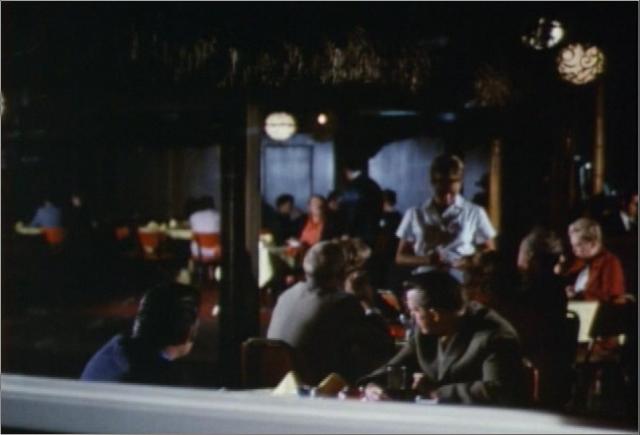 Then there is ... something over there that looks 'tiki'. CBS did a lousy job with the Cannon DVD set, this looks like 16mm prints made from copies from copies of syndication prints, so this was the sharpest we could get. In this sharpened frame it looks more like a statue of a woman...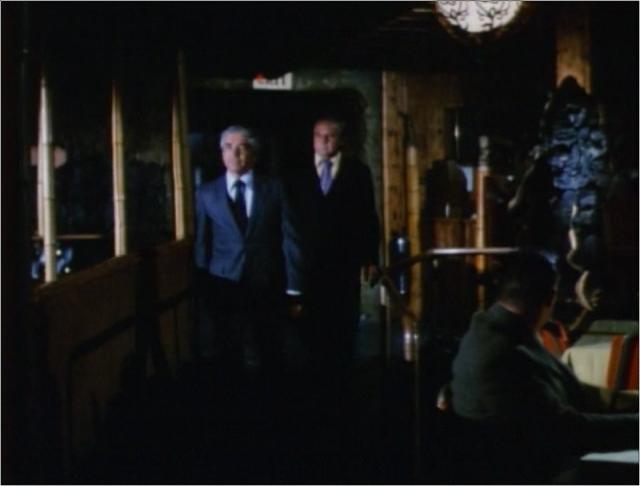 One of the two episodes that features this location takes us into the back office, where there's clearly lauhala matting all up on the ceiling ... and in a true Tiki Devolution state, it's also already halfway torn off!




They showed a brief clip of the front of the place and the sign at one point: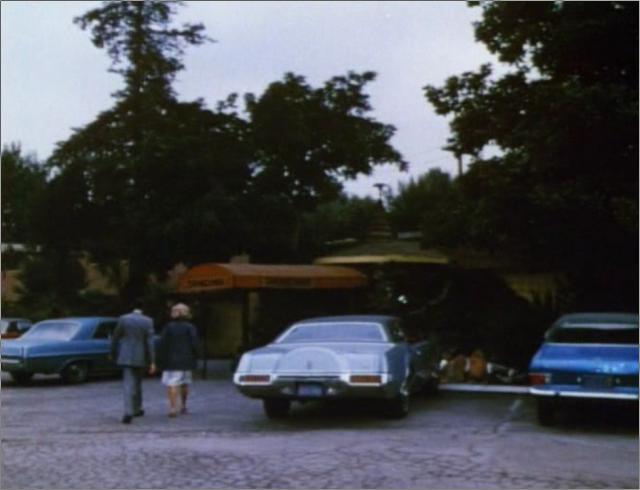 Moorpark Inn, eh? Time to fire up the Google!

Our crack research uncovered that this was "The Beautiful and Romantic MOORPARK INN," in operation in 1973 in Sherman Oaks at 13321 Moorpark St. They had singles dances then and were pushing the "banquet room" as a selling point.

Digging deeper we found it was originally one of the old Casa Escobars. From gossip columnist Paul V. Coates' "Confidential File" in the LA Times, May 2 1959:

"Dear Paul:

"You are cordially invited to a 'Fiesta de Periodistas' (Press Party en ingles) to be held Tuesday, May 5, from 5:30 p.m. to ???? at the exotic new Caso Escobar, 13321 Moorpark in Sherman Oaks.

May 2, 1959, JFK
"This new Mexican restaurant is simply fabulous! You'll think you're in a tropical Aztec cave somewhere south of Acapulco!

"The gurgling water fountains, the bar, the jutting volcanic rock, the tropical Mexican raincoats, the fantastic pink and blue lights, the Bull Room with its painting of Lady Godiva (a female nude)..."

(signed) Vance Graham, 13321 Moorpark St., Sherman Oaks"

Sounds pretty amazing! This was the inchoate 'Aztec' fad in restaurants from the time, which although somewhat popular certainly got overshadowed by Tiki!

And turns out it was mentioned here on TC before: Tiki Shaker pointed out on here in 2009 that it had the 'Aztec Dining Room.' He also posted a couple cool shots on there that shows the lights and some fountains up close.

Now it all makes sense. That wasn't a tiki up above, but an Aztec mask. And in this image below, Cannon's chasing a guy out a back service door, and here by the fountain and the strange hootchie lamp there's a lot of weird stuff on the walls: and pretty obviously old Aztec stuff from the Casa Escobar that's been painted over!




So ... no tiki after all, but a place mentioned in a 2009 thread on Tiki Central. And in
Tiki Shaker's postcard pics you can see raincape matting; did they also have bamboo? If not, then maybe this location was a half-baked tiki joint for a very short time ...

And for the final update: the building's been torn down, now it's a stripmall with a 7-11 (some cosmic joke left for us time travelers), but some of the trees can still be seen in the background ... and behind it are the tall thin palms that are common at urban archeological sites of former Tiki palaces!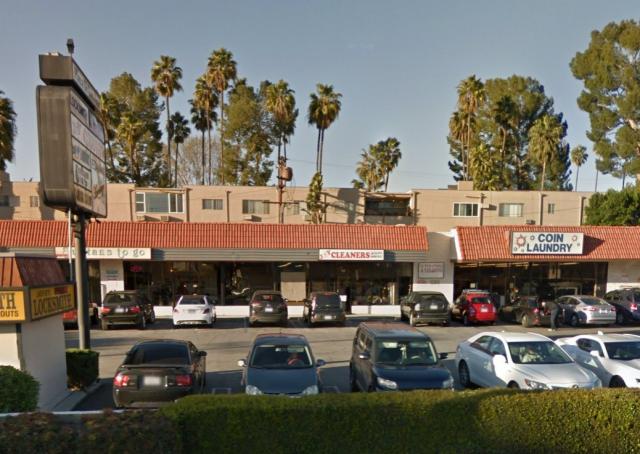 [ This Message was edited by: mike and marie 2017-07-03 19:13 ]

&nbsp


&nbsp