I dream of tiki
Tiki Socialite

Joined: Jan 12, 2004
Posts: 500
From: Pittsburgh, PA


Posted:

2005-06-06 7:02 pm

&nbspPermalink

"Here is a selection of additional Trobriand items and other things"

"Two beautiful blond bowls piled on top of each other. True refined Trobriands work, carved with shell pieces and other primitive tools and decorated with inserts of mother of pearl."


"Inside this one is a lime container from the Trobriands."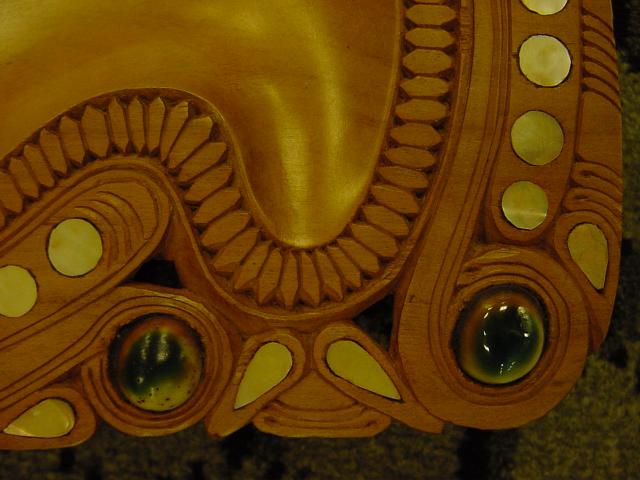 Detail of first bowl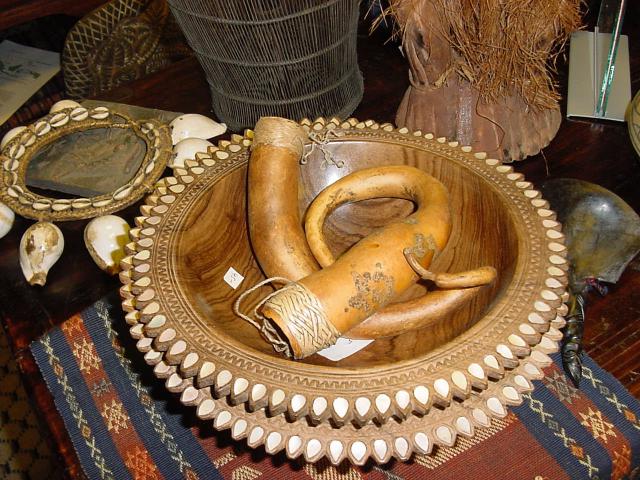 Please note the Dani phallocrypts from Irian Jaya in the second bowl.



"A Trobriand Bowl with doves. As all these pieces are, a beautiful piece by a master carver."


An aside about the lime and the lime container seen above.
"Traditional Lime containers (used by men) from the remote and rarely visited Trobriands Islands (Pacific Northeast of Papua New Guinea) are made of gourds that have been grown locally then dried. The yellow plaiting is stripped from the inside of the seedpod, the brown from the outside. The neck is adorned with fine minute weaved basketwork which fiber strands derive from the banana tree and the round body decorated with miniature intricate time-consuming geometrical or animalistic designs usually hand-etched or burnt in all around the gourd (the band of burnt-in designs is typical of 20th century styles). Great care is taken in the motifs and their detail which represent the owner's status. Closing the receptacle is a stopper which center is made out of tightly wound banana leaf capped with a boar tusk, also a sign of power. Coconuts with wooden stoppers were also used. The powdered mineral lime is chewed with betel nut. Special lime pots and spatulas were made from the skulls and bones of deceased relatives as well and increased the bearer's protection from evil.

Gourds such as this one are often called Kambang in Malay, a dialect Melayu Brunei. This is a unique piece and a collector item. A long stick is used to get the lime out of the gourd. The decorated gourd and stick tell something about a man's status therefore a laborious effort is made to create an intricate and rich looking design. Each gourd is thus a one of a kind detailed little masterpiece.

A traditional part of a man's personal paraphernalia in New Guinea and the Trobriands was his lime container and the spatula for betel chewing, a custom practiced on social and ritual occasions. Three substances are actually chewed together: the nut of a palm, which has a hot, acrid taste similar to nutmeg; the leaf, bean, or stem of the betel vine, which is a member of the pepper family; and slaked lime made from burned sea shells or coral or from mountain lime and kept in this container while not in use. Once chewed, the mixture becomes a mild stimulant said to reduce hunger, pain, create a sense of well being, and increase a person's capacity for work.

It may improve the breath, but it also colors teeth and saliva bright red. Some studies say it helps prevent tooth decay, but other studies show an increase in mouth cancer. A used wad of betelnut is spit out, not swallowed. For the non-user, this red spittle along left along paths and roads is the worst feature of this widespread habit."



"Lime powder for sale"

[ This Message was edited by: I dream of tiki 2009-02-21 22:12 ]

&nbsp


&nbsp