JohnnyP
Tiki Socialite

Joined: Nov 23, 2005
Posts: 1692
From: Attica, MI


Posted:

2006-09-17 5:10 pm

&nbspPermalink

Thank you all for the comments.

Gman and Loki- Thanks for the continued support, Hopefully I can carve with you guys soon.

Congatiki- This is the only way to catch these fish up here, but when you cook them they taste a lot like pine, I don't blame you for not being into sawdust flavored fish. Keep up the PNG pieces.

TTT- Welcome to TC. Thanks for your props. You do top shelf work and it is a pleasure to watch those jade pieces come to life.

TikiGap- It is one log for the body and rear lower tail and seven added fins- which I still have a bit more fine tuning to eliminate the gaps. I gave up on the scales for now. The horn took a lot of patience and a real easy throttle finger. Further inside the horn the walls thicken up so it is all not 1/2 inch wall.

Paipo- the Crockhorn will be sepik river dark with chalky paint- similar to what Congatiki has done recently. I just hope mine turns out as good as his.

Finkdaddy- Thanks. I think it weighs about 65-75 pounds.

Here is the last couple small projects. The next project will be a tiki in a style I haven't done before.

Benzart- Thanks, this is the secret lure I use to catch these. Makes the tarpon a bit more tiki, so I am going to use the tarpon as a display mount for this Sociity Island fish hook replica.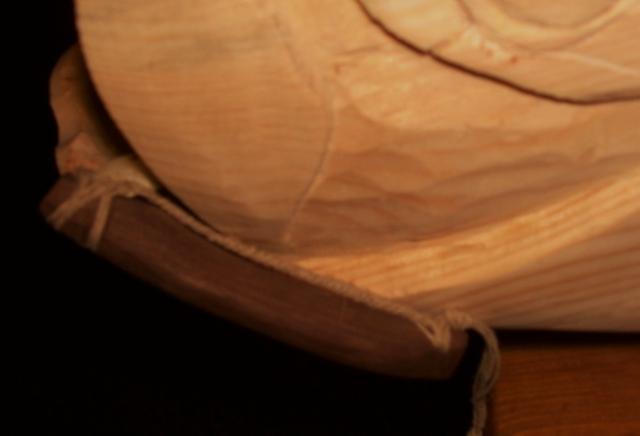 A bull-roar. I have always wanted one of these ever since I heard that old Midnight Oil song. I found a picture of one from New Guinea and thought it would fit the tiki theme. Shallow relief carved. The flash made the white stand way out, it's not that bright. I think the figure on it came out looking like Icus from "Real Monsters" though. It sounds pretty cool when used.




Here is another bone dagger. This again from deer leg-bone.






Thanks for looking and have a great week!
JP



&nbsp


&nbsp