Lake Surfer
Tiki Socialite

Joined: Oct 21, 2002
Posts: 3414
From: Milwaukee, WI


Posted:

2007-07-18 9:56 pm

&nbspPermalink

Paipo, thanks much! They do look like steam whistles now that you say that.

BK and benella... thanks!

McTiki... mahalo! I'll try and snap a couple pics before I paddle out. Cold front still hasn't gone through. Hope we don't get skunked.
Water temps are between 55- 64 depending on upwelling tomorrow. I figure on a 4/3 without boots or gloves... though you never know with this lake.

Thanks Ben, sometimes the logs find me, sometime I gotta hunt. But now my friends know what I'm looking for, so they call me right away.

A.S., mahalo! This one will be a full body in the round tiki with a little stand. I'll do an "ALOHA" relief carve on the base like the one in my bar.

Thanks Finkdaddy! Have a safe trip back, and you're welcome to come by and see it all.

Tipsy, this guy is staying home.

I gotta keep a few of these for the day when I can't do it anymore. I'm on the hunt for another log that can make it's home in the Bamboo Bunker. Just think of how more refined my stuff will be by the time you get yours.



Thanks again everyone... time for an update....

This afternoon I started swinging the 18 oz mallet and working on the body. After an hour the bicep was having no more of that. Time for a rest.
So I started in on the rough sand....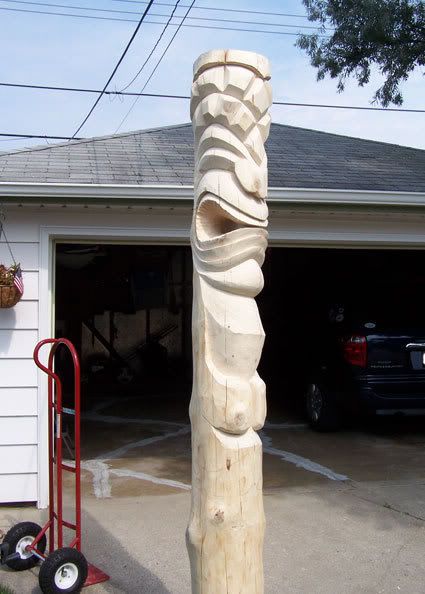 Some more low impact work... detail work on the teeth...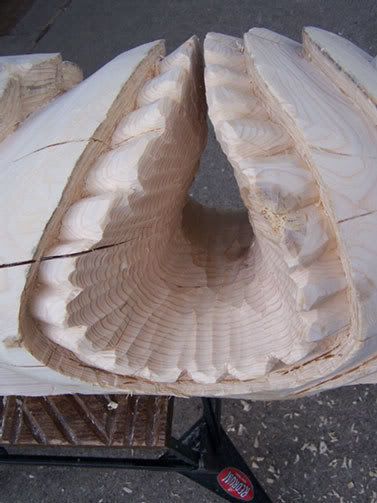 Gonna take a few days off and rest the arm up... and see about that surf on Thursday.





[ This Message was edited by: Lake Surfer 2007-07-18 21:56 ]

&nbsp


&nbsp