Dustycajun
Tiki Socialite

Joined: Nov 16, 2007
Posts: 4859
From: Santa Barbara, CA


Posted:

2016-03-31 3:03 pm

&nbspPermalink



Quote:
---

On 2016-03-31 12:03, Or Got Rum? wrote:
With the advent of DC's great Jerry Williams photo inside the Kon Tiki...I stumbled across this...Jerry and family at Bob Lee's Islander in 1968...Jerry must have loved the Polynesian Pop!


---


Nice one OGR. I did a little more research on the subject. Jerry Williams read commercials on his radio show for Bob Lee's Islander. Here is a clip I found on-line:

"But I did visit Bob Lee's 'Islander' with my girlfriend at the time. It was as great an experience as Jerry had promised during his mouth-watering descriptions of the place for commercials. I wrote a letter describing our wonderful dining experience, but never heard a word from Jerry. Years later, I met a friend who said he had heard Jerry read my letter on the air as a fresh ad for Bob Lee's!

Another web post indicated that Jerry was such a regular that:

"On the drink menu at Bob Lee's islander, it listed the "Head Hunter" cocktail as "Jerry Williams' favorite drink".


I have not seen a menu with that reference, however, that does not mean that it does not exist.




And finally, cleaned up photo of the interior.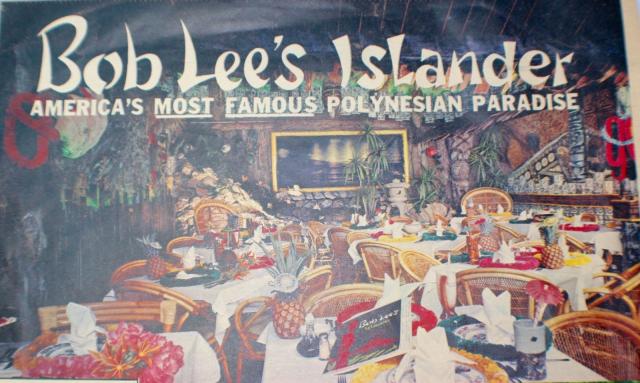 DC

[ This Message was edited by: Dustycajun 2016-03-31 16:18 ]

&nbsp


&nbsp