dogbytes
Tiki Socialite

Joined: Mar 24, 2002
Posts: 2244
From: seattle, wa


Posted:

2008-11-07 9:30 pm

&nbspPermalink

I called the Hawaiian Hut at the Ala Moana Resort to see if they were serving dinner. I was told, they have an All You Can Eat Prime Rib Buffet with Polynesian Floorshow ~ TODAY at 5:30. She said, except for special events, the Hawaiian Hut is usally dark in November ~ but today was a full show! holy cow!! This venue has been discussed on Tiki Central, but I haven't read that anyone had actually been to the Luau.

At 5:20, the front doors were locked, and we were the only people in line. But I had talked to the hostess twice today, and we had reservations.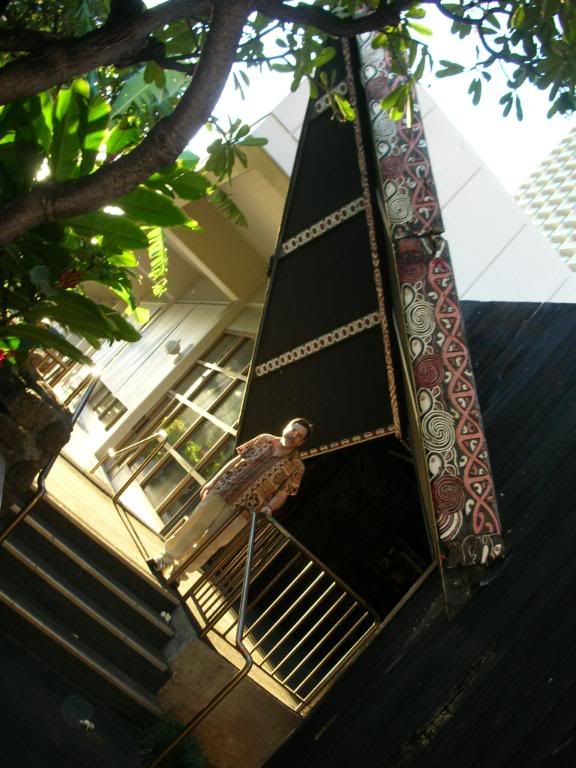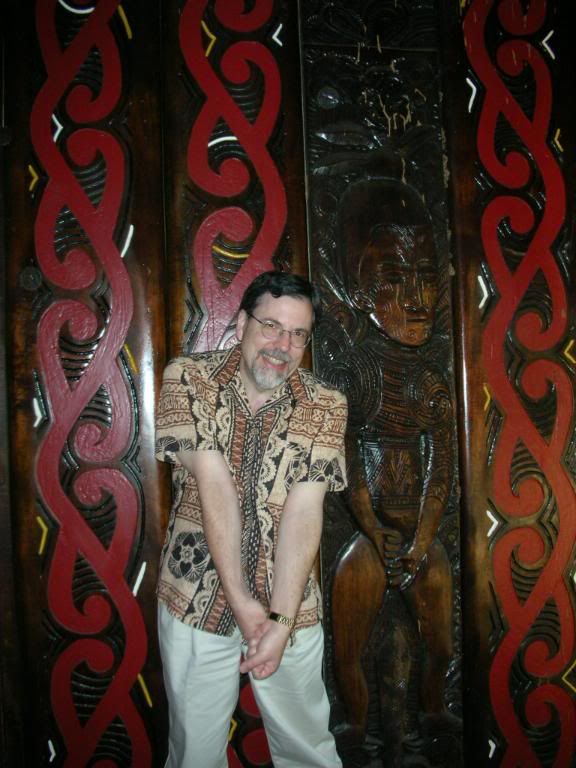 Promptly at 5:30 the doors opened and the manager warmly greeted us. "Don't tell us, we're the only customers" and he said "yes. The new owner shut down for 3 weeks, and all the tour guides are telling everyone we're closed" but he welcomed us in and sat us right in front of the stage. an older Japanese couple came in, and were seated next to us.

Tapa lines all the walls. Wonderful carved moldings accents the railings.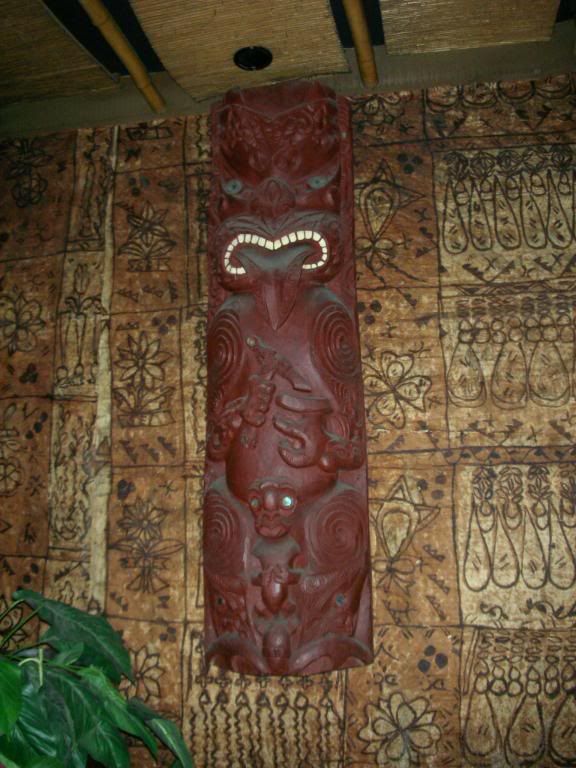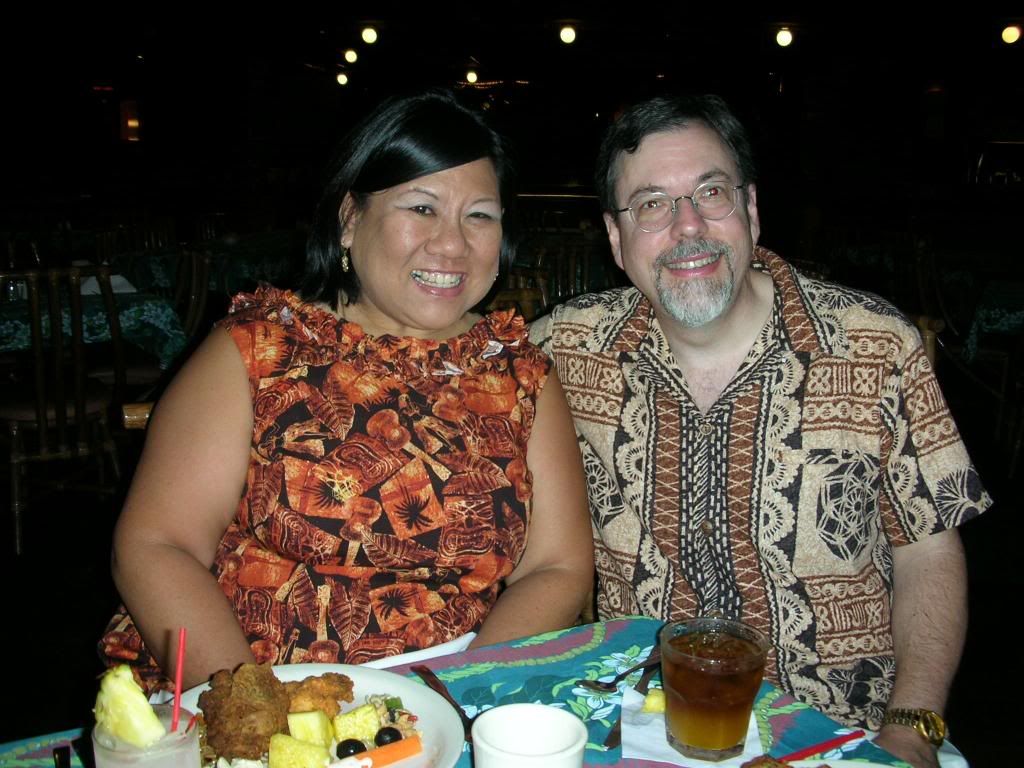 And there is the most gigantic shell lamp I've ever seen. Huge conch and abalone shells hang from a (I'm guessing) 15 foot diameter ring. I couldn't get a great picture, as it was up so high.



The food was, well, ordinary. A couple of pasta salads, Jell-O, fresh pineapple, yakisoba noodles, homemade cornbread and biscuits, salad bar, fried fish and fried chicken (both quite good). The prime rib looked beautiful, a full rack. Unfortunately, it was dry and stringy. . the drinks were god-awful ~ Frank Todd bravely ordered a Mai Tai (yes, it was indeed pineapple-y and syrup sweet). My virgin Pina Colada was undrinkable. It was thick, sweet coconut goo under ice garnished with fresh pineapple (to their credit) and a maraschino cherry that could not sink to the bottom due to the viscosity of the coconut goo.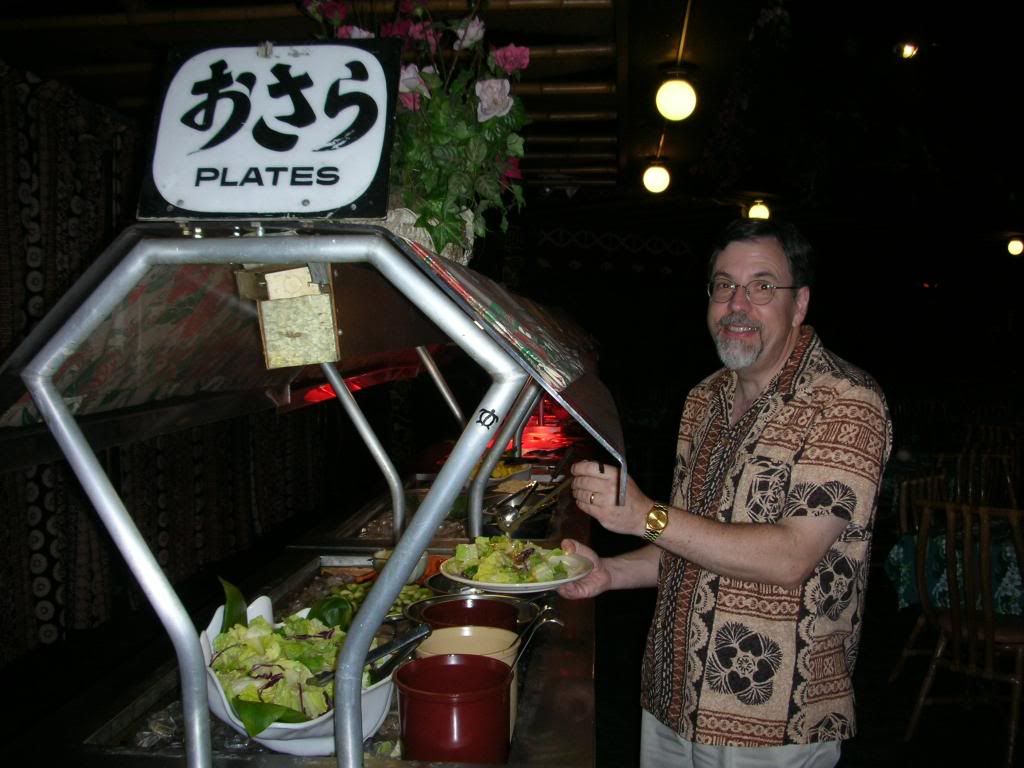 But the floor show. OH MY GOD, the performers gave 100% ~ there was a 4 piece band, 5 dancing girls and 3 dancing guys ~ and one fire-spitting, baton-twirling, body tattooed, Maori Chief who gave an amazing fire dance. THEY FREAKING SET THE FLOOR ON FIRE!!! no kidding, they poured stuff down and lit up a river of FIRE on the ground, INCHES away from us. the heat and smell of kerosene was amazing.

Just like any luau, we "visited The Islands Polynesia through song and dance". There were many costume changes. The 4 of us in the audience were up on our feet a few times. WOW! Crazy, all of this just for us!!

Of course, the "audience participation" portion of the show, ensured we all were onstage, with only the kids there for the late night poetry slam, to watch our antics. The older Japanese couple had a blast wiggling in their hula skirts. The MC lady thanked us profusely for showing up and for all our support. And one of the dancers came down to hug each of us. Frank Todd tipped 50% because we had such a fun time.

The choreographer, Kalo sat behind us for a while, and was called to the stage for a lei and flower presentation to celebrate her birthday!! mega doses of Aloha.







&nbsp


&nbsp