crazy al
Tiki Socialite

Joined: Jun 25, 2002
Posts: 1872
From: CA


Posted:

2006-07-21 01:18 am

&nbspPermalink

here is an item I'm working on for release at My Show in Long Beach....

'06 marks Ten years since the first tiki necklace I carved for mass-production with my 'Realistic Wood Look'...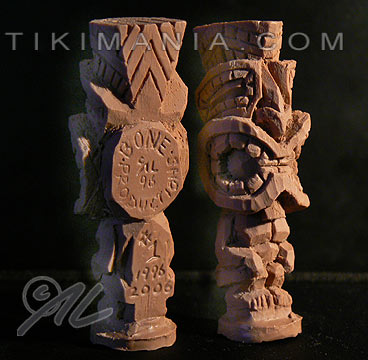 ya right, but I did cast allot of these guys personally in my first few years in the tiki biz.... this was the first of five tiki necklaces that I had in my '96 catalog in natural, green, black and red colors,... also available as keychains.
Back then, other then Tiki King, Coco-Joe's in Hawaii was the only Co. making the neck charms and keychains. They where hard to get a-hold of and soon went out of business... The King is still around
Tiki neck charms where one of the first things Tiki fans asked for. Just under 2 1/2 inches, this guy was considered to big for the majority of the buying public. At $8 a pop they didn't sell all that well ten years ago. At $4 a pop wholesale they proved to labor intensive to cast, stain, drill and string myself... so I stopped making them.

A little drifty toucan told me Tiki Tony found one of these necklaces for sale on the Huntington Beach pier and sent him a carving... he can't sell his hand carved one of a kind drift wood neck charms fast enough for $10....yikes! labor intensive???
Thank the Tikis! that I fund a bag or two of rejects that i stashed way.. i started drilling and staining and stringing... I couldn't sell them fast enough for $10.... till that Tony got so dang popular with real wood tikis...... However all my found rejects sold....

any way as part of my 'ten year' shows, I'm re-releasing this first design with a small addition to the original sculpt....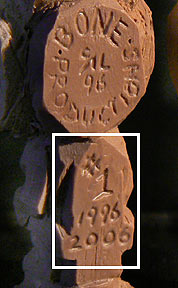 Available in numbered short runs of custom colored resin, in an array of colors....


[ This Message was edited by: crazy al 2006-07-21 01:34 ]

&nbsp


&nbsp