little lost tiki
Tiki Socialite

Joined: Jun 12, 2006
Posts: 7750
From: Orange,CA-right near the Circle!


Posted:

2013-10-07 11:37 pm

&nbspPermalink

Aloha Ohana!
So sorry about the lack of internets interaction
i hope this post and all the art within
make up for the silence....
But first... Let me reply to all these voices from WEEKS ago...
Again,i apologize for the delay....




Quote:
---

On 2013-08-24 21:00, hang10tiki wrote:
Thanx bruddah
Got it hung up in The Honu Hideaway
Jon


---



Thanks again Jon!
I hope it brings you a lifetime of happiness and smiles!
lookie what i found on the internets!

Quote:
---

On 2013-08-27 08:31, danlovestikis wrote:
We love our little lost tiki painting. Beautiful.
When we got home from Tiki Oasis 13 it stayed in the Buzzy Bedroom for awhile.

Now it is hung in the family room.

Thank you Kinny! Wendy

---



Mahalos dear friend! It's always such a rush when i get to see you AND MadDog Mikey in the space of a weekend! Such Love! and Thank you for adopting the Night Drums! I hope they beat in time with the hearts of you and Dan every day!
Quote:
---

On 2013-08-29 18:21, LoriLovesTiki wrote:
LLT -
Your artwork is to die for! I love the little 4x4's that you made up for the $ strapped! That way everyone at Oasis was able to get some LLT love!
wish I was there.... perhaps next year!

---



Why Thank you Lori! i try my hardest... it's the least anybody can do with the gifts we are assigned.
it was nice to be able to have some way affordable stuff for folks.....it made for a lot of smiles and added to the roster of new friends! Such a joy to be able to disperse the painted babies to huts across the land....You should try and get to oasis...it was an absolute BLAST this year....at least,as much as i can remember....
Quote:
---

On 2013-09-06 17:18, hang10tiki wrote:
This just in...
Tiki Farm Website
テδッテつソテつスPingoテδッテつソテつス!
Pingo was designed for us by one of the most animated and well known artists in the Tiki sceneテδッテつソテつス our bottle blonde whacky buddy Ken (aka テδッテつソテつスLittle Lost Tikiテδッテつソテつス)テδッテつソテつステδッテつソテつス Ruzic

Awesome bruddah...
Jon

---



Yeah... it was fun to finally get to see and Hold one of these hefty babies at oasis! ( Holden was busy,so i got my friend Carrie to go buy me one!
and MAN! this Mug is designed with the RUMMY in mind! The orongo bird's head is a perfect place to rest your thumb and ALSO prevents this thang from slipping out of your hand.....plus i reckon with the ease of grasp and hefty weight,it twould be a GREAT vessel to KNOCK somebody OUT with!

All for YOU,dear Ohana.




Quote:
---

On 2013-09-06 21:12, Hale Tiki wrote:
Very, very sad to say that we missed out on the panels you donated for the Ohana auction. We missed the checkout. They were killer. We'll have to grab them next year!
Great job on the TF mug. I want a pair!

---


Mahalo Hale!
The cause is so noble to our scene and i loves me Caroline,so there will always be a few pieces at the auction and a coloring page for the kids in the booklet....Every year til i croak!

Thanks for liking PINGO!
Holden told me they were the Second best-Selling Tiki Farm mug at the Event!
Sooo glad they'll be in so many bars across the globe making people smile and fondle!

Quote:
---

On 2013-09-11 00:54, Tiki Shark Art wrote:
Oh jeepers Creepers...it's all so freakin' beautiful! I just gotta give a little bit of an extra super mega beautiful nod to "the Smart Alek " the acrylic and cel-vinyl on thrift store find 7"x9" What a cool piece! Lovin' ti sooooooo much. U RAWK!

---



Brad! So great hanging with you and the Art Brotherhood a few weeks back!


WACKO LALUZ TIKI TI!!!!!!!!!!!!!!



What a MUG Shot!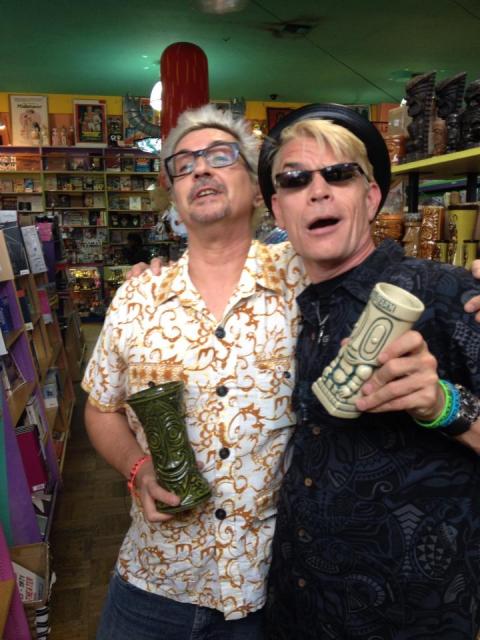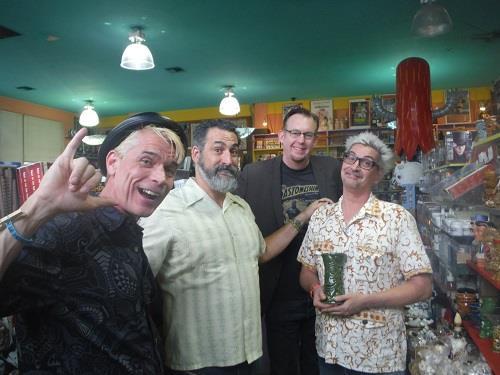 Quote:
---

On 2013-09-14 05:38, hang10tiki wrote:
I just noticed that my LLT piece glows under the black light...bonus

Jon

---
Quote:
---

On 2013-09-14 16:16, Bruddah Bear wrote:


---



Here's an earlier piece where i used a glow-in-the-dark puff paint
so the piece could be viewed during the day and night...

"Cannibal Island"
acrylic,paintpen,and glow-in-the-dark puff paint on canvas
36x36" private collection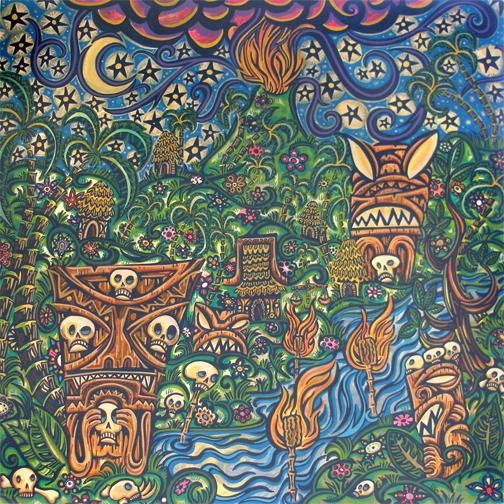 and here it is in the dark....
BAM!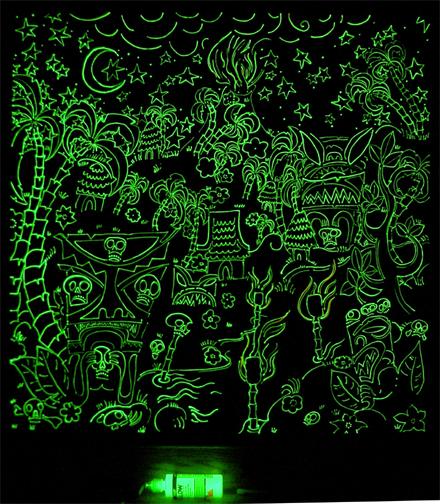 Well... Tiki Oasis was a BLAST!
Met so many new friends
and reconnected
and PARTAYED with my artist brothers
Toe,Doug,Mulder,Grog,VanTiki,Yaniger,the crazy Aussies from kustom lane gallery (whom,i am proud to say...i out-drank and outlasted Saturday night/Sunday morning...)
got to have some chill time with my roomie Thor and got to chuckle and muck about with Crazy Al and empee and my favorite ginger Reesenik....



got to swap with madDog Mike and hug Wendy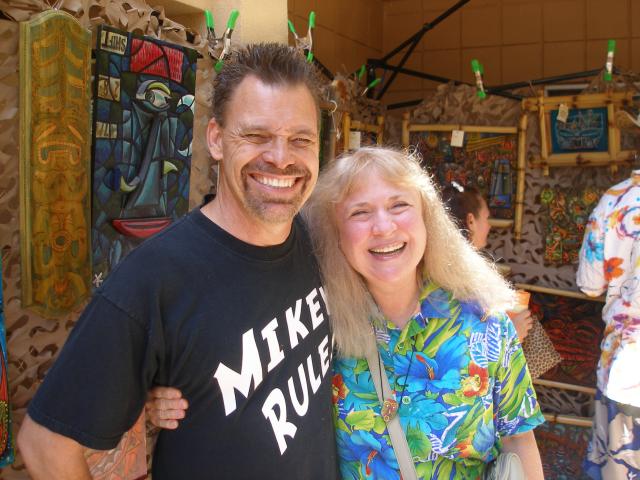 and was pretty amiable and buzzed the whole event....
Thanks Otto and babyDoe...so many memories!
Here's a pic of the vending space with mah jughead hat on!
(DiBroc made it for me YEARS ago,and MAN! it SHINED at the event! mahalos john!)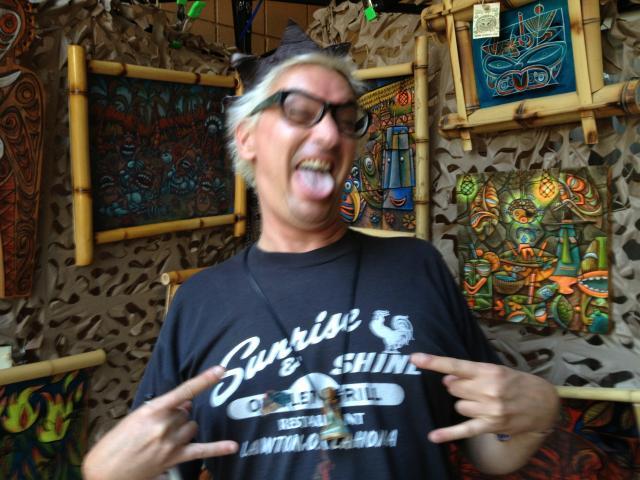 Met a COOL DOG!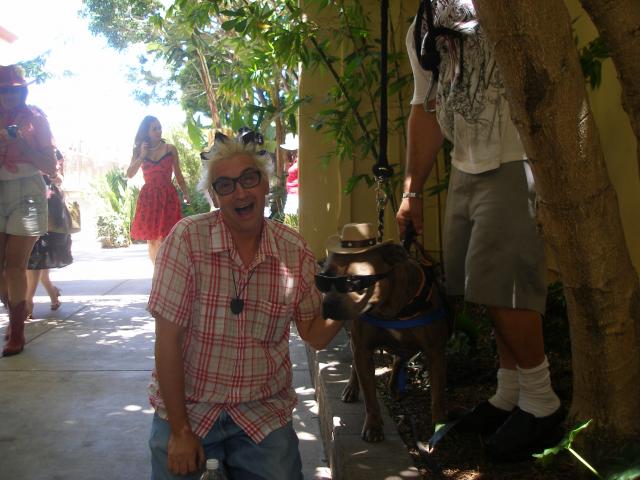 Here's Ernie and i Yucking it up before he became a Minotard...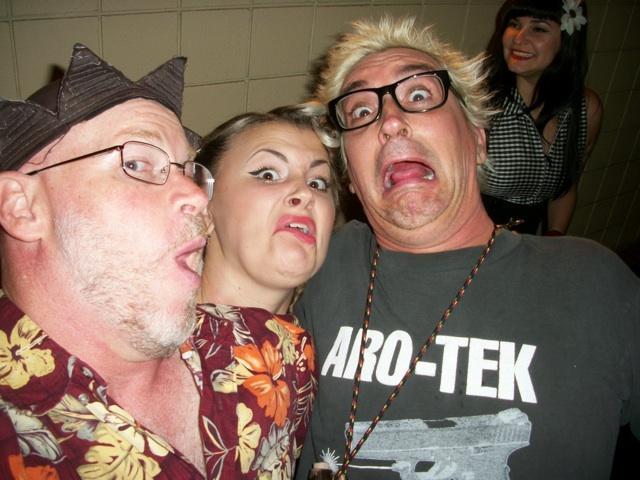 Tobunga and Manuel
Love these Guys!
Always a Smile on these two!



Here's the Booth...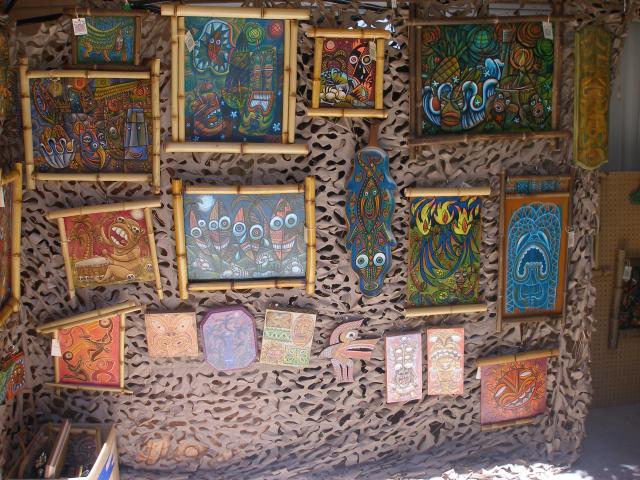 BUT!!!!! the Highlight of the EVENT
(besides Lucha Libre taco Quest with Toe and liza VoodooDoll and Doug and mulder)was the confirmation of a theory i had about Doug horne having a twin..a long lost Normal sized brother...

And i was RIGHT!!!!!!!!!!!!!!!!




Alright.....Enough of the Shenanigans....

Here's some Art....
While it may seem like a lot
it is a mere scratch
compared to the OTHER work
in other genres
as well as TOP SECRET tiki Stuff that i cannot share until i get the GO
(studies and drawings and a Bunch of STUFF that will Astound you Alls)
But that's for another day...

What do we Want?
Time Travel!
When do we want it?
that is Irrelevant...

I'm going to build this up
from these first few entries
which are raw and instinctual and messy and primal
all the way to the latest precise and thought out painting...

kind of tour of both the raw and the polished....

Let us Begin.....

Sometimes the Best compositions
or at least kernels of them
are discovered in the sketchbook
It's where they're born!
the surplus of pages and ability to hide on a shelf
allows the artist to play,to explore
to make mistakes
and to work out and unveil solutions
that later become paintings....

Here are some bar scenes
"Conversation at the Pool"
pencil,ink,and Copic marker on sketchbook page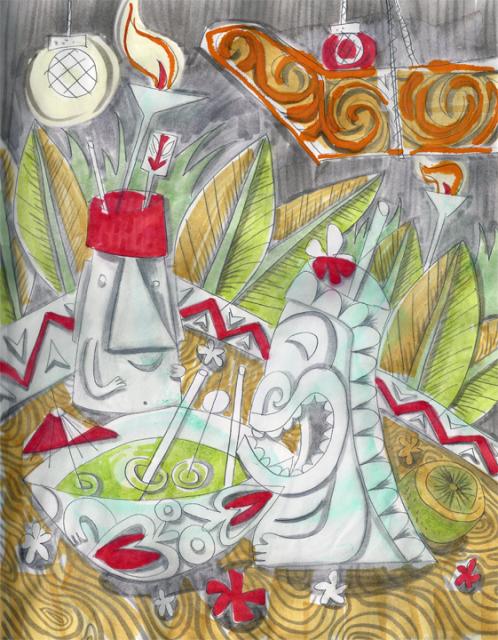 Here's a little peek into how the dynamics of ideas and problem-solving mix together
and flow and evolve and how a purdy painting
can be borne from such humble scribblings!

"study for the Skull Bowl"
pen,and washes of ink on sketchbook page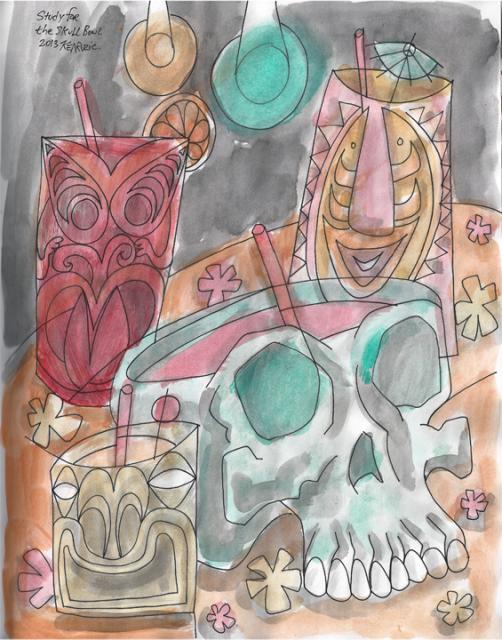 which led to this more fleshed out ink on watercolor paper....

"Composition with Skull Bowl"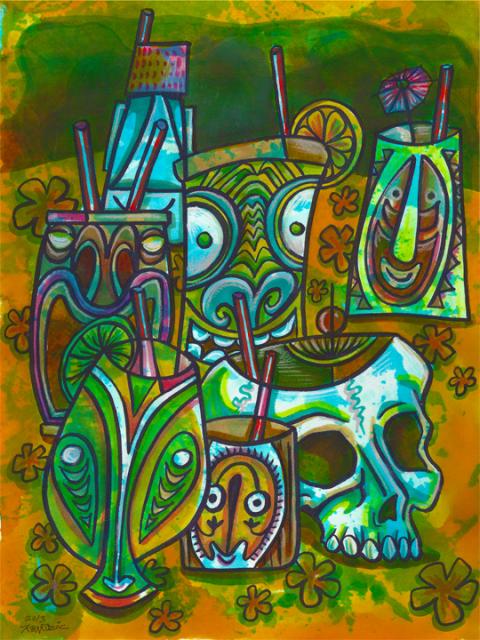 which ended up as this acrylic and cel-vinyl on wood piece...

"the Skull Bowl"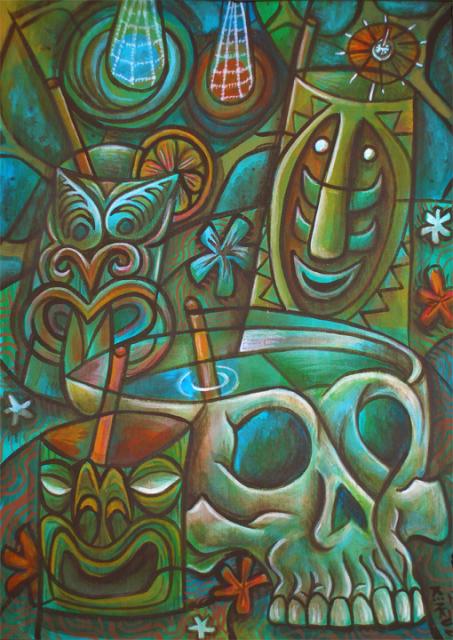 So There! A little insight into how the paintings become paintings!


Here's a piece that is half dominating color scheme,but look closely..
i have written the source of each artifact in pencil....

"study in Gold,Orange,and Lime"
pencil and Copic marker on sketchbook page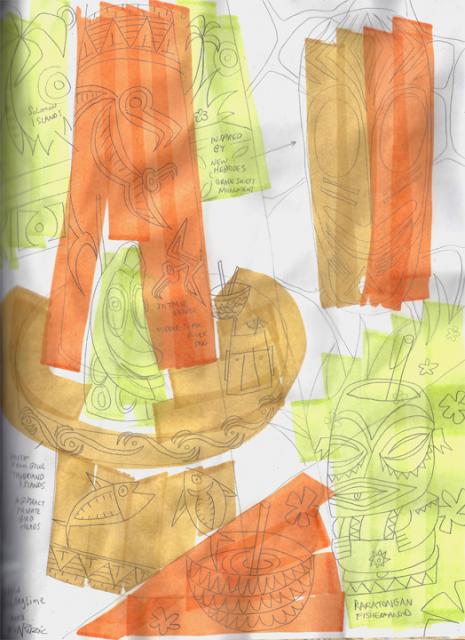 this one has a colorway that i just ADORE!
"the Fish"
pencil and Copic marker on sketchbook page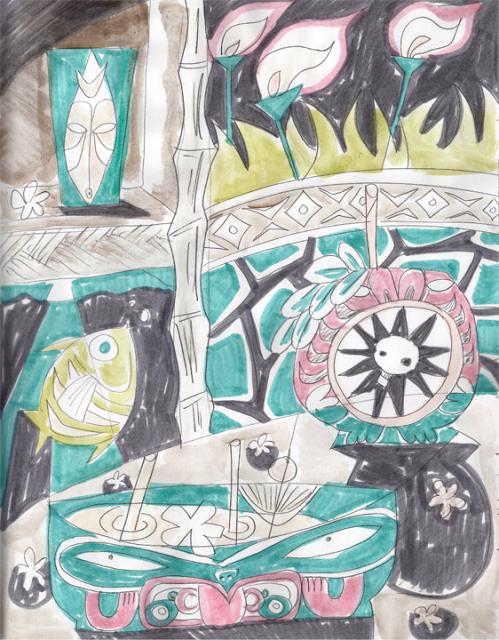 "the Full Table"
pencil and Copic marker on sketchbook page



and then there's just random doodles that are instantaneous
unpretentious,undiscovered,uninvited,surprising
and may provide fodder for a future painting...

like this luau Pig!



some Modernist Primitive Fish



and some vegetation studies
inspired by Balinese art
so lush....



"Guardian of the Ancestor Pool"
watered down Cel-Vinyl and Copic marker on ink and tissue paper stained Aquarelle watercolor paper
12 x 12.75"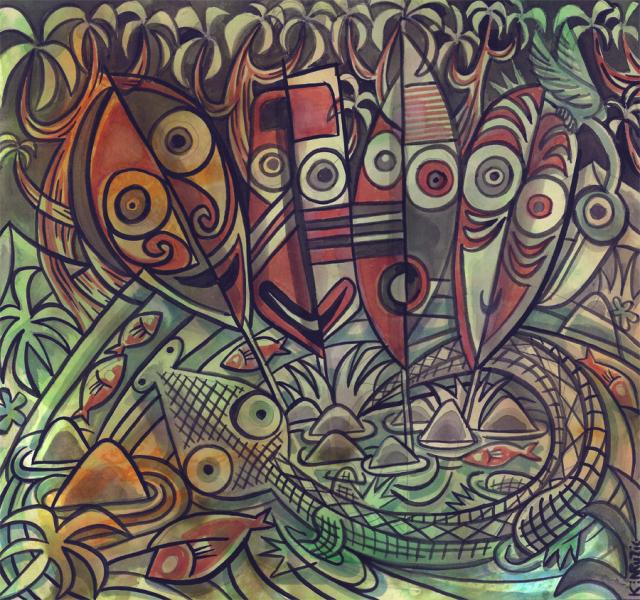 which leads us to THIS!
one of them "just because" pieces
because the time was there
because that BooBen frame was just sitting there...neglected
because i wanted to do a bigger croc/bird/shield/jungle piece
because i wanted to play a lil bit with water....

"the Ancestor Pool"
Acrylic and cel-vinyl on wood
with a Stunning bamboo ben frame!
35 x 38"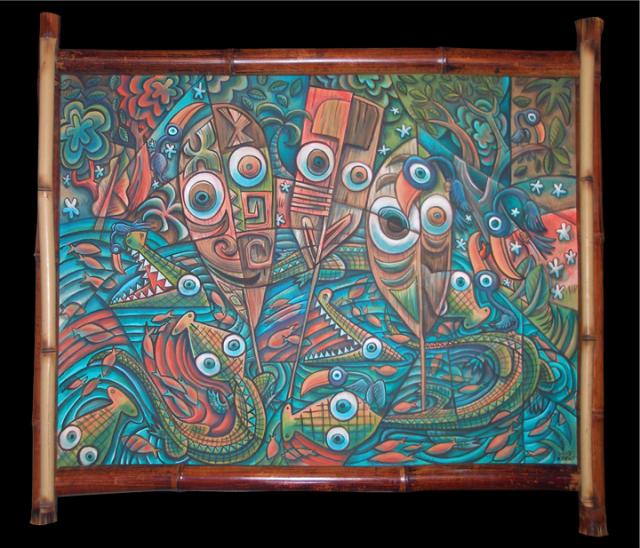 Here is the painting on its own...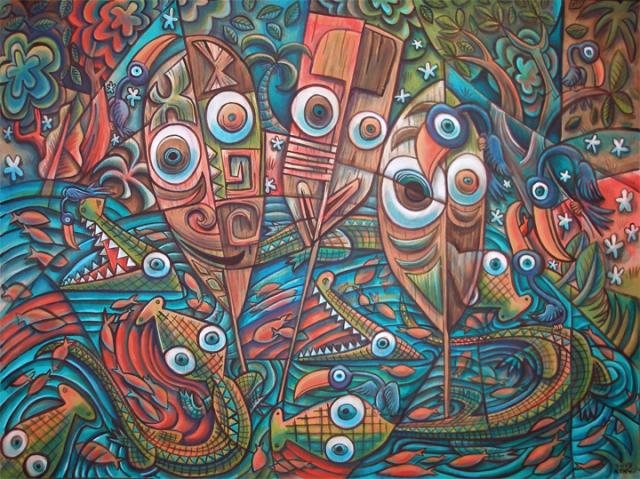 Now let's take a Closer look...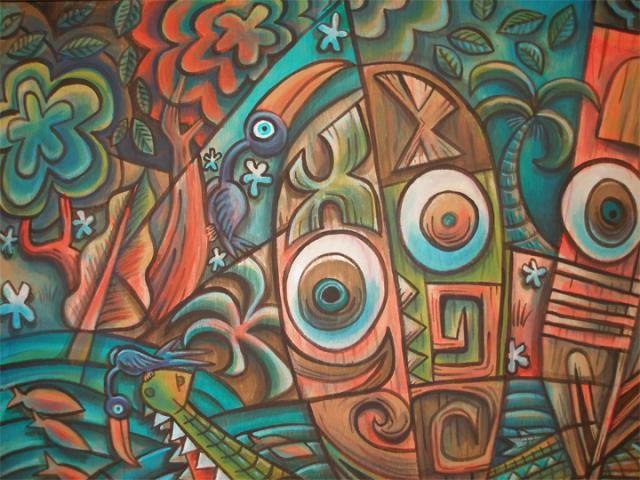 First off,there's some curiosity seekers,one clinging to a tree
(colored red-orange to balance out the composition)
and one flirting with fate,perched on an aquatic monster's nose...
Also played with jungle lighting,sunlight slipping thru in glows here and there
slipping under the blanket of vegetation..




The three Ancestor Shields are visited by yet another opportunist
taking advantage of the higher vantage point
while choosing a meal...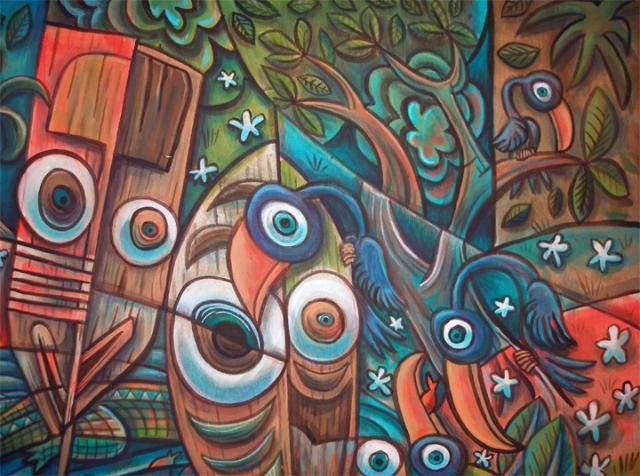 More birds....in fact,one is in the act of swallowing a fish
the aqua lighting in the background helps to establish mood
as well as echo the watery dominant color's shallower areas...




moving down to the midsection of the painting,the crocodiles
swarm amidst the pool,adding an element of danger to the bird's
pursuit of a free lunch....
Note the transparency of the shield on the right,revealing the silhouette of the predator's head
an indicator of the ethereal nature of the spirit shields in the Sacred pool...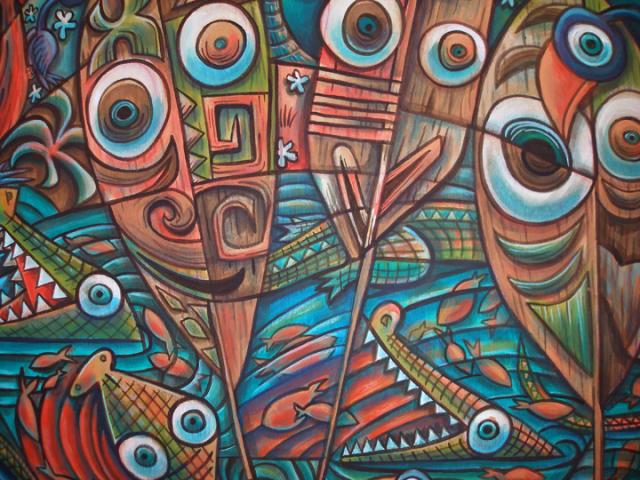 the areas of red-orange in the water not only help add a visual direction guide in the painting
it also suggests a little bit of the darker side of predators
the necessity of blood...
the beast's body in the background slinks half above and half below the surface of the water




Now as we proceed to the bottom left of the painting
you will see a hunter slicing his snout through the waters and into the story....
the middle creature was a fun challenge to get the right mix of abstract stylization and still communicate that the animal was half-submerged...
i think it turned out okay
but i'm biased....




this view of the middle bottom of the work
reveals an avian passenger
hitching a ride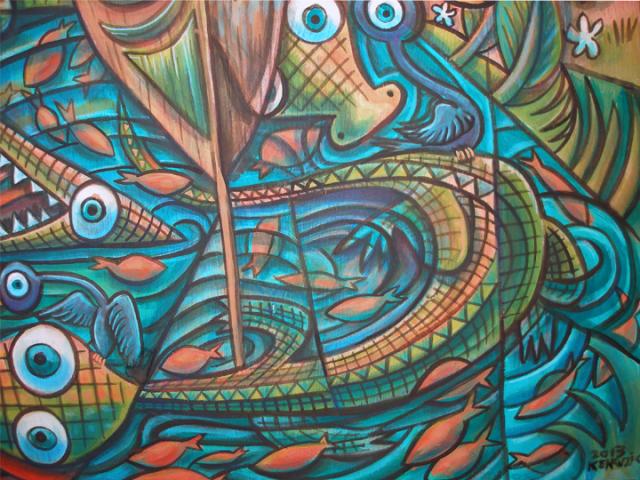 and here is the bottom right
the crocodile spies some fish straight ahead
while other ones slash by his side and legs...


and here are some extra extra Close-ups
that show the wood and some of the washes building up the textures
(stuff the viewer doesn't notice when viewing from a distance-only the perception of wonky "depth")
and the layering of colors
to achieve certain goals....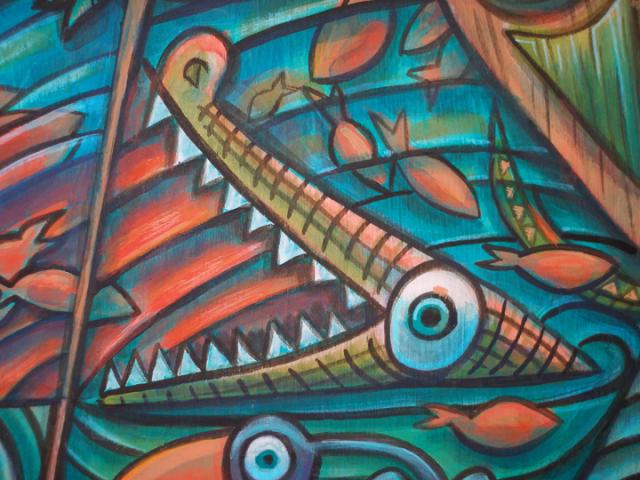 Here's a close-up of one of the open jawed locals awaiting a snack
the beauty of wood is the way it soaks up the color
as washes and washes build up shadows and hilights and stuff!


Shown here is the way that,despite being messy,the lighting and depth ties it together
so it makes sense to the viewer and appears "real" in the world that it displays...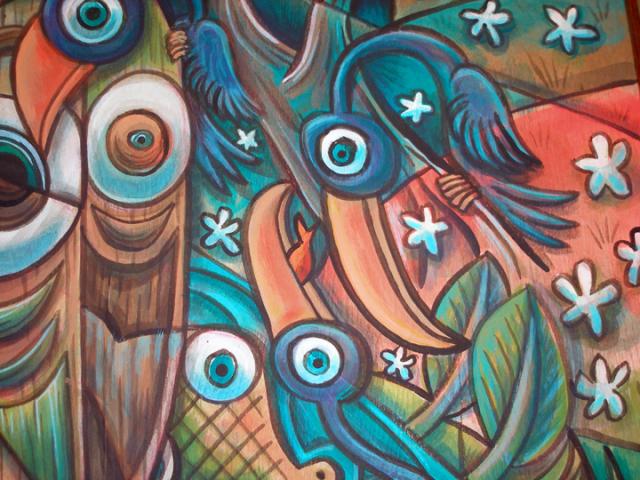 Here's an opportunity to see the semi-transparency of the Ancestor Shield
i also kind of dig the forced perspective
like the way Persian miniatures architecture slants forward....
Also,y'all get to see the ONLY animal in the painting to actually have a fish in it's mouf!

Well... So ends our tour and Show-and-Tell
I do hope you enjoyed it,and smiled and chuckled at LEAST two or three times....

Talk atcha in a few......
Crew!



Adieu!

(see how i rhymed all that?)
_________________



www.kinnyruzic.com Art Blogs Wishes Fulfilled!
I'm on Facebook and now Instagram under Ken Ruzic
AW Jeah!

&nbsp


&nbsp