Howland
Tiki Socialite

Joined: Jan 30, 2006
Posts: 749
From: Folly Beach, SC--'Follynesia'


Posted:

2007-09-12 07:07 am

&nbspPermalink

Funny you guys dig up the old thread as I was just organizing a slew of new pics to post. I got real busy on the backyard/under-tha-house project in the past couple of months--not to mention being slammed w/graphics work--what a distraction. So here's what I've been up to, from the start: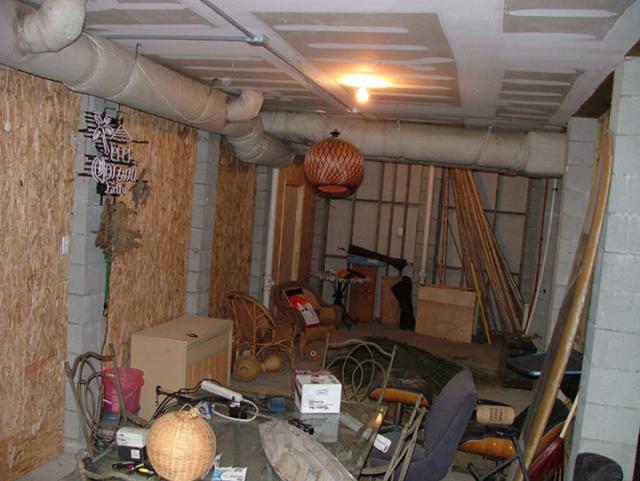 my original paint job--an experiment-glad I did away with it but it was a learning experience.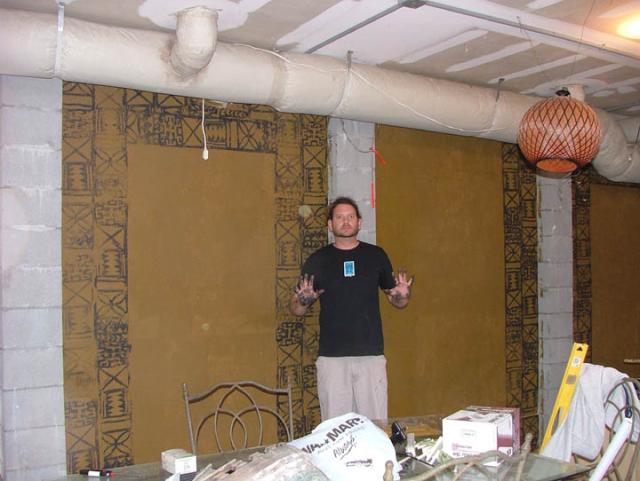 Installed an aquarium in the wall behind where the bar will eventually be. You can also see that I've painted the ceiling a very dark green--darker than it looks in the pic.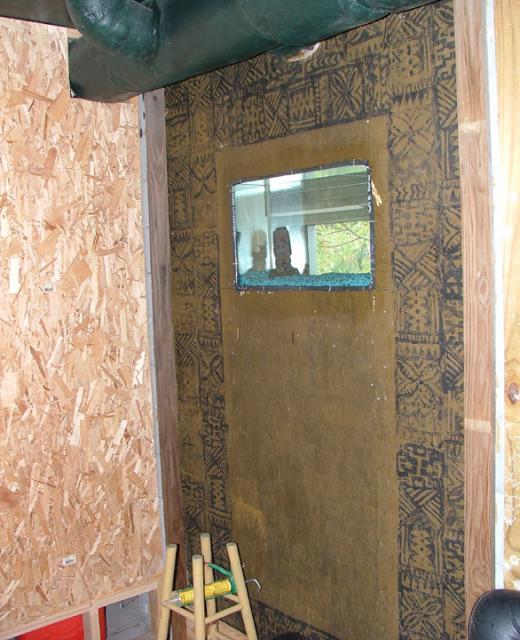 firring/framing around the concrete block columns.

Wrapping columns w/ 1/4"OSB.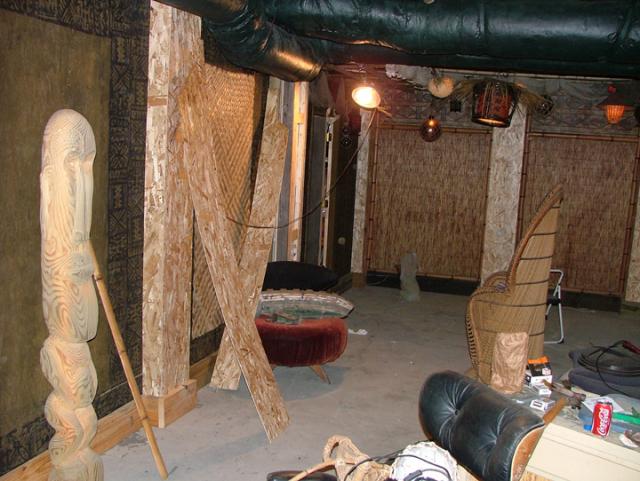 Big changes now-Installed (how technical sounding) lauhala and reed fencing and "applied" a sort of faux finish to the wrapped columns


The other wall.

What's this? Perhaps a

tapa

stamp block carving in progress?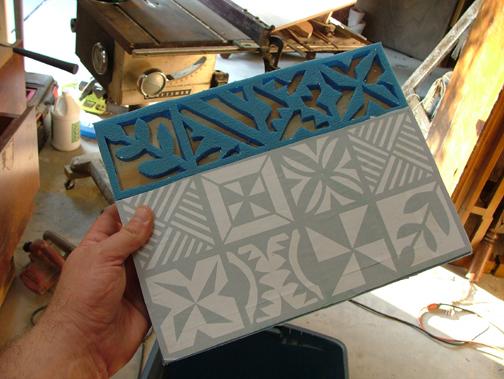 After several painstaking, finger numbing hours of foam stamp carving and darkening up my faux finished columns a bit, it came out looking like this.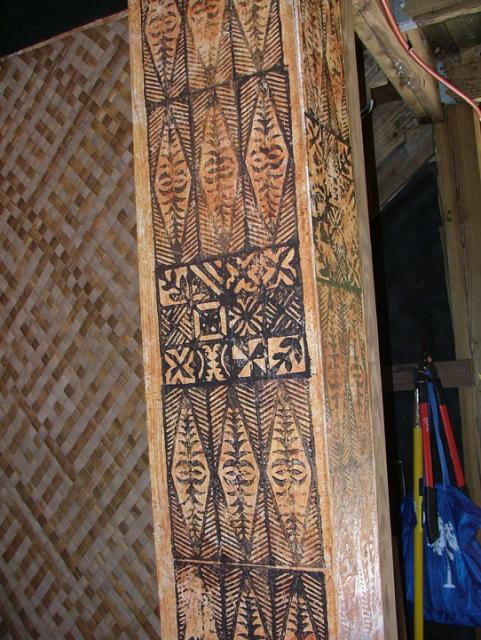 another shot of the faux

tapa

.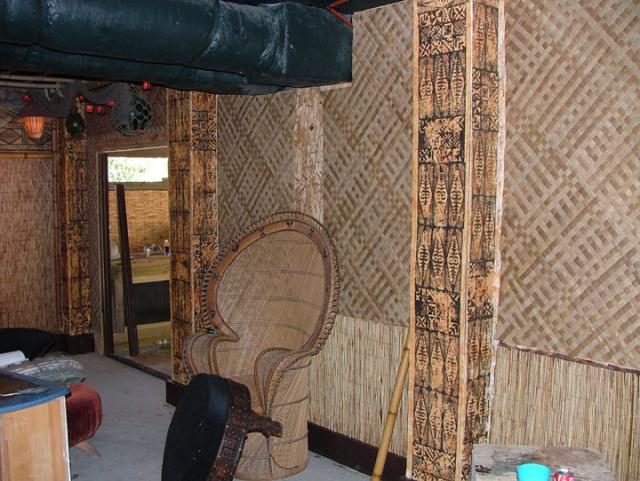 Now I've freshly flame-kist about a thousand feet of bamboo poles I harvested from various locales around the hood.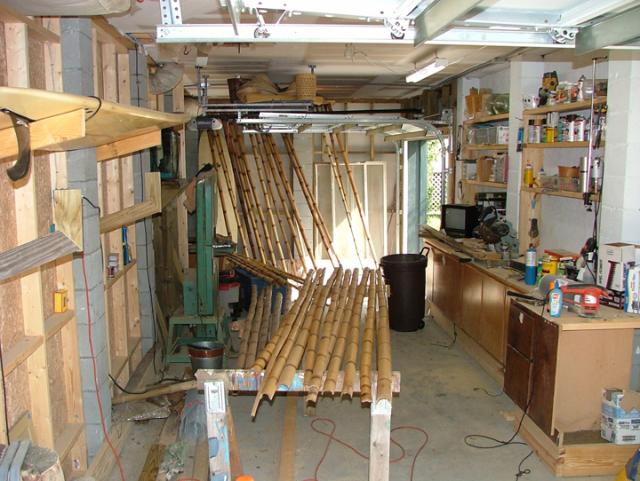 So much boo-so much to do

Some bamboo in place

Another shot of boo placement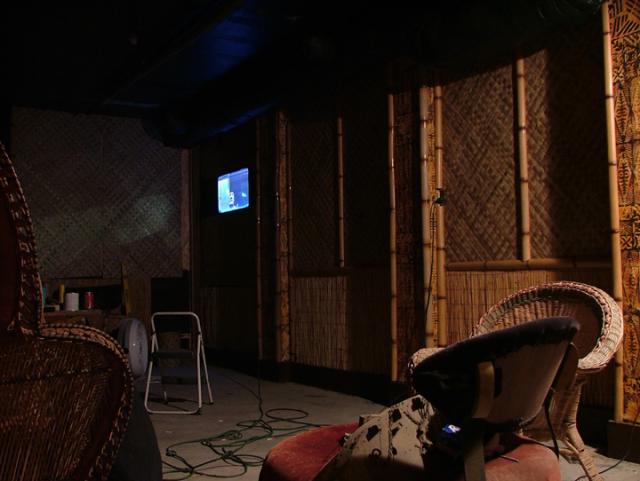 A shot of the aquarium with funky lighting. I'm going to put some shelving around the tank and probably over and under it as well. This will be the 'back-bar' area.

Playing with light bulbs again. Still need to do something with the rest of the ceiling--maybe a bamboo grid type thing like I already have toward the back of the room in this pic.

Not that you can really tell in his pic but I actually sprayed the entire room with exterior polyurethane with a little stain mixed in to even out the tone of the room and to protect from the humidity until I can get some sliding glass doors for each end of the room.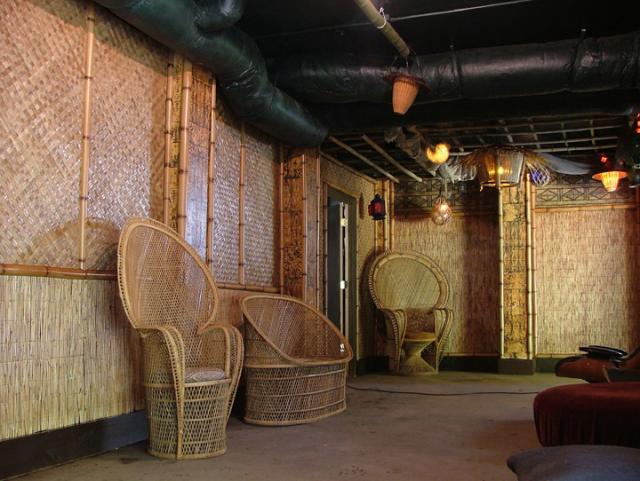 A shot from one end of the room looking out onto the lanai and the curved bar I'm working on. This is where I'll put up one sliding glass door and will finish the trim work once It's installed.

Walking out onto the patio from the lanai. I will eventually add bamboo splits to the front of the curved bar.

Last but not least, the ole gable ontop of the lanai with Chinese evergreen wisteria taking over!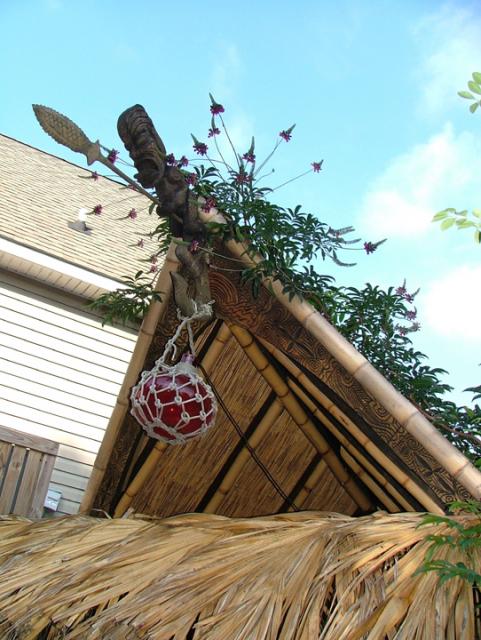 Back soon (hopefully) with more progress shots. Thanks for looking,
Brad



_________________
Formerly known as 'Surf-N-Turf'
www.myspace.com/bhowland





[ This Message was edited by: howland 2007-09-12 10:36 ]

&nbsp


&nbsp