TikiTrevor
Tiki Socialite

Joined: Jan 15, 2004
Posts: 205
From: Portland, OR (originally


Posted:

2006-08-06 10:46 am

&nbspPermalink

Does anyone know where this could have come from? I got this fella for $15 late in the day at a swapmeet. I was surprised it was there that late in the day.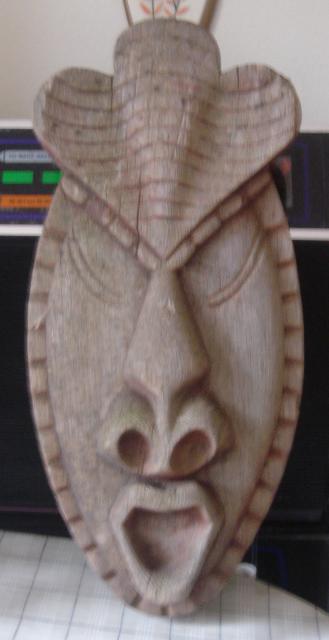 &nbsp


&nbsp





bigbrotiki
Tiki Socialite

Joined: Mar 25, 2002
Posts: 11594
From: Tiki Island, above the Silverlake


Posted:

2006-08-07 05:24 am

&nbspPermalink

Ooooh, very nice, especially if it is vintage, this could be a prime example of a moderne cartoonish style Tiki mask. With the proliference of new cartoonish carvings today, many people might have taken it for a retro Tiki carving. Anyway, even then its excellent for that price.

If it is new, it might have been taken from the design below, and if vintage, it actually might be from the same artist (?) who did my fireplace Tikis below: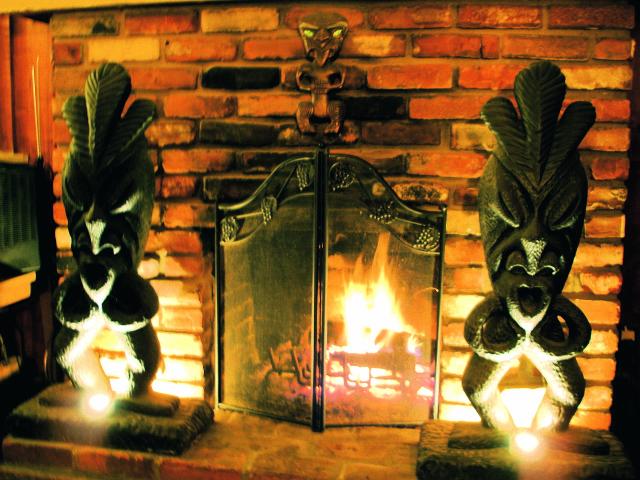 I had admired the insane design of these statues ever since I saw them flanking the entrance of Dale Sizer's pad, and then photographed one in situ at a Tiki trailer park in the valley. I estimate they are from the 70s. They are concrete lawn decoration pieces and came in white also. I really don't know what that head dress is based on, and their bodies, they are just too weird.

I found these at a dealer on La Brea that was selling of stuff from a crazy lady's house in Hollywood that was ALL BLACK outside and inside. For years, she had been a fixture on Hollywood streets for her skinny, high hairdo and platform shoes appearance.

I hope you can see some detail on the right one, I cranked the brightness way up before I pasted the image in.

&nbsp


&nbsp