The Gnomon
Tiki Socialite

Joined: May 01, 2007
Posts: 1293
From: MD-DC-VA


Posted:

2007-06-22 10:02 am

&nbspPermalink



Quote:
---

On 2007-06-21 15:21, frostiki wrote:
I tried making my orgeat with store bought almond milk, and while it tastes great it is very opaque Does anybody have any advice on this? Should I strain the almond milk before hand? Any more recipes? I know other people have attemted this.

---


I wouldn't bother straining the milk before hand. I actually have a recipe for what I call Emergency Orgeat that I can share some other time. It relies on store-bought almond milk and takes about ten minutes to make. My regular orgeat takes a couple of days. My Emergency Orgeat is still better than the French Orgeat I get from Teisseire.

The following is image heavy, so I hope it doesn't mess anyone up. I apologize in advance for the quality of the pics (lack thereof) but I took them with my cell phone.

Although almond milk made from scratch is the best (no additives and other extraneous crap), the following sequence will give you an idea why it ain't so bad to use store-bought almond milk.

Preparing Your Nuts for Milking
Don't that sound nasty?

First fill the largest bowl you have around almost to the top with blanched almonds. I use slivered almonds 'cause they're already blanched, quicker and easier to chop/grind, and they're cheaper than whole blanched almonds. If you want to add even more work to this gargantuan task, you can blanch your own.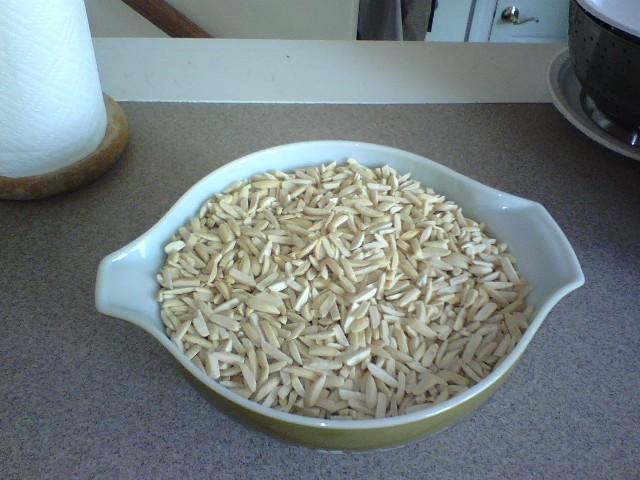 Next you fill the bowl with tap water (preferably filtered), but not the water you will use later for the milk. This is just to rinse all of the dust and 'atmospheric contaminants' that are clinging to the almonds when you bring them back from the store. You don't want the milking process to get rolling yet, so just stir it around a little and don't let them soak for more than a half hour.





Drain the bathwater. I use a large colander. I haven't tried it yet, but I'm thinking of getting one of those large salad spinners that spins the water off lettuce after you rinse it. Anyway, you're left with a very damp pile of almonds.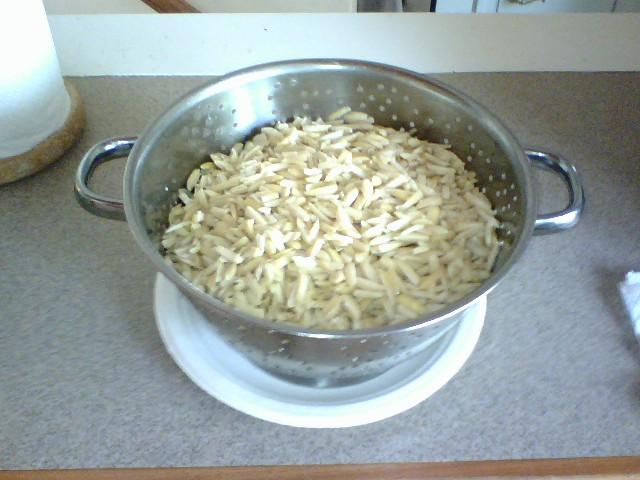 I usually take a l-o-n-g w-i-d-e sheet of heavy duty aluminum foil and make a drying pan on top of a coffee table. Spread the almonds out into as thin a layer as you can to dry. This is just to get rid of excess water. When finished, they're still a bit damp and soft (i.e., not hard and brittle). I use a hand-held fan to speed up the process, combing through the almonds with the other hand, turning them. Don't use a big fan unless you want all the dirt from the floor to end up on your almonds.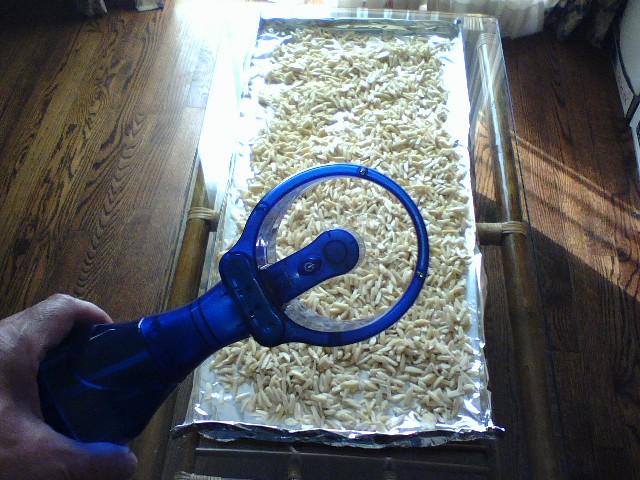 I use a little cocktail shaker-sized blender call a Magic Bullet to grind the almonds. After returning the 'dried' almonds into a large bowl, 1 to 2 cups at a time I grind the slivered almonds into tiny nuggets.





When finished, you end up with a pasty mass of almond nuggetrines (nugget smitherines). BTW, does anyone else have a smitherine collection? It's hard to maintain. Dust particles are often bigger than the specimens. Anyway, back to the almonds. I place mine in large plastic storage containers.




Milking Your Nuts
Still sounds nasty, but I'm getting into it.

Using bottled or filtered water, pour the water over the almonds and fill the containers to the top.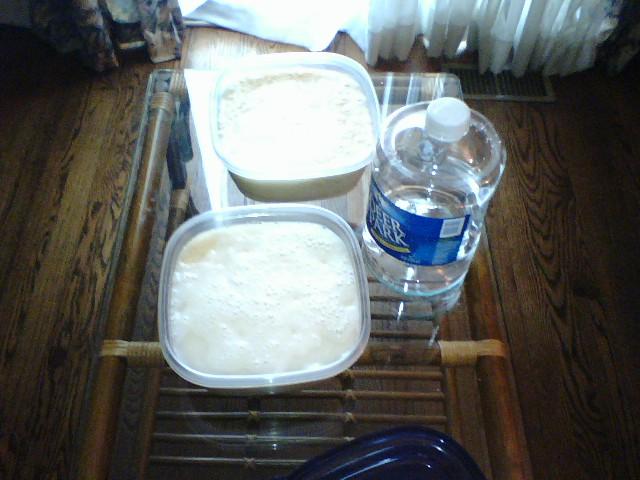 Cover the containers and set aside at room temperature for several hours (overnight, 24 hr, 36 hr; whatever you can stand). I do not have the patience to reuse my almond mash, so I just start with a big pile of almonds so I don't have to torture myself with a second milking. One is pain in the ass enough.

Supposedly, you can speed up the milking time by heating the water and almonds, but I have always found that there's a degradation in the quality of the emulsion. You're better off setting it aside at this point and picking up the process the next day.





Extracting the Almond Milk
Would it be too crude to call it extraculation?

This has to be done in stages to preserve your sanity. The first thing is to strain it all, little by little through a colander to remove the biggest masses of almond gunk.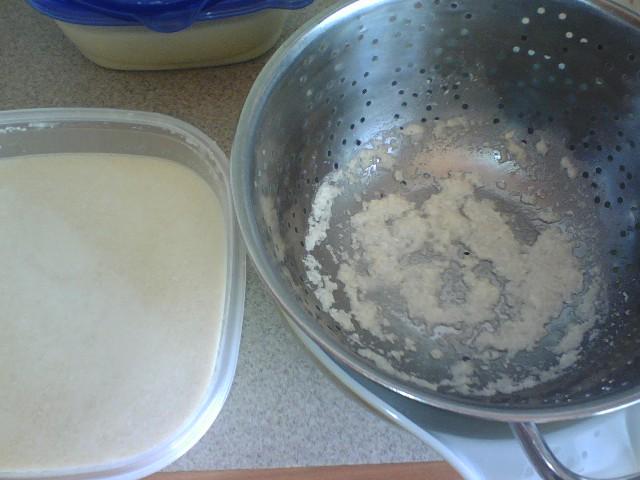 When you finish the first stage of filtration trough the colander, you'll end up with a big bowlful of reusable almond gunk. As I said before, I don't have the patience to put this back in the plastic and milk it more. Each subsequent milking is less effective than the previous one. I would take the trouble if there was an area-wide shortage of slivered almonds. Since there is not, I just toss this.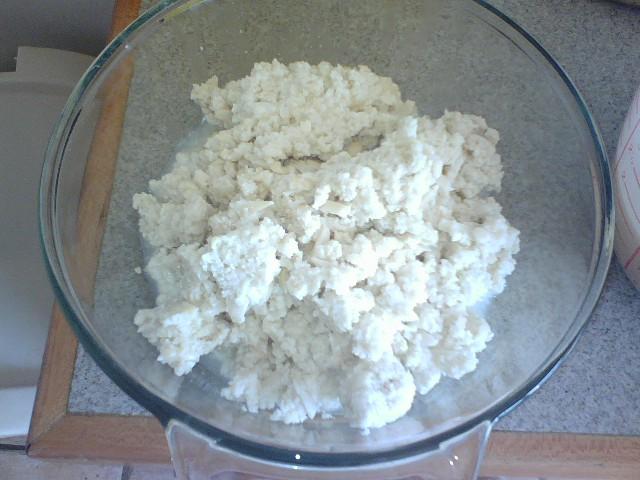 Next I take my colander-filtered milk and strain it through a screen strainer. If I were to go directly to the cheescloth without this and the preceding step, it would take forever to remove the almond gunk from the milk. It clogs up the cheesecloth easily, so nothing drains. If you have to squeeze the cheesecloth too hard, it breaks and sends almond gunk down into the filtered reservoir.





Finally, it's time to use the cheesecloth. I pour the screen-filtered liquid little by little onto a piece of cheesecloth that is resting inside the screen strainer that is resting on top of the colander. I used to put cheesecloth over the colander, too, for the double whammy, but I skip that now. Doesn't help all that much. Mainly just adds to the mess.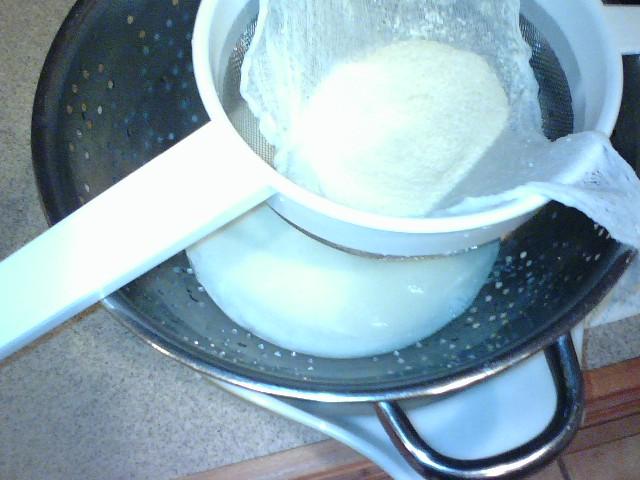 As you go along, you have various bowls containing milk at various stages of filtration. Make sure you have lots of bowls around. The milk on the right is just screen-strained. The milk on the left has been poured into and gently squeezed through the cheesecloth.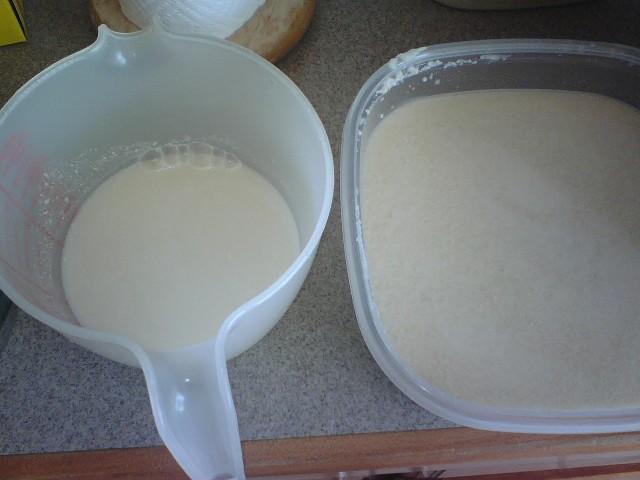 Store-bought almond milk is filtered better than my most filtered home-made milk, but that doesn't really matter. The fresh orgeat separates into layers with bigger particles falling to the bottom and fine particles floating to the top. To 'harvest' the orgeat syrup you just have to figure out how to isolate the middle layer. I just use a turkey baster dedicated to my orgeat process and manually transfer the middle layer into a separate container.

When you consider all the trouble it takes to get a decent batch of high-quality, all-natural almond milk, the idea of using store-bought almond milk isn't all that hideous.



[ This Message was edited by: The Gnomon 2007-06-22 10:07 ]

[ This Message was edited by: The Gnomon 2007-06-22 12:35 ]

&nbsp


&nbsp