bdzmusicprod
Tiki Centralite

Joined: Jan 16, 2007
Posts: 19

Posted:

2007-01-17 05:05 am

&nbspPermalink

Aku Aku Toledo, Ohio (restaurant)

Town House Motel/Aku-Aku opened December 1960.
Closed as the Town House Motel 1972
Went into receivership 1972.
Reopened as The University Inn in Sept. 1973
Used as a trucker's hotel until 1984.
Vacant from 1984 until demolition in 1989.
Rally's Fast Food now occupies site.

I never had the opportunity to go to the Aku Aku but I must have drove past the building a million times long after it closed and never fully appreciated it's impact on local history until long after it was demolished. I knew several people who went there in it's heyday. I remember seeing menus and other memorabilia from the Aku Aku that some friends of mine had on their basement wall. They were gone by 2002 when the house was being sold. Didn't know what happened to them. I remember working in the neighborhood in the late 1980's not long before it was demolished in 1989. An entire window of one of the hotel rooms was missing exposing the worn interior of the room. My one regret is that I took no photographs of the place. It was a nice building typical of the era. There is no doubt that it would still be around today if only it had been built in a better neighborhood. Why that area was chosen is a mystery. The area was already in decline and the mass exodus to suburbia in the following decades further sealed the fate of the complex. Today a Rally's occupies the area where the entrance to the hotel and restaurant once stood. Update 8-30-2012...the rest of the property is now being developed for a Family Dollar Store. Visiting the site I found that a chuck of the old hotel swimming pool had been unearthed with it's blue paint largely intact. I took a piece of it with me. Also found were a couple of pieces of the brick that once adorned the facade of the building where the hotel lobby and Aku Aku stood. Most of the debris from the demolition was scraped away. To illustrate how bad the neighborhood has become...while sitting in my truck in the Rally's parking lot two men were going from car to car looking for money.







Article announcing construction of motel. May 1960.



Artist conception of new motel. May 1960. The driveway entrance as shown in the drawing is pretty close to the driveway entrance of Rally's today.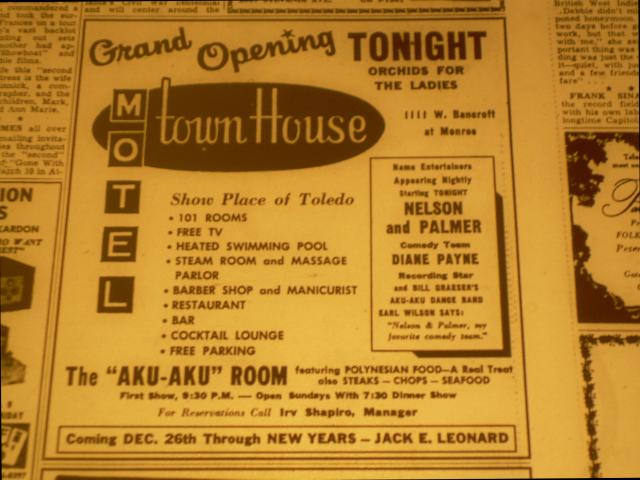 Grand opening December 13, 1960. Jack E. Leonard would make another appearance in 1969. See below. Interestingly the last ad as shown below was listed in the blade almost 10 years from the day that the Aku Aku had first opened.



1961 Henny Youngman.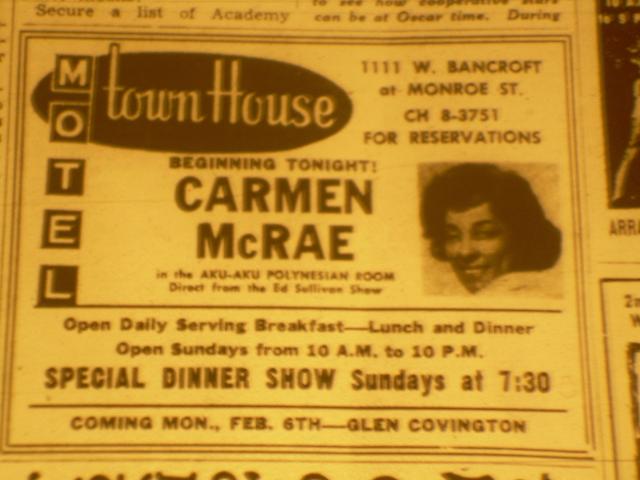 1961 Carmen McRae.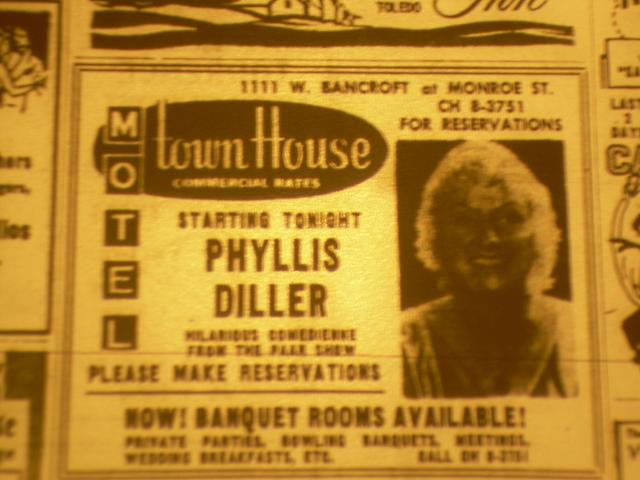 1961 Phyllis Diller.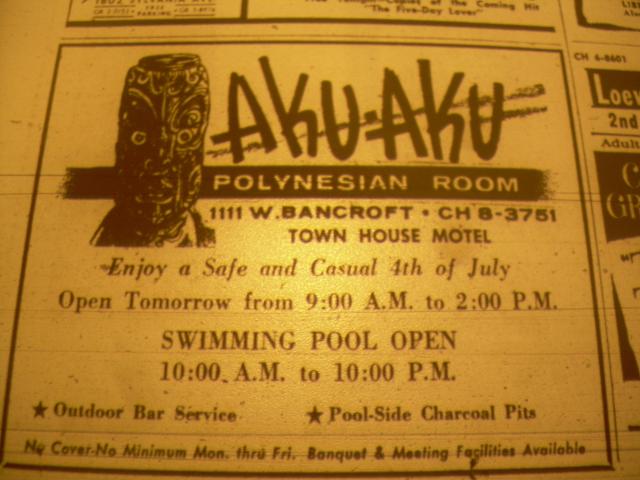 July 4, 1962 ad.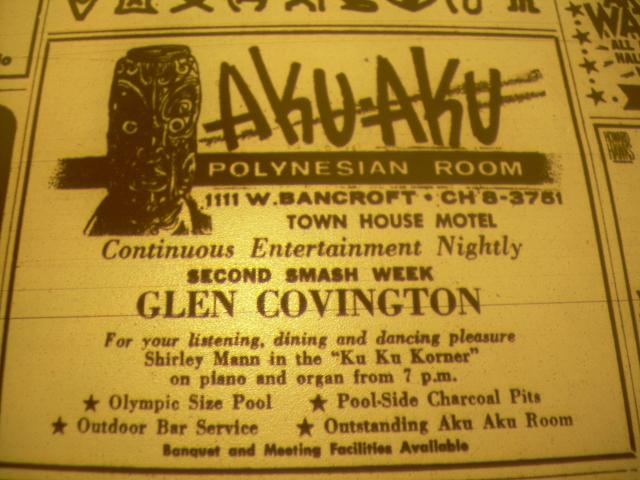 1963 Glen Covington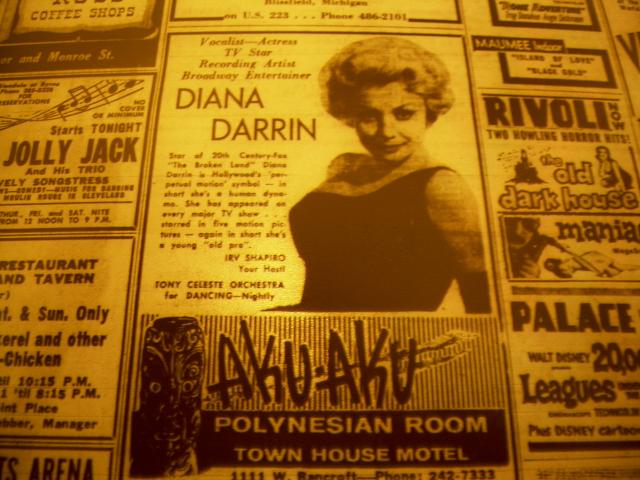 1963. Notice in the small print Tony Celeste and his orchestra. In the mid to late '60's Tony Celeste had his own club in North Toledo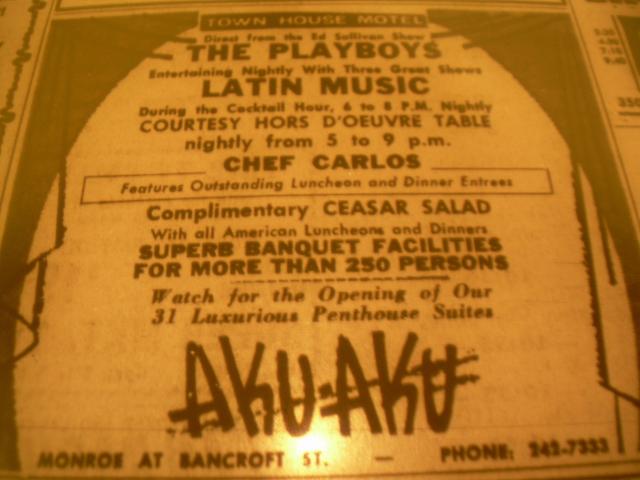 The Playboys. 1965. Notice in this ad that they advertise the opening of 31 penthouse suites. A third story was added 1964/1965. It was built on "stilts" in that it did not rely on the first and second floor for support.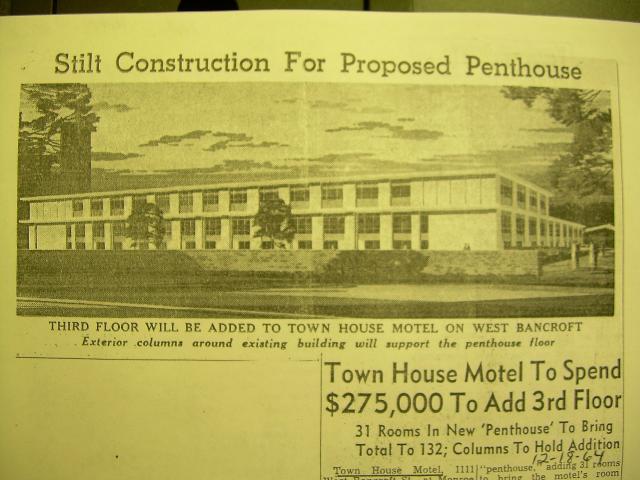 Artist rendering of new addition. 1964. This is a view from the southeast corner of the rear of the property.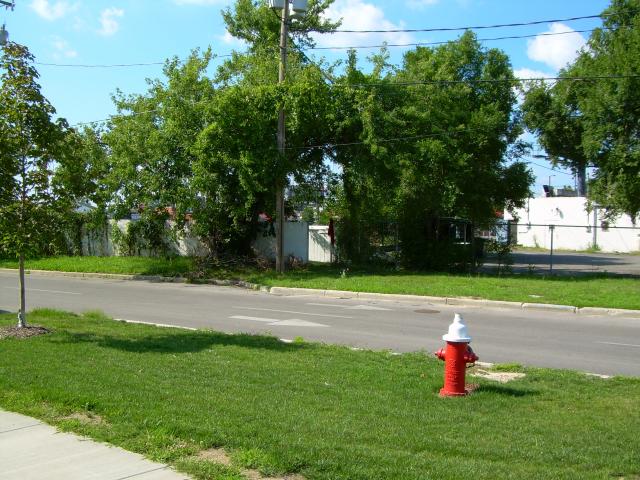 View of southeast corner as it appears today. Lot's of overgrowth from trees and weeds since it was demolished in 1989. Aside from a brand new school built behind the property the rest of the neighborhood has gone to pot.







Article detailing addition of third floor.







Erskin Hawkins 1965.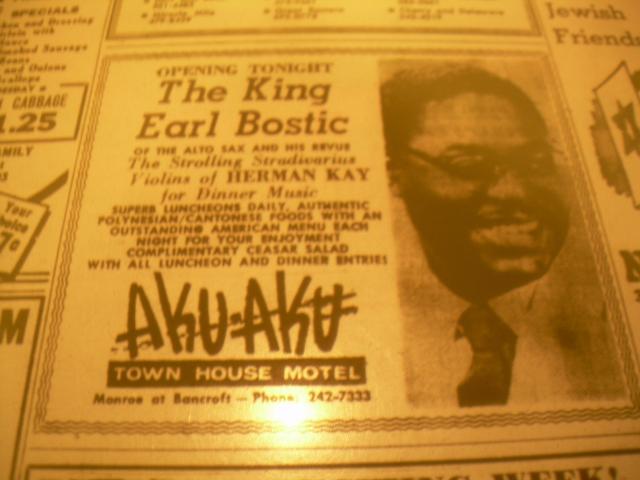 Earl Bostic September 13, 1965. Earl Bostic died after suffering a heart attack while performing in Rochester, NY on October 24, 1965 just over a month after his Toledo engagement.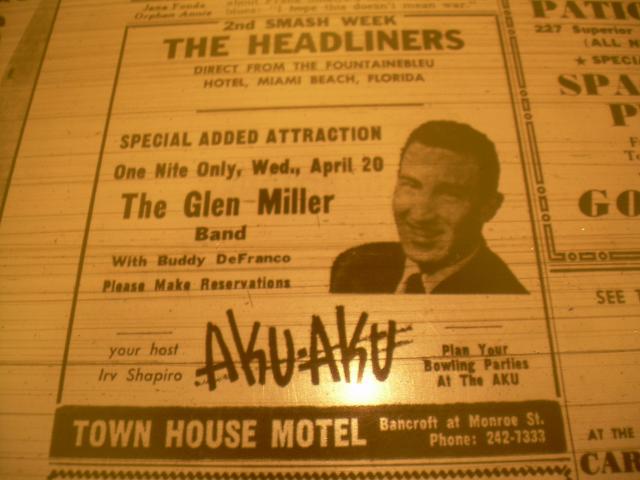 Glen Miller Orchestra 1966. According to the article below, the hotel clerk was robbed of $60.00 during this show.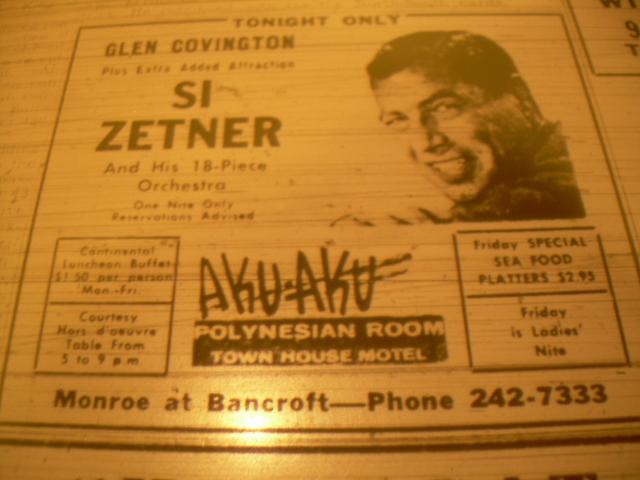 Si Zentner 1966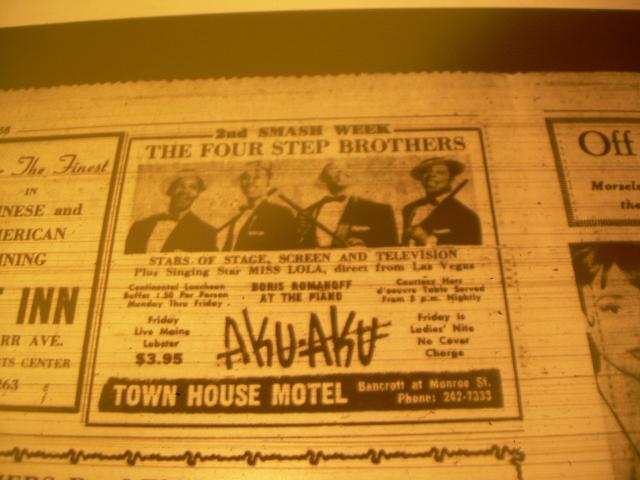 The Four Step Brothers 1966. You can see them perform in the Jerry Lewis movie "The Patsy".







The Count Basie Orchestra October 10, 1966. Their first of four appearances.






I was unable to do a complete research of late 1966 thru early 1967 because there was a strike on the Blade newspaper and consequently no ads were to be found for this time period. I have no idea who may have appeared here during the period of the strike.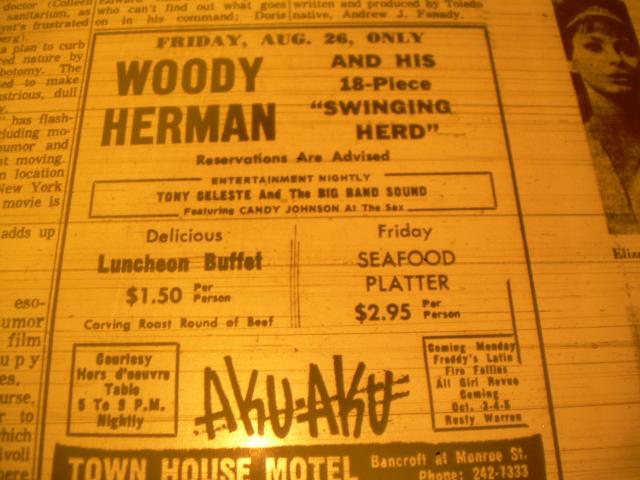 Woody Herman 1967








Ad announcing Harry James band. 1967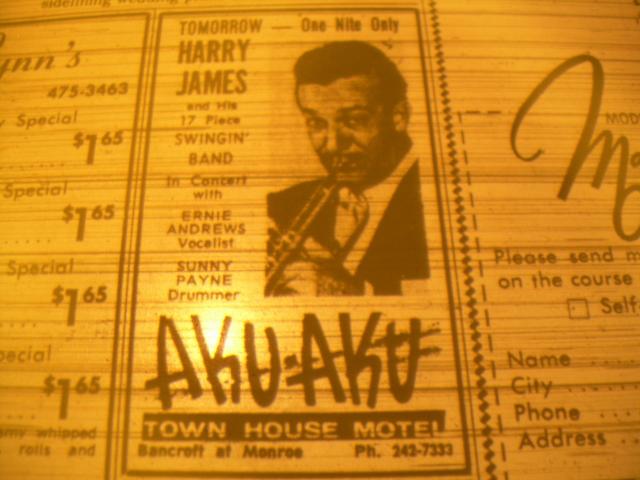 Harry James 1967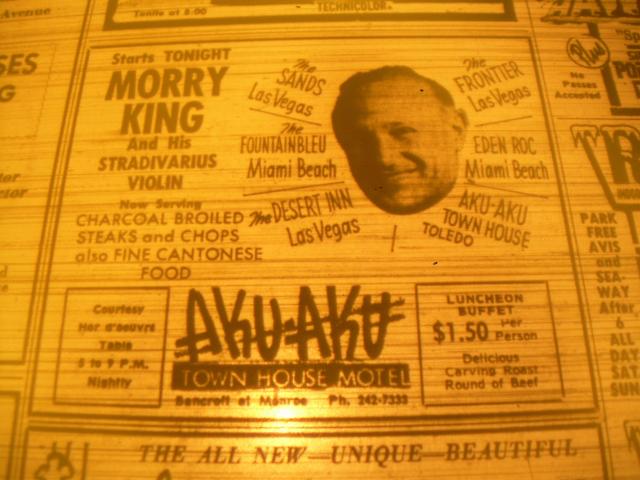 Morey King 1967








Stan Kenton 1967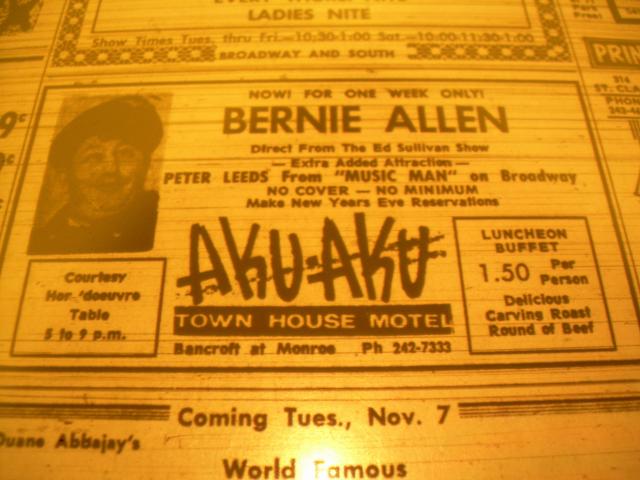 Bernie Allen 1967. Bernie Allen appeared with a partner shortly after the Aku Aku opened in 1960 under the name Allen and Rossi. Bernie Allen appeared again in 1968.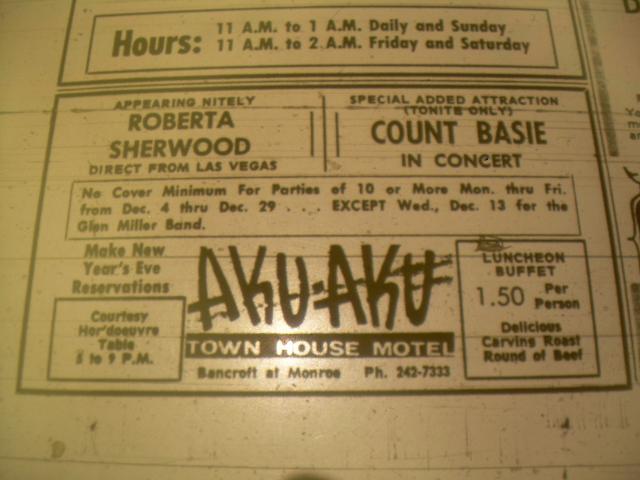 Count Basie's second appearance 1967.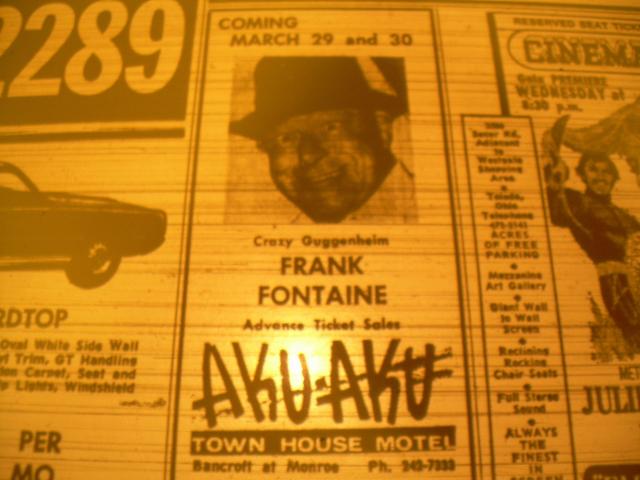 Frank Fontaine 1968.









Count Basie's third appearance 1968. Notice the announcement of Harry James' band in their second appearance.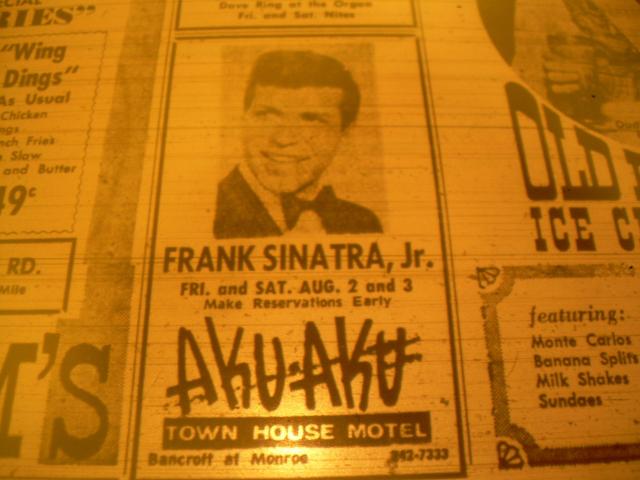 1968. It appears that Frank Jr. and NOT his father played the Aku-Aku after all. In fact Frank Jr. made two additional appearances in 1969! (see below)








Johnny Ginger 1969








Buddy Rich 1969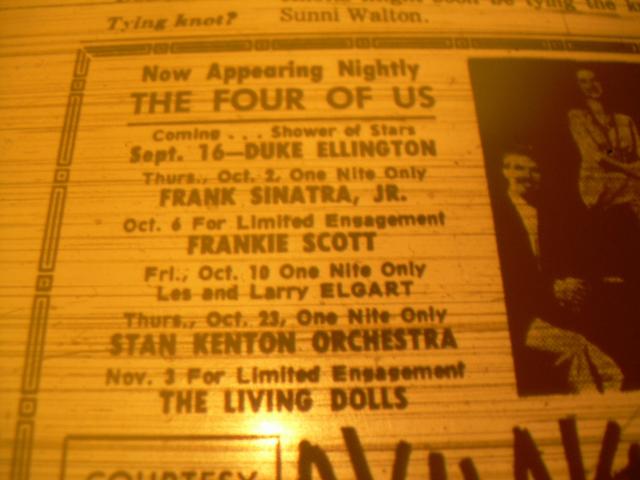 Coming attractions 1969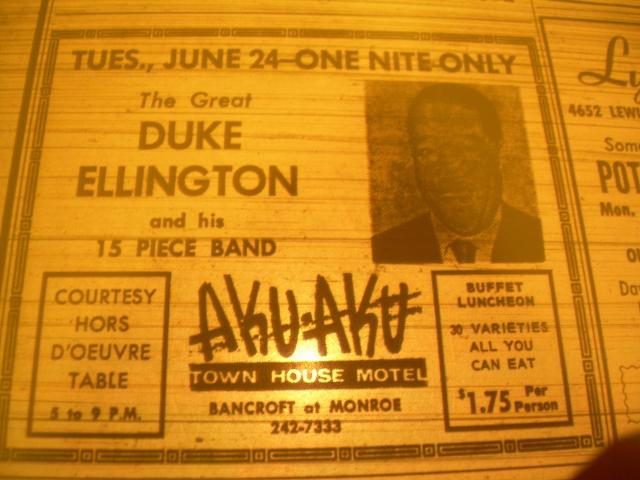 Duke Ellington 1969








Frank Sinatra Jr. 1969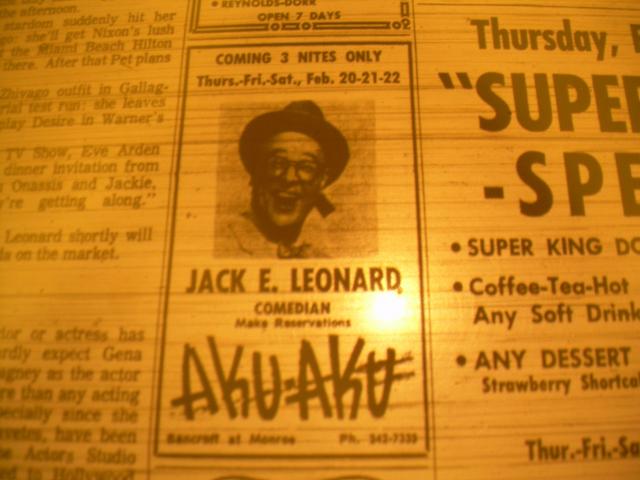 Jack E. Leonard 1969. A guy who worked there as a houseboy said that he carried Mr. Leonard's luggage to his room on the third floor...it took him three trips and Mr. Leonard gave him a quarter tip. He said he gave it back to him.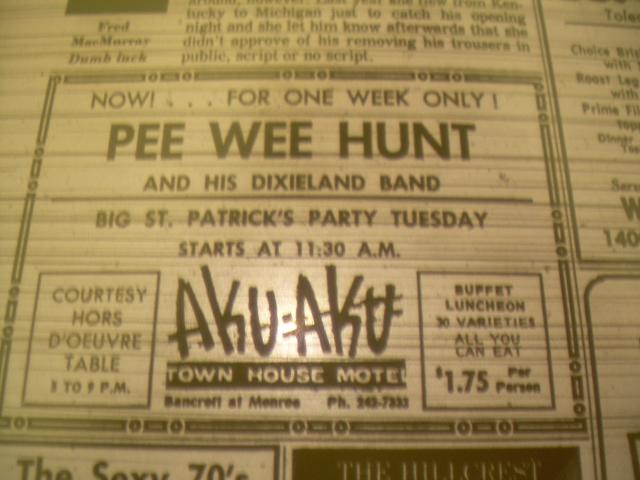 Pee Wee Hunt 1970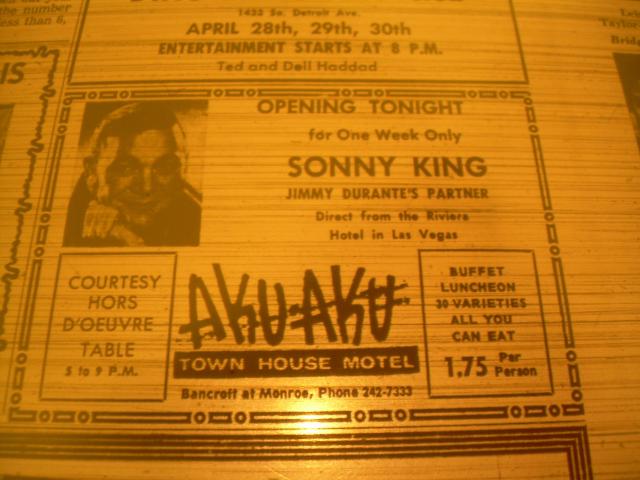 Sonny King 1970. Evidently Sonny King was a bigger name than I figured. He was quite a draw in Las Vegas. Check out his video on YouTube.






1969 was quite a year for entertainers. Buddy Rich, Frank Sinatra Jr. and Duke Ellington each made two appearances in 1969. Many other well known artist also appeared in 1969.






Researching the balance of 1970 turns up very little. The biggest name to appear at the Aku Aku in 1970 was a fourth and final appearance by the Count Basie Band on September 11,12, 1970. Glen Covington made one last appearance late 1970 also.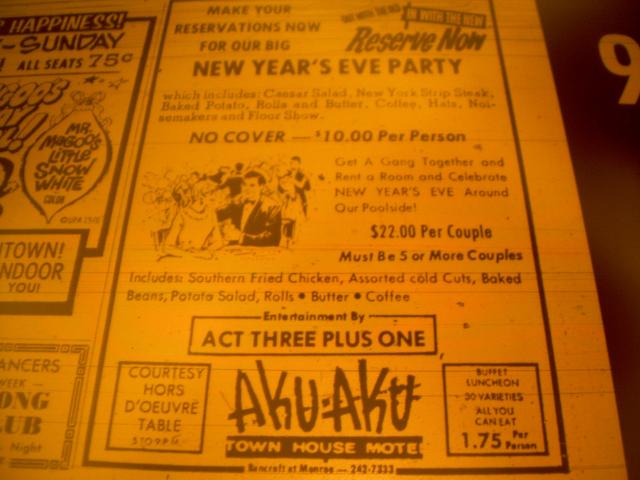 The last ad, December 1970. According to the articles below the Aku Aku was still opened but no longer featured big named entertainers. This remained in effect until the complex closed in early 1973. This ad appeared almost 10 years to the day that the first ad appeared announcing it's grand opening.






A newspaper article discussing foreclosure of property 1972.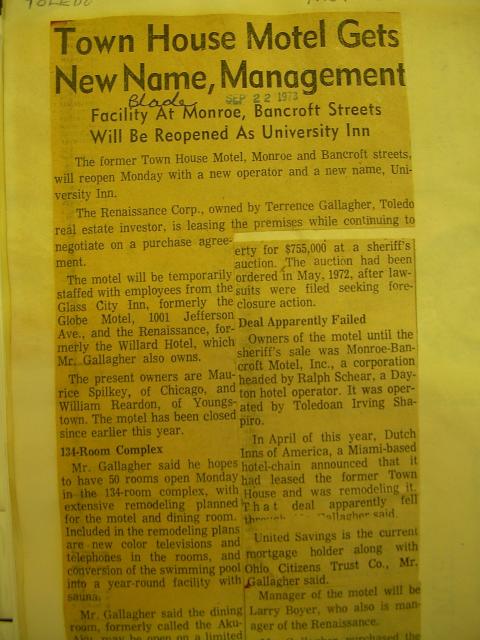 1973 New management part 1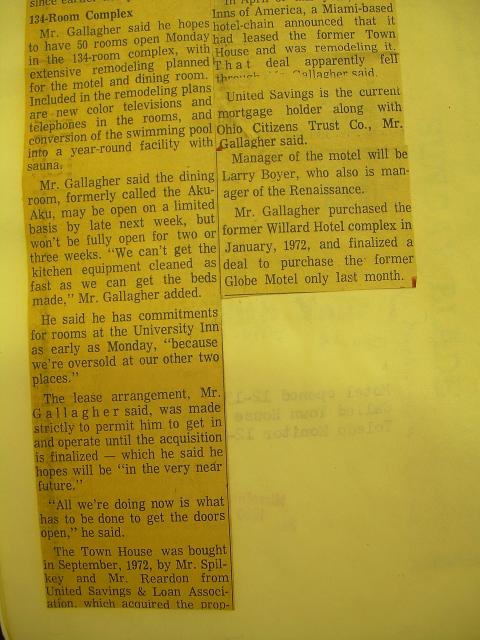 1973 New management part 2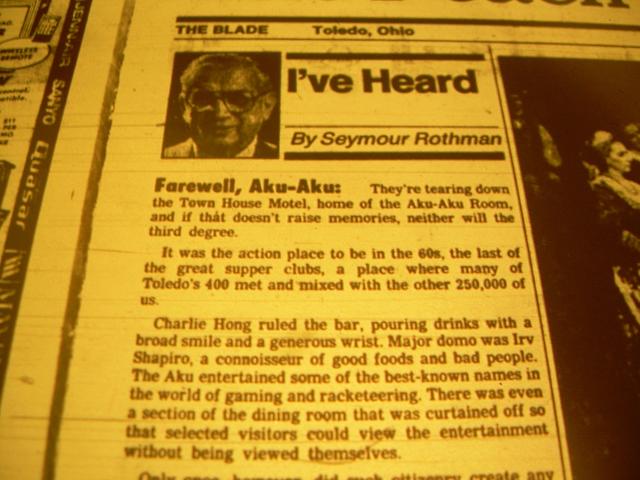 September 1989 Farewell Aku Aku part 1








Farewell part 2







Farewell part 3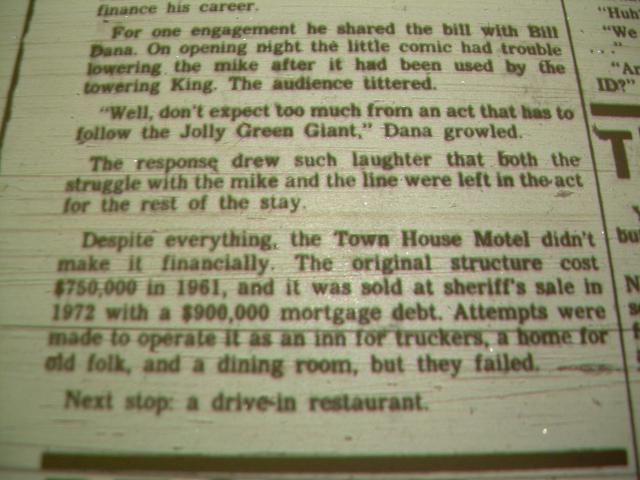 Farewell part 4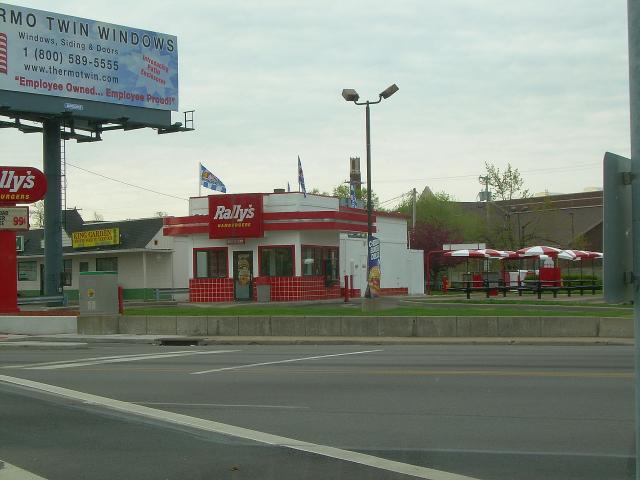 Next stop a drive-in restaurant...The area to the right was where the hotel lobby entrance stood. Further right was the Aku Aku entrance.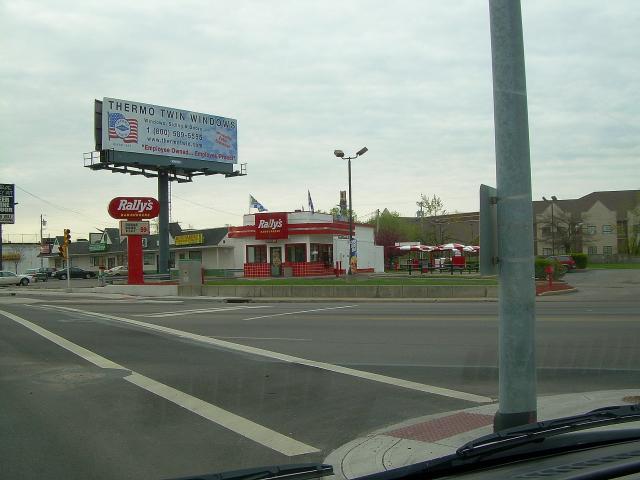 Another view of the entrance site.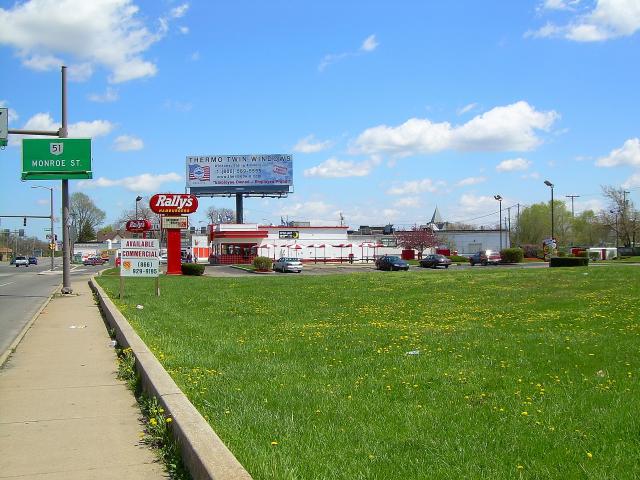 Looking norhteast along Bancroft towards the old Aku-Aku site.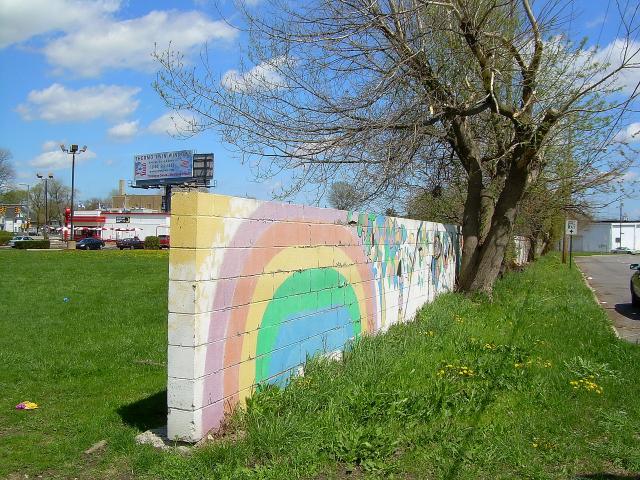 Looking from the southwest corner of the Town House Motel property towards the norhteast corner where the Aku-Aku stood. The block wall is all that remains of the original building construction. Notice all the growth of trees and such over the years of neglect...almost 20 years since it was demolished. Compare this with the article above showing a drawing of the rear of the complex in 1965.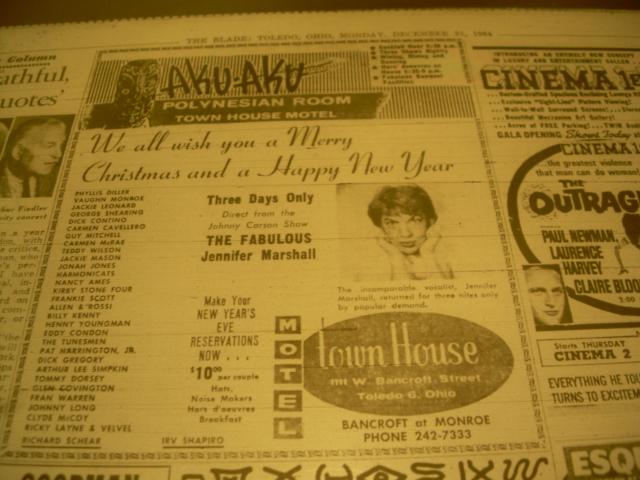 1960-1964 entertainers.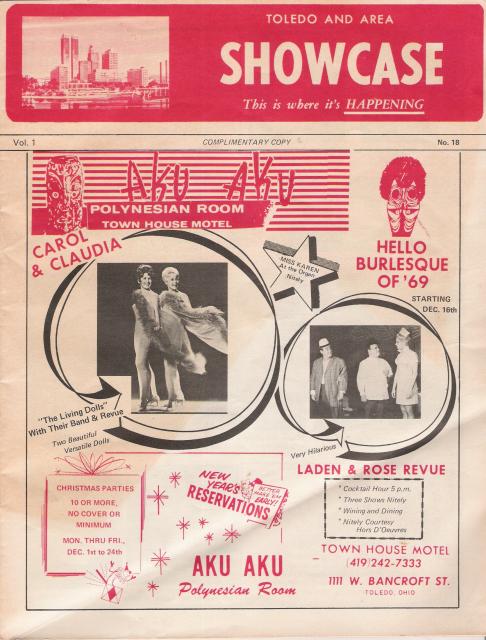 1969 Showcase cover.



Matchbook from the Town House Motel




















[ This Message was edited by: bdzmusicprod 2008-06-17 04:45 ]

[ This Message was edited by: bdzmusicprod 2008-07-15 04:57 ]

[ This Message was edited by: bdzmusicprod 2011-03-25 04:46 ]

[ This Message was edited by: bdzmusicprod 2012-08-21 14:01 ]

[ This Message was edited by: bdzmusicprod 2012-08-30 05:22 ]

[ This Message was edited by: bdzmusicprod 2012-11-08 04:36 ]

[ This Message was edited by: bdzmusicprod 2012-11-08 04:41 ]

[ This Message was edited by: bdzmusicprod 2013-01-08 13:57 ]

&nbsp


&nbsp