hodadhank
Tiki Socialite

Joined: Dec 28, 2005
Posts: 1689
From: Mission Beach, CA


Posted:

2011-03-12 6:16 pm

&nbspPermalink

Boy it's been a long time since I regularly posted on this thread. Hard to believe I was one of the biggest "Post Whores of 2009".




My most sincere thanks to all the talented artists and friends who participated in our exciting gallery experiment last year. I enjoyed working with you all and it was a great honor being able to host several fun shows and represent your work. A huge mahalo as well to patrons who supported the community by making purchases. While we will no longer feature a dedicated exhibition space, Freaky Boutiki shall endeavor to showcase new and original work by your favorite artists at our original location and on our developing virtual gallery at http://www.freakyboutiki.com



In the fall I was asked to be a guest artist/instructor at Point Loma's High Tech High. Former Freaky Boutiki wahine Chaz-Bot is now all growed-up and passing along the appreciation of all things Poly-Pop to her art students. Her class enjoyed field trips to San Diego landmarks and lectures by mid-century architect Robert C Duncan and contemporary tiki artist and historian Bosko.
Below: A field trip to Shelter Island's Bali Hai where the kids did drawing exercises and Larry allowed me to guide over a hundred students through the restaurant discussing exotic building materials, architectural elements, vintage carvings and of course, how to make a living without wearing a tie.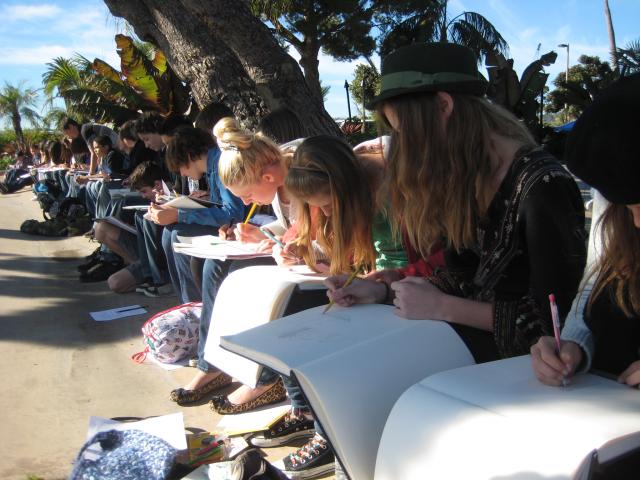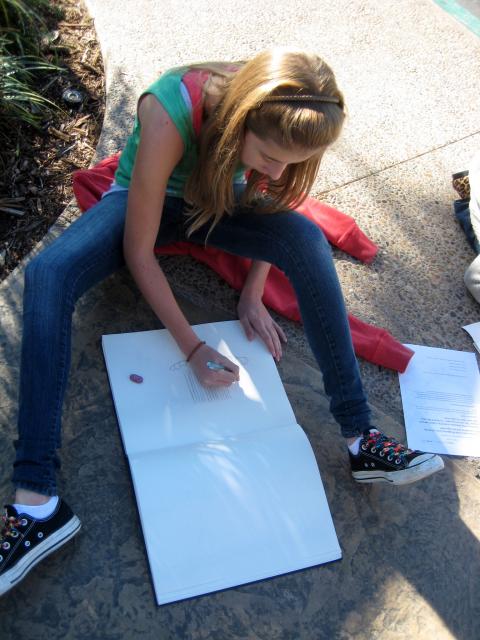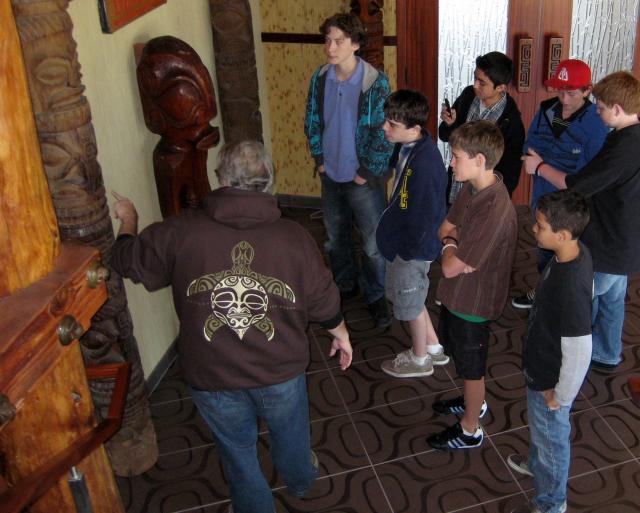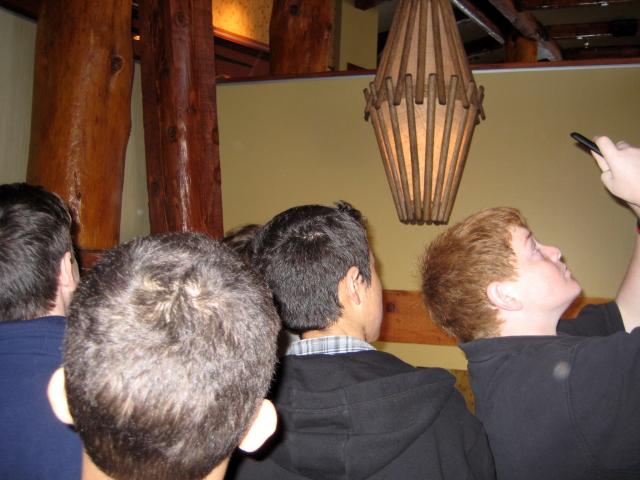 Lookey here! It's Chaz-Bot modeling a Tiki Bob tee for our new ad in Tiki Magazine. I got the last batch of these on the planet from my pal who makes them. Get your Bob today before theyre gone forever! http://www.freakyboutiki.com



Mission Beach's bug-eyed four-legged sex machine, Miles Davis. He love your leg long time. Miles belongs to our neighbor, a chef at the Bali Hai.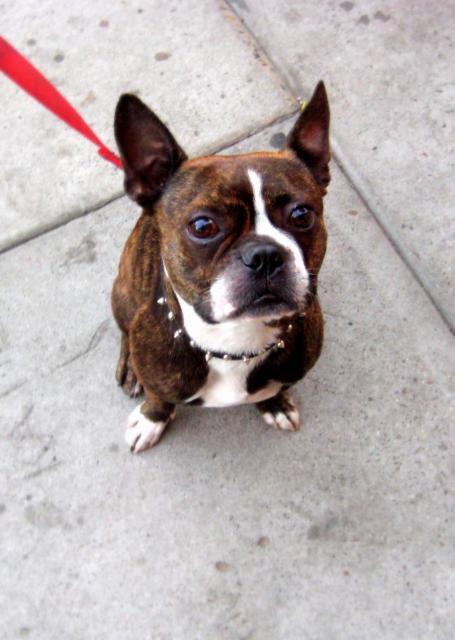 Wahine Toni says Mele Kalikimaka! She's also modeling one of her cute crocheted scarves. Toni's hittin' the books much harder this semester so I don't nearly see her often enough.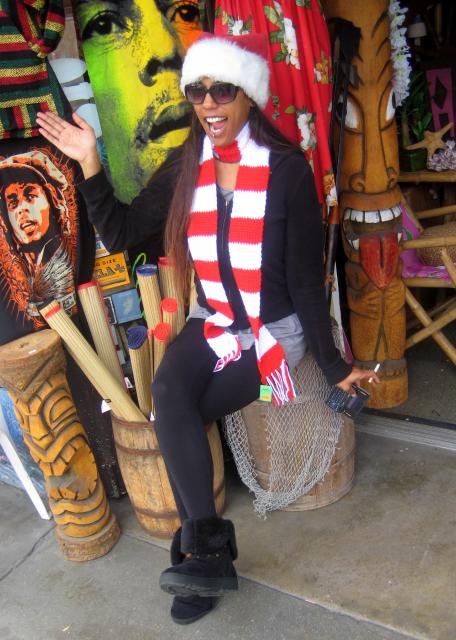 God bless surf camp. If each these soggy kids buy one chapstick, I can pay my electric bill this month...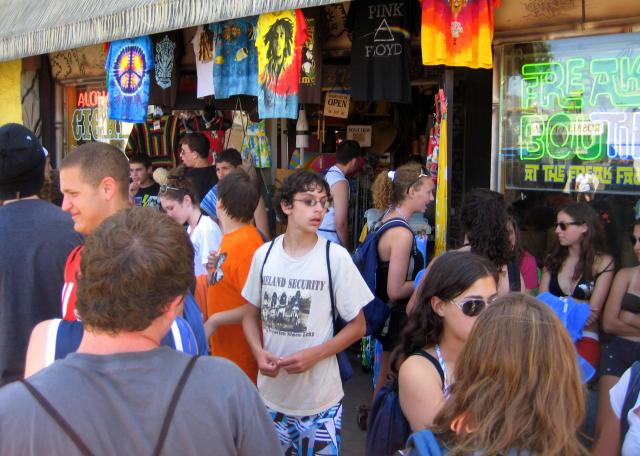 My shop's first manager Sherry stopped by for a visit with another former employee, Devon. So quiet I wasn't certain she was able to speak, a shy teen who worked quietly under her enormous dreadlocks. Eventually something needed to be done that required help, she pitched in and stayed for years. She now has a beautiful daughter of her own.



I used to enjoy hosting a couple chops a year. I was happy that artists I admire greatly like Bosko, Squid, Ken Ruzik, Big Toe and Eric October would actually travel to join our regular crew by the bay. One of the people I was most happy to see was Kate. I always enjoyed her sense of humor and enthusiasm. When I learned she was ill, my stomach sunk but, I prayed for the best. Kate continued to make the journey to join her friends on "Hodaddy Lagoon" even though she was weakened from her battle. Until the very day I heard of her passing I was absolutely certain Kate would prevail and that I would see her again carving in front of my house.

By special arrangement with her dear friend Mieko, Freaky Boutiki is honored to offer a selection of vintage mugs from The Tiki Kate Collection. It is my hope that these will go to good homes and my earnest belief that in this way Kate's aloha spirit will persevere.

Visit The Tiki Kate Collection http://www.freakyboutiki.com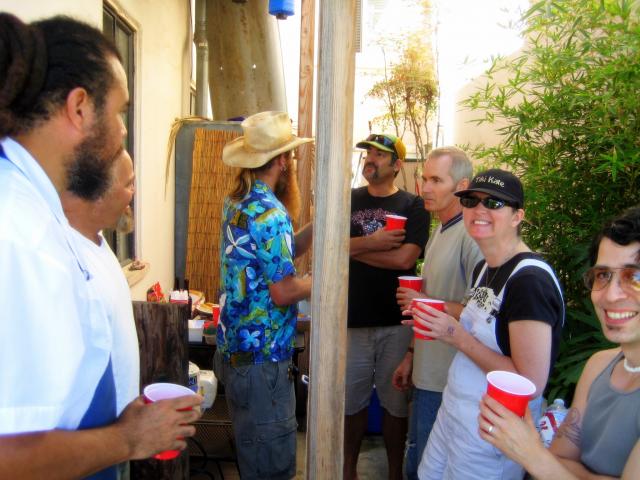 (LtoR)Tiki Omar, Bill Collins, Erik Larson, Tom Laura, David Lea, Kate Simmons and Eric October talking story at Hodaddy Lagoon.


[ This Message was edited by: hodadhank 2011-04-19 12:43 ]

&nbsp


&nbsp