Bowana
Tiki Socialite

Joined: Nov 10, 2006
Posts: 1183
From: La Mesa, CA


Posted:

2007-01-04 9:04 pm

&nbspPermalink

Thanks for checking out The Carve-O-Copia. Some of these images have appeared on TC before, but I wanted to consolidate them onto one thread.




This Moai is about 3' tall. I carved it out of Styrofoam planks that were glued together. You can see some of the vertical lines where the joints are.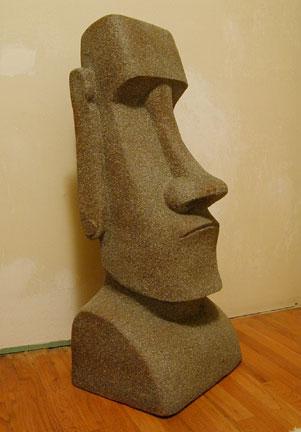 I then troweled on Bondo over the finished piece and sprayed it with Fleck Paint. It looks like it weighs a ton, but it's really light. This one was affectionately named Bondomoai!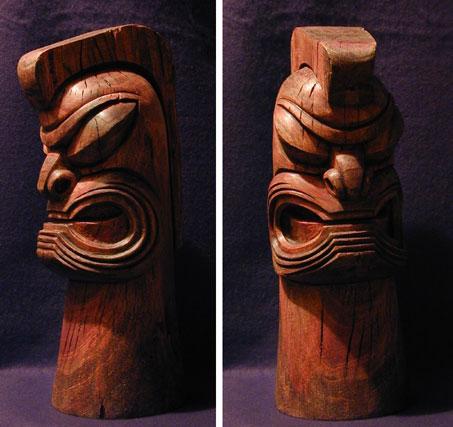 This one was carved from Eucalyptus which can be difficult. It's hard wood, and most pieces that I come across are split so bad that they are unusable. This one is named Ali'i (Chief).




Another piece carved from Eucalyptus. It's 18" high, named Lanakila which means Victory. (The victory being mine in that I finally finished it!)

My love for Kona style and Coco Joe's must be showing by now.




Aikane (Friend) here was carved from a hard piece of HBX2 clay. HBX2 is used for auto body and auto part prototypes. I had designed this piece to be slip cast so I was careful not to have any undercuts. I ended up just casting it in resin. It's about 4" tall.




This is the project I am currently working on. I started this carving at Mieko's Chop-Chop. It's my first real attempt at palm wood.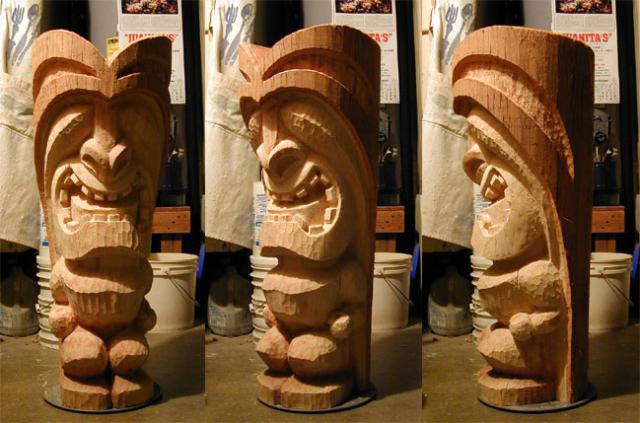 The wood is still a little wet inside and at first I thought I had escaped any cracking, but a few showed up later. Some cracks are okay though. I believe it was AlohaStation who wrote "Worry about the crack when the plumber comes over."

Thanks for looking. I'll post more shots later.







[ This Message was edited by: Bowana 2010-10-26 17:23 ]

&nbsp


&nbsp