Bowana
Tiki Socialite

Joined: Nov 10, 2006
Posts: 1183
From: La Mesa, CA


Posted:

2007-01-05 08:54 am

&nbspPermalink

Thanks guys.

Aaron: Good to hear from ya! Yes, you did a fabulous job with the chainsaw too! How is your Moai from the Chop-Chop going? Have you posted any pictures of it? I've been looking around using the search but have not found anything.

The Hula girl has been re-molded, but I've put it all aside for now. Getting a little bored with it. I don't know if you saw this continuation thread or not http://www.tikiroom.com/tikicentral/bb/viewtopic.php?topic=21904&forum=18&27

Congatiki: I have been sculpting and carving since before I can even remember. I got into Tiki carving maybe 8 or 9 years ago.

Tikigap: Thank you!

Benz: It's about time I posted some more actual carvings! Glad I was able to put a smile on your face. Now we are even!


Here's a couple more: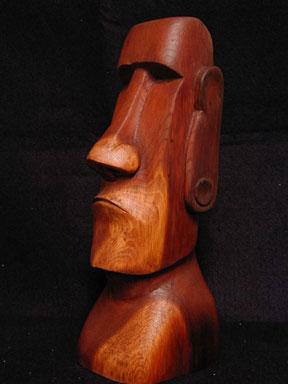 This is one of my first Moais. I carved it out of an old 4X4 redwood fencepost. I had no idea that the two tone coloring was going to happen. A nice surprise though. It's 11" tall.




This is Huhu (anger). 19" of pine wood rage! The finish is shoe polish believe it or not.





&nbsp


&nbsp