Bowana
Tiki Socialite

Joined: Nov 10, 2006
Posts: 1183
From: La Mesa, CA


Posted:

2007-01-07 7:58 pm

&nbspPermalink

Thanks so much everybody.

The riffler, eh?




It's about 7 1/4" long. Really not very big, but excellent for doing detail work. I used it a lot when carving the Styrofoam Moai. Actually, I have used on all of my carvings. I'm planning on putting it to good use when I start on the AAC block you gave me, Aaron.




It's got a straight end, and a curved. (The tip was already broken when I got it. I swear I didn't do it!) No manufacturer name. It has "Italy" and the number 2, and letter B (or R) stamped on it. It was given to me years ago, so I'm afraid I don't know anything about it's origin.




It's great for making grooves. Quite a groovy tool!

Now here's a question I've got:




What is the cause of the horizontal marks pointed out by the arrows? That's not the grain. It's left by the chisels. I would like to have nice clean chisel marks, but I keep getting this. Is it from carving with a dull tool? Anyone else experience this?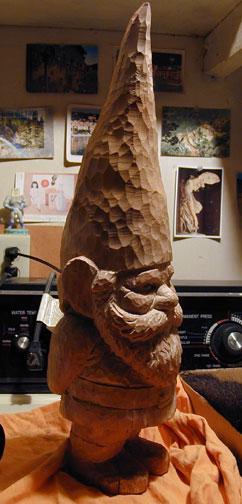 In case you are curious, that's the hat of a Gnome carving I'm also working on. Not a Tiki, but there's no reason why the two cannot be friends!




&nbsp


&nbsp