TikiGardener
Tiki Socialite

Joined: Mar 24, 2002
Posts: 1368
From: 1st website dedicated to Tiki Gardens


Posted:

2007-01-06 12:30 am

&nbspPermalink

Name:Tiki Gardens
Type:restaurant
Street:
City:Indian Rocks Beach/Indian Shores
State:FL
Zip:
country:USA
Phone:
Status:defunct

Description:
See http://www.exotic-tiki-gardens.com for a fairly
succinct history of Tiki Gardens.

I have just finished digitizing 5 packs of
Pana View slides of Tiki Gardens.

Here are some click-able thumbnails with descriptions.These are views of
some familiar (seen from unfamiliar vantage points) and some rarely seen Tiki Gardens landmarks.



The Tiki Gardens Sign on Gulf to Bay Blvd. The first thing you would have seen on your approach.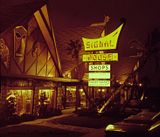 The Signal House Shops. This sign read "Tiki Gardens" on the opposite side.
The Signal House was home to several gift shops.



The interior of "The Great Hall" a pretty sizable gift shop with some quite cool items. Note the hanging ashtrays.



A very cool Witco looking Tiki on the counter by the register.



A very Shag Like Tiki on a shelf above the register.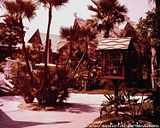 This shot shows a rear view of the three A-frames of the shops. Behind the small palms, and just to the left of the "Trader Frank's" arrow sign sits Kahona. At the far middle left of the picture you can see a white item. Its rear of the muscle man/wahine cut out that you could have your picture taken with your head sticking out so it looks like you are the muscle man or wahine.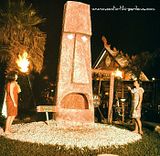 Kahona The Supreme Tiki God of Tiki Gardens seen in the daily torch lighting ceremony.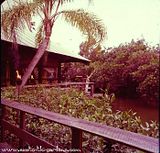 The Side of Trader Frank's Restaurant. It is possible that the woman on the walkway is Jo Byars, Trader Frank's wife.

The Interior of Trader Frank's.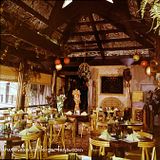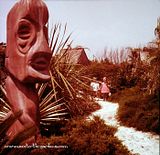 The elusive Fishing God Tiki in all his glory. Depicted on one Tiki Gardens brochure as a drawing, and seen in small photos.



Menehune Island. Located in Tiki Lagoon, just below Lono the Water God. Note the Treasure Craft ceramic Tiki.

More added soon.



Heres a link to the remaing scrapbook pages from the old site. They were saved from earthlink destruction because they had a diiferent email account linked to them.

http://home.earthlink.net/~tikigardener/scrabookpage3.html

[ This Message was edited by: TikiGardener 2007-01-06 15:33 ]

&nbsp


&nbsp