VanTiki
Tiki Socialite

Joined: Nov 25, 2005
Posts: 1046
From: Hawaii


Posted:

2013-07-08 2:03 pm

&nbspPermalink

With less than 40 days till Tiki Oasis, the kiln is going to be firing as often as possible. Here is an update on the projects nearing completion:

*special* tiles
I did a handful of modified tiles for Tiki Oasis this year. They range from re-sculpting fresly pressed tiles (adding stone texture and cracks for example) to special glazes. Here you see some skulls that will be getting a22k gold tooth. Had to bisque fire them, then do a black underglaze wash with gloss black on the tooth that will be gold-i-fied. I'll be applying gold lustre glaze and sticking them back in the kiln this week.



Glaze fun!
Experimenting with a bunch of underglaze and glaze applications for the Tiki Oasis tiles and pendants - here is a peek some of the pieces before I fire up the kiln. The all-seeing eye tiles look quite awesome, if I may say so myself!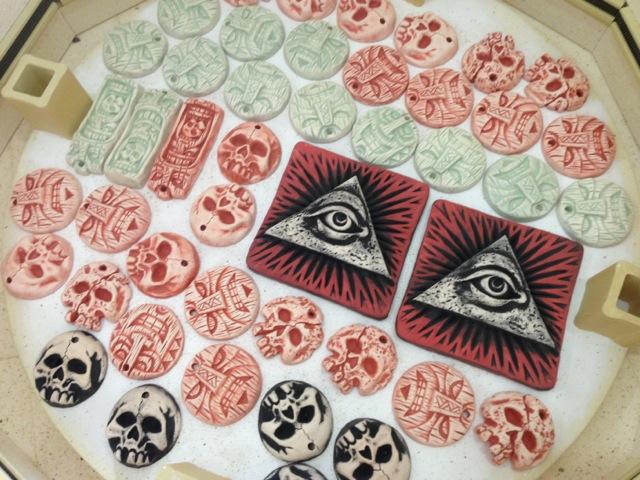 First kiln load!
First load of Tiki Oasis goodies! You can see one of the Cracked Moai tiles (2 survived! I am so happy!), 4 MEGA Moai pendants (love them), and some extra yummy glazed tiles. If the rest of the firings go like this I'll be a happy camper!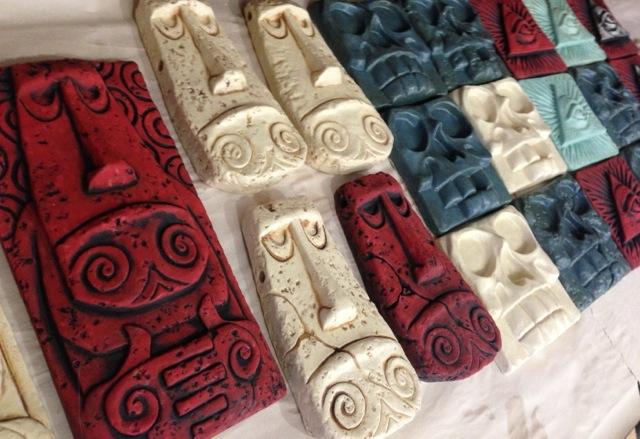 in addition to these pieces I'll also be bringing the jug mugs, some of my silkscreen prints, and a SUPER SECRET returning VanTiki item that I am extra stoked about.

Mahalo for peeking!
Henrik "VanTiki"

_________________



&nbsp


&nbsp