Kenike
Tiki Socialite

Joined: Jul 24, 2003
Posts: 1207
From: McKinney, TX


Posted:

2010-01-12 11:57 am

&nbspPermalink



Quote:
---

On 2010-01-11 22:27, DavidAfshar wrote:

So, "sprucing up" seems not to mean "screwing up everything cool about Trader Vic's" as some (including myself) may have feared. Instead, it seems to mean, salvaging the greatness that is TV Dallas from the floodwaters (though that might be a bit dramatic). Here's hoping that the water damage isn't too bad and that the management won't be forced to do much remodeling, both because it would be such a shame to lose all of those Poly-pop historical artifacts, and also so that TV Dallas will be up and running real soon.

---


Welcome David and thanks for that valuable info.

The water damage was minimal and only affected a small area, but they DID have to close because of it. However, the "sprucing" they mention on the sign is referring to the new "tropical island grill" concept that other TV's have been experimenting with. Details right now are quite sketchy, but I do know there is some "remodeling" involved, which in essence means decor changes. That's basically all I know at the moment.

We got to see the interior one more time last night. I made a personal plea to Rusty (TV consultant) since Tiki Kiliki was in town to let us have a look and he opened the doors and let us tour the place. Stupidly, I didn't bring my camera to document this somewhat historic event...the creator of the Hukilau is appropriately one of the last to see the "old" Dallas Trader Vic's...and Koitiki and I got to say our goodbyes to TV.

On a personal note, I said my farewells the last several times I visited because I was sure they weren't going to be open the next time I came. This new business model is one I'm unfamiliar with, but I've heard nothing but bad things about it. We'll see what it is when/if they reopen, but I think it's fair to say the old Dallas location that's been intact since 1967 won't be the same after this. It's sad but not surprising. Luckily I've prepared myself for this moment long in advance.

Of course, all of this could change tomorrow. The surprises at Dallas Trader Vic's never stop coming. Maybe they'll reopen in 2 weeks with just a menu change. Who knows??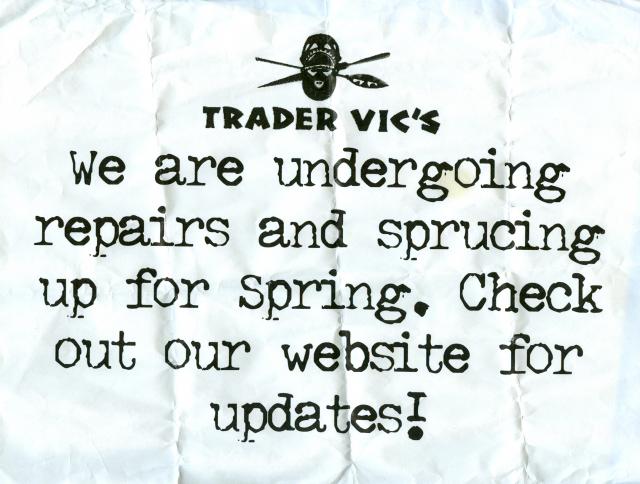 [ This Message was edited by: Kenike 2010-01-22 22:28 ]

&nbsp


&nbsp