Kenike
Tiki Socialite

Joined: Jul 24, 2003
Posts: 1207
From: McKinney, TX


Posted:

2010-01-26 6:27 pm

&nbspPermalink

I think it's time to move on to Phase II of the Dallas Trader Vic's story...and that is preserving it's memory.

I've amassed a whole bunch of pictures, ads, newspaper articles, internal correspondences and some just plain strange paper ephemera from the "old" Trader Vic's that opened in 1967 and closed in 1989. It's amazing what seemingly useless paper people leave lying around in a box in a closet can resurface 30+ years later and give us new insight into the whole story...

(some of these news articles may be hard to read...try magnifying your computer screen)

So let's start with the very first mention of Trader Vic's coming to Dallas. This is a newspaper article from August, 1964.




But construction didn't actually begin for over a year. The ground breaking ceremony was announced in this article from 10/22/65. Vic himself attended this event. This was, after all, going to be the BIGGEST Hilton Inn, and Trader Vic's was putting at least half a million into their newest restaurant. Of course he's gonna be there...





AND, interestingly enough, there ALREADY WAS a locally owned "Trader Vic's" in Dallas that had been in operation since 1962, but not the Polynesian Vic's. In May of 1967, a month after the new Trader Vic's in Dallas opened, they had to stop using the name.





Here once again is the original Dallas Trader Vic's, complete with the Barney West moai out front.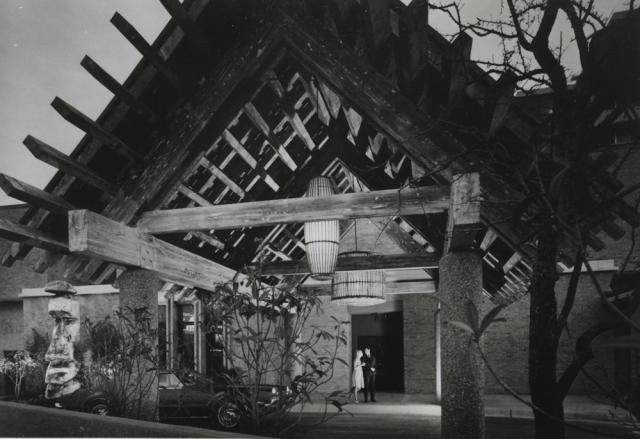 Truly a sight in Dallas. At this time Dallas also had Ports O'Call across town and also Dobbs House Luau at the airport not far from Trader Vic's. 67-74 was definitely the heyday of Dallas tiki, and Trader Vic's stood at the top.


[ This Message was edited by: Kenike 2010-08-31 16:10 ]

&nbsp


&nbsp