tikitube
Grand Member (first year)



Joined: Apr 25, 2017
Posts: 141
From: Ozark Underwater Cliffs


Posted:

2017-10-16 10:37 pm

&nbspPermalink



Quote:
---

On 2017-10-02 18:57, Prikli Pear wrote:
One of these days I need to take a bunch of photos of the in-progress landscaping around my tiki build. But I'll share this now because I have it handy--I love passiflora, as I've stated earlier. Years ago, I traded for some exotic seeds. This plant grew from one of those. Through moves and neglect and other events, I lost it's ID and almost killed it more than once. It never flowered, but always came back from my abuse. The other day I was startled to find a half-dozen unexpected blooms by it. Turns out it's p. serratifolia. Not as free-flowering as more common types, but quite pretty, no?



---


We get something similar growing wild all around our house. The locals call it wild apricot or passionflower.




[ This Message was edited by: tikitube 2017-10-17 08:20 ]

&nbsp


&nbsp

nui 'umi 'umi
Tiki Socialite

Joined: Feb 21, 2011
Posts: 2529
From: La Mirada Atoll


Posted:

2017-10-16 10:55 pm

&nbspPermalink

There are many varieties of pitcher plants (nepenthes) from Madagascar to New Guinea.I bought this one from the "Sick Bay" shelves at my local Lowe's Hardware.I won't know what I have til I get new Pitchers. I cut off the worst of the plant, watered it and it looked much better this morning. We'll see what it looks like in the spring. interesting "conversation plant for a bright spot in your patio (no direct sun) No,don't try the liquid that's in the picther in a cocktail.
Cheers

Before cleanup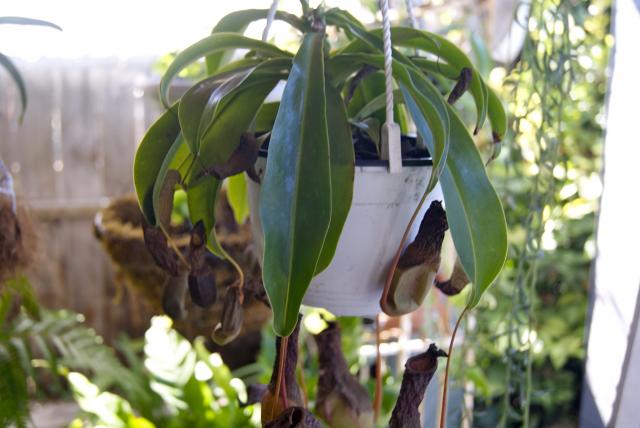 After








&nbsp


&nbsp