MakeDaMug
Tiki Socialite

Joined: Mar 28, 2002
Posts: 1183
From: behind a cluttered desk


Posted:

2007-09-26 11:24 am

&nbspPermalink



Quote:
---

On 2007-09-25 21:35, AlienTiki wrote:
If it was such a no brainer. You have produced nearly 1000 mugs. Why wait until now 6months after the contest? I mean how many years have you been making mugs?

You need not reply, it's a no brainer. Hard up for ideas, lets have a contest and we'll get tons of free ideas. I've seen it before.

---

The Bali Hai owners wanted to go with the blue matchbook version of the Christian's Hut Tiki. As it's their intellectual property, we agreed. Here's what we sent to Squid...


Here's Squid's sculpt...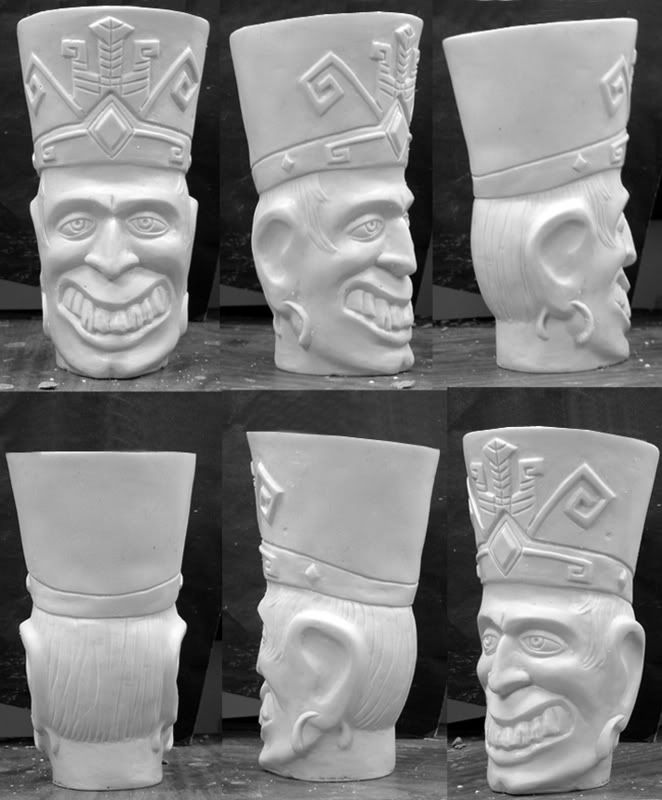 We removed the 2 red stripes that transition into the rim as we had originally contemplated cold-painting those red and we need to keep cold painting away from the rim. Ultimately though the labor $ associated with doing so made it cost prohibitive. When we pay for a sculpt, block & case, master tooling, production tooling & the actual mug cost on such a low run, we do our best to keep the price reasonable - that saw the 86'ing of the secondary cold-painting.

The design contest saw 3 entries. Here are 2...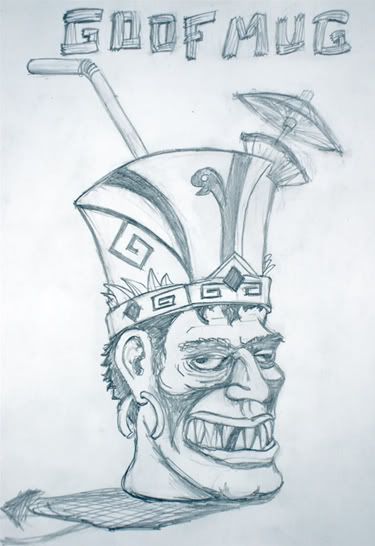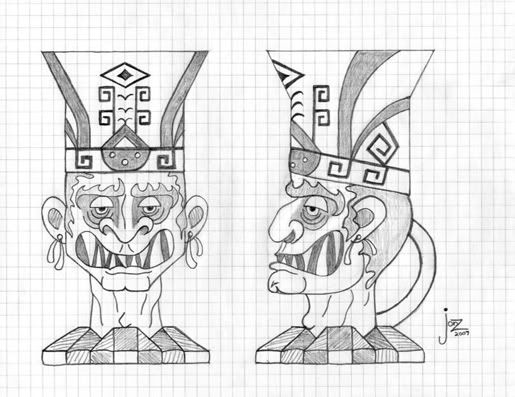 The 3rd I'll reserve for Alien to post should he choose to do so. These 2 designs above are interpretive of the Goof but the 3rd mentioned is a direct copy of the matchbook art. I really liked them all, especially the first shown above and I went as far as sharing them with the Bali Hai but they were set on the aforementioned matchbook cover version and stated regarding the first, it was "too mean".

I'll be sure to state in the future that designs must be original. I include in every contract with our designers a statement indicating such. Here's that info...

9. The Licensor warrants:
i. That the Designs are original and have not been copied wholly or substantially from any other work or material

We all know the Goof but if we approved a design that was lifted, for example, from a Tiki design exclusive in Sweden for example and then we get sued for it, I'm s.o.l. If we do future contests, know this info.

As for your comment about being hard up for designs and having a contest to get free designs...
Every artist chosen is receiving royalty payments as I outlined in the original thread. I did this for TC and we are NEVER hard-up for designs.





&nbsp


&nbsp