Trader Tark
Tiki Centralite

Joined: Nov 11, 2007
Posts: 44
From: Sunny Brighton UK


Posted:

2007-12-23 09:52 am

&nbspPermalink

HI,

Thought as i had some time i would post some pics of the other little project i have been doing whilst the garage was empty. The second of the recent two . But to be totally acurate my TIKI#6 .. I must admit that the more i look at other peoples work mine do seem quite un-sufisticated. Well really i do just draw a rough plan and just start hacking away, first with Chain saw then chisels and sander... I will try not to blame my tools, but probabaly more my patience and lack of attention to detail. I have to also admit that my favorite TIKIS probably are the Vintage "Pop Art" style. It was these that first drew my intrest in the whole World of TIKI.


One very wet (probably too wet) Beech log with its first shapings..



Stained the tounge:



I aplied many coats of Danish oil (Dark Mahogony)



I would be interested if any one has sugestions for the finish on Carved items. So far i have used Wax, Linseed oil and Danish oil.



Well, now let me also take this opertunity to wish you all a Merry Christmas from Me and Tamzine::lol::lol: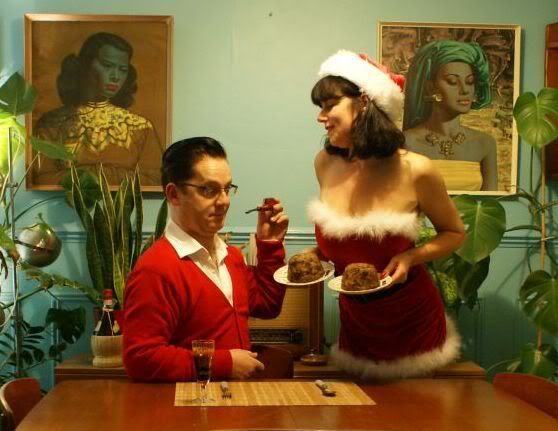 And of course from the Kids:




I hope you all have wonderfull holidays...

Best wishes

Tark & Tamzine


&nbsp


&nbsp