bigbrotiki
Tiki Socialite

Joined: Mar 25, 2002
Posts: 11602
From: Tiki Island, above the Silverlake


Posted:

2007-12-29 4:07 pm

&nbspPermalink

Actually, that is not even half of the Orchids catalog. Tiki mugs just made up a tiny percentage of their offerings. More than anything they were a Chinese restaurant supplies importer with endless pages filled with stuff like this: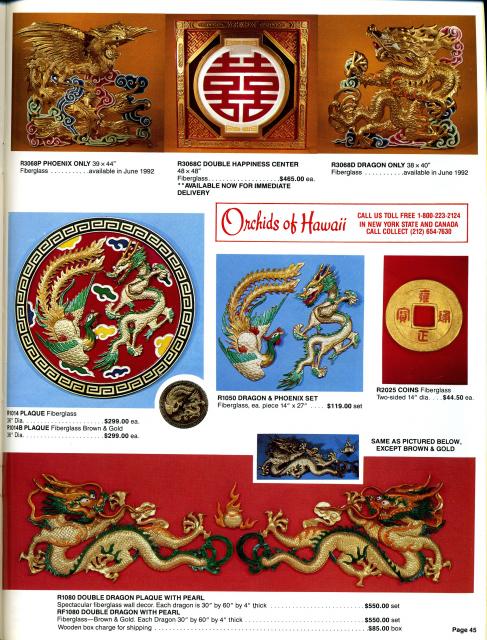 That is the reason why many of the 70s/80s Fu-joints on the East coast display all the same fiberglass Tikis and boxy bamboo lamps, ...not much of an individual creative effort.

I believe that before Orchids moved to their last location in the Bronx in the 80s, they might not have had fully bound catalogs, but ORDERING SHEETS like this one from the late 60s: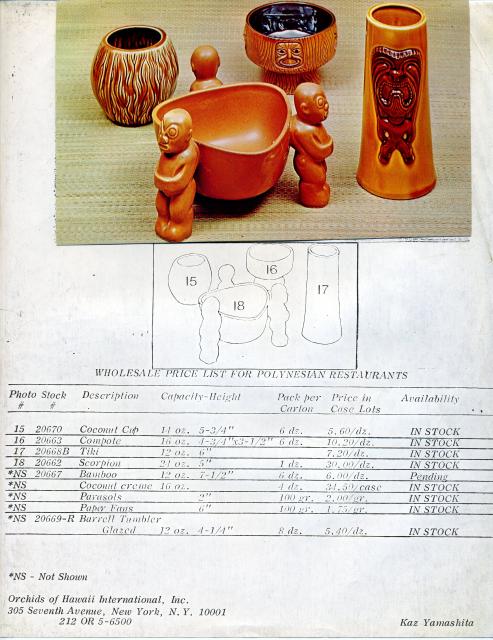 The ephemeral nature of these thermal paper sheets which had color photos of the mugs merely stapled onto them might be the very reason WHY it has been so hard to find any catalogs from Tiki mug companies. It seems that during the heyday of the Tiki restaurant wave, full fledged dinner ware catalogs were not customary, they seemed to have come into use LATER. This to me seems like the most logical reason why after over a decade and a half of mug research almost no leads as to the existence of OTAGIRI MERCANTILE have surfaced.

I have arrived at this conclusion through a recent find. BEHOLD the first example (to my eyes) of the inexplicably elusive, esoteric, exotic and rare OTAGIRI CATALOG: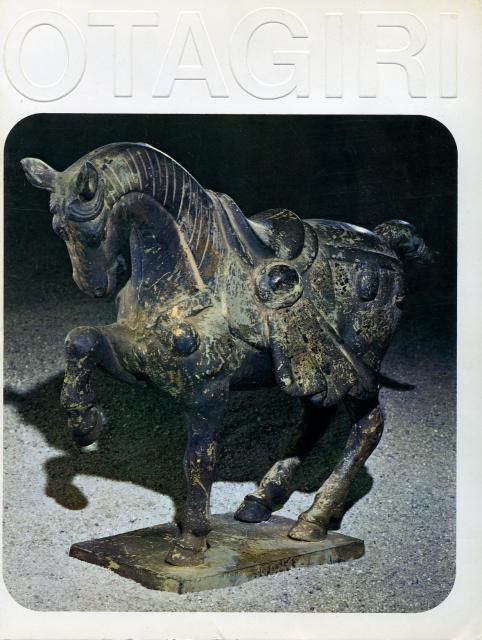 This one is dated from the tail end of the Tiki craze, 1968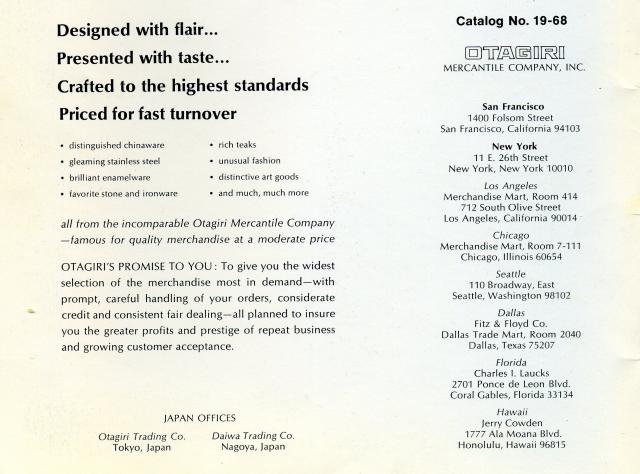 In its cover pages, we do find some hints as to the distribution system of the company.




As we excitedly open its pages...




...elation is quickly replaced by disappointment: Pages of fine Japanese pottery, lots of Ikebana vases, Sake bottles and cups, (and boring white restaurant China)...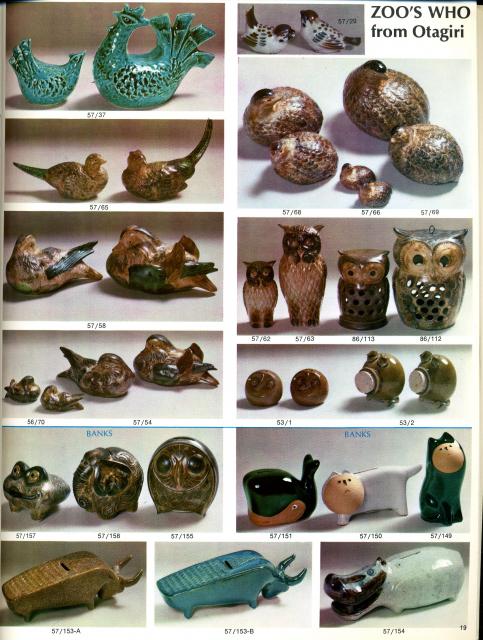 ... whimsical modernist animal sculptures .....but where are the Tiki mugs?

Not one page shows even a hint of Polynesian decor, but lots of "mod" import wares:




...how gay!




Finally, there appeared two inserts of Tiki mugs, from 1968 and '69. Very few mugs, and all generic.




This shows that also for Otagiri, Tiki mugs were merely a small percentage of their imported Japanese goods, and makes it likely that all mug business transactions, including the designing and ordering of logo Tiki mugs, must have been made on loose paper, the kind of stuff that gets thrown away first when a business closes. The throw away nature of mug sheets is the reason why, I conclude, the quest for Otagiri material has been so unfruitful for such a long time.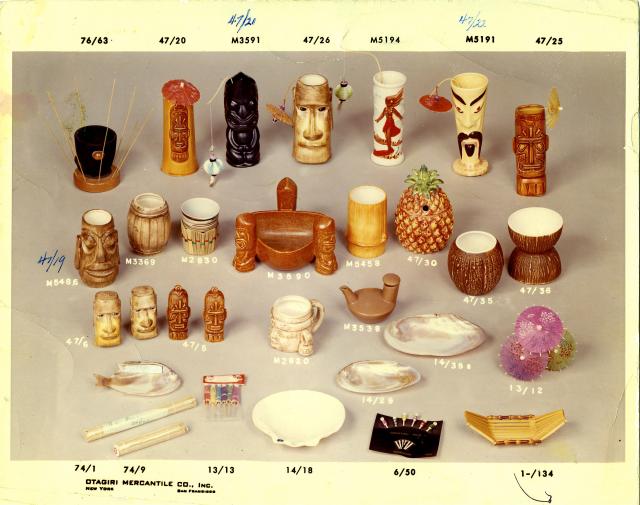 This might not be a full blown sensational discovery, as a complete compendium of Tiki mug pottery might have never existed.....but it brings some closure to the enduring mystery of OTAGIRI !

Happy New Year
from your big brother



[ This Message was edited by: bigbrotiki 2007-12-29 16:09 ]

&nbsp


&nbsp