bigbrotiki
Tiki Socialite

Joined: Mar 25, 2002
Posts: 11594
From: Tiki Island, above the Silverlake


Posted:

2008-02-27 10:40 am

&nbspPermalink

OK...now, WHO got this one?: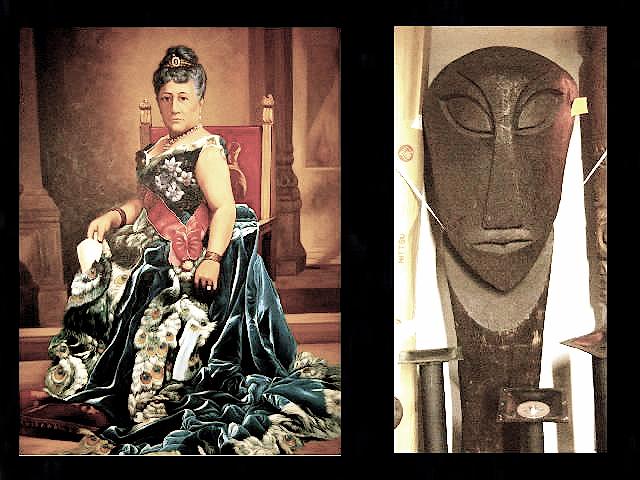 Quote:
---

On 2008-02-24 19:14, midnite_tiki wrote:
The above painting many will recognize from San Francisco. The carving on the right many may not. It sat in the front area at Cosmo Place. It was a bargain, and was sold. Not terribly interesting compared to others but a rather historical piece nonetheless.

---


Historical, indeed. Very appropriately placed right next to that painting, midnite, for in MY book, he should be considered TIKI ROYALTY. Among all the tons of stuff in that warehouse, this one would have been my "Rosebud".

In 20th Century Tiki history, there are only a few what I would call "arch-Tikis":
Tikis that were there during the Pre-Tiki era of Polynesian pop, or at the BIRTH of the Tiki-era, and thus were the forefathers of Tiki. Looking back, I would name Picasso's Marquesan Tiki for instance
( http://www.tikiroom.com/tikicentral/bb/viewtopic.php?topic=27442&forum=2&vpost=363189 ) ,
and Don The Beachcomber's Cannibal Carvings come to mind...then the iconic Tiki Bob Tiki, which marks perhaps THE turning point of the TIKI becoming the icon of Polynesia...but before him came THIS seemingly mundane, simple fellow.




He was one of the two FIRST entry way Tikis ever, serving as guardian not only at that hub of urban Tiki, Trader Vic's San Francisco on Cosmo Place (above), but these figures did the same at the mother ship of Vic's empire, the original Oakland Trader Vic's ! :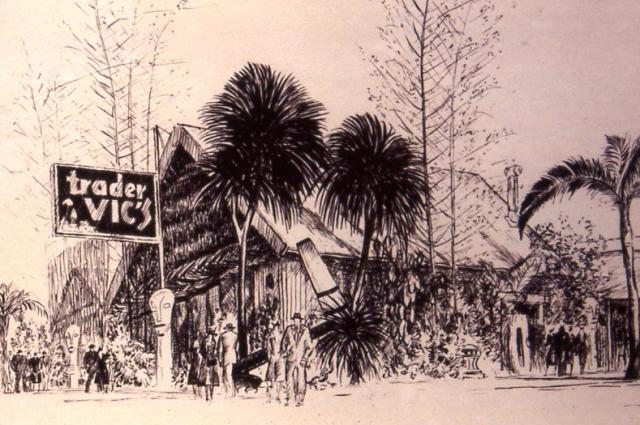 (See BOT p.82 for the original Hinky Dinks hut evolving into the above)

There is a different, very nice original rendering of the Oakland location by "Kay" on the wall at the Emeryville T.V.s that shows these two Tikis even better, done in a style like this: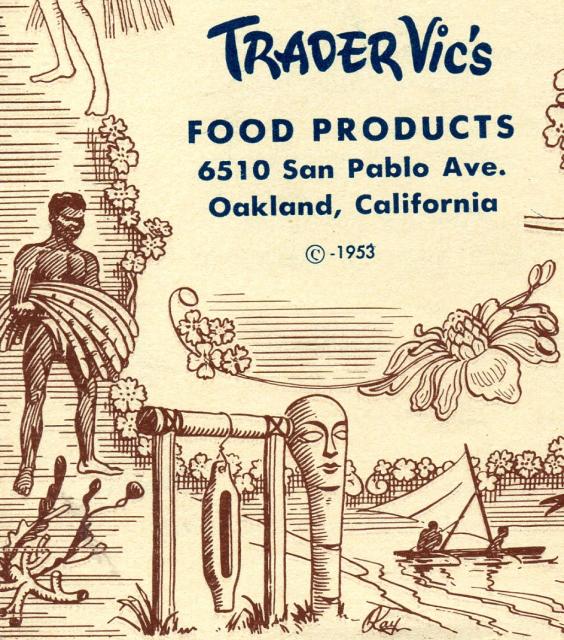 Imagine the hordes of revelers that these two Tikis must have seen enter and leave those two Tiki power places!
But before I go any further, aside from its historic value, isn't the Tiki's style kind of artless and boring? Allow me to disagree. It is exactly in lime with the early 20th Century modernist influence that I describe in Tiki Modern, look at this 1910 piece of Brancusi...



...and this famous Man Ray:



...honing down the face to its basic lines, returning to the beginning of man's expression: modern primitivism! This Tiki's simplicity is an early example of one of the trademark's of Tiki style, modernist stylization. One of the same style can be seen in this interior of Vic's first franchise in Seattle (BOT p.86)...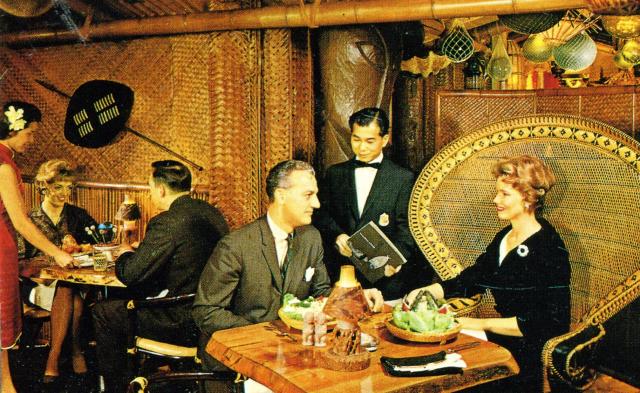 ...right behind the maitre d'. Was this a THIRD Tiki? And where did they come from? Now here is a Tiki very much like it: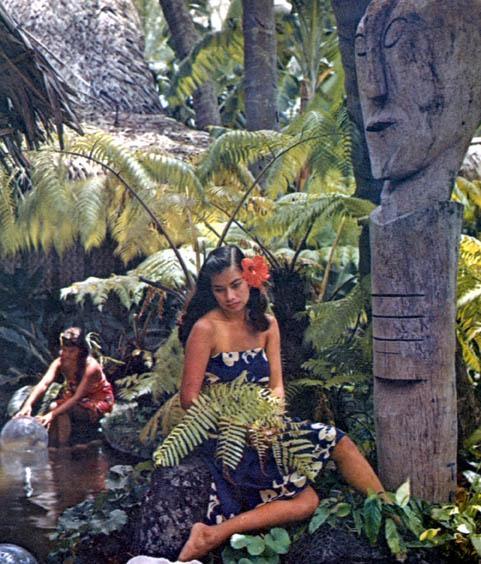 Posing with it is our favorite Miss Hawaii. This one seems to have been standing in the Fern Forest National Park on the Big Island of Hawaii:




He was raised to further prominence by having the illustrious Martin Denny Group pose with it: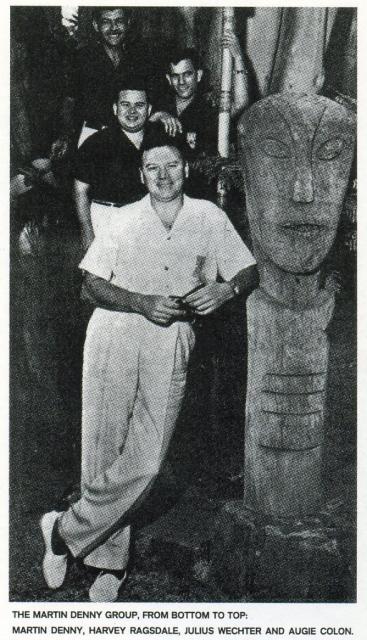 I have been dying to find out who carved it, and what happened to it, but had no luck so far...

I estimate that Vic got these Tikis from Hawaii around the late 40s, early 50s, when there was NO American Tiki to be had yet, and Vic was also importing big head Marquesans and Tiki posts from Tahiti for his early franchises. Back then, the Hula girl was the prevalent icon of Polynesia...but the first Tikis began to appear, like on this 1953 invite. This makes this guy one of the earliest logo Tikis in Polynesian pop: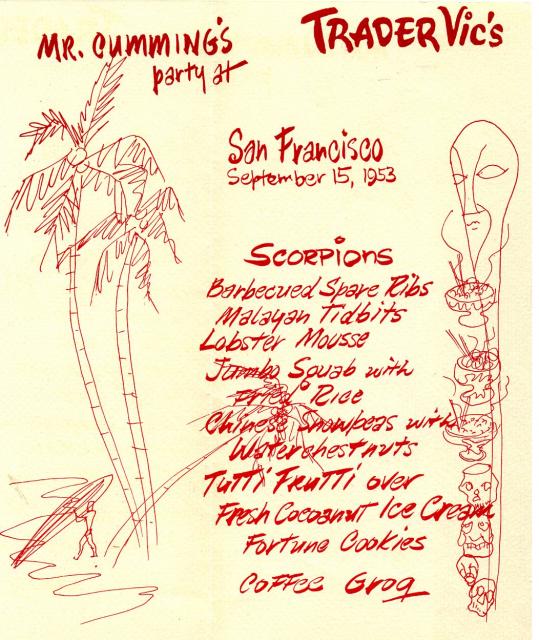 Whoever got this guy (Martin?) knew his Tiki stuff, congrats. I never considered going up there to the sale, because my Leipzig job evaporated, and I am currently not buying, rather will I have to start selling...but this would have been one baby that would have tempted me.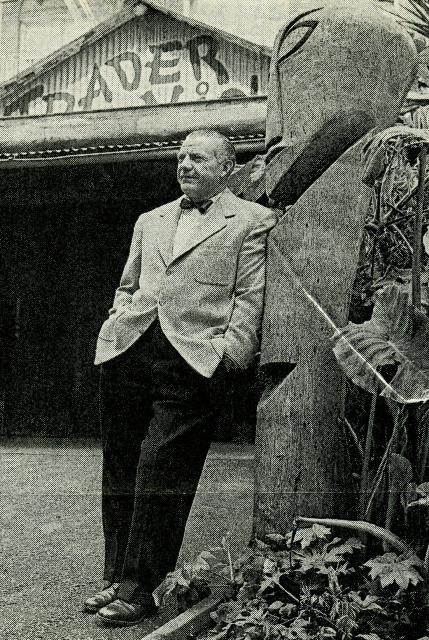 [ This Message was edited by: bigbrotiki 2008-02-27 10:46 ]

&nbsp


&nbsp