bigbrotiki
Tiki Socialite

Joined: Mar 25, 2002
Posts: 11602
From: Tiki Island, above the Silverlake


Posted:

2011-02-20 01:47 am

&nbspPermalink



Quote:
---

On 2011-02-19 17:50, Maui Chimes wrote:
Big Bro Tiki,
I find it funny that you are calling the actual designer/architect "less skilled" then the other so-called "professional" rendering. What information do you have that backs that the other rendering with a helicopter pad is more professional? Are you basing this on artistic ability? Being an Engineer/Architect myself the type of image that was posted earlier today seems more in line with what is actually presented to a client in a design development type of application.

---



Well, purely based on my eye. I am a purely visual person, and I base all my work on my eye, and its experience. I trust it more than the written word.

I felt that the details in the Wiederman version, like the foliage and the background...




...are not as tightly and lovingly rendered as in the "original" version: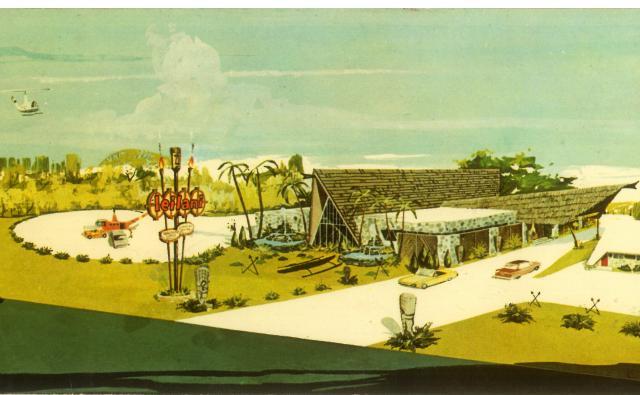 ...so that made it look like a copy to me. So yes, I was using the term "professional" more in terms of artistic ability, and not in terms of architectural requirements.

The difference though might be heavily influenced by the medium used, the Wiederman brush work looks more like a water color, which makes detail work much harder: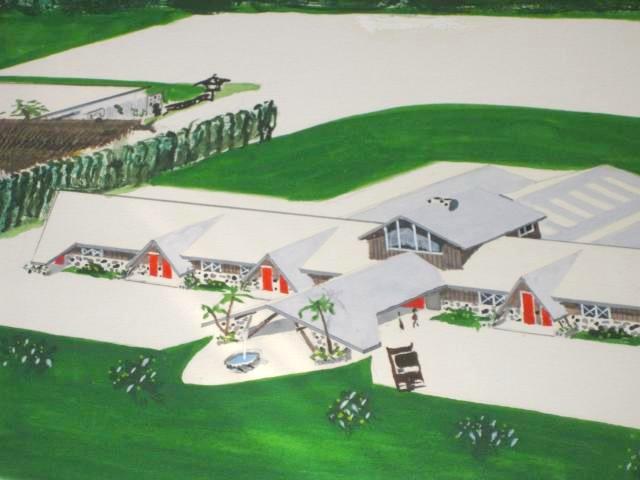 And I must admit I am just acting on hunch when I call the helicopter version the original. It's based on the fact that an expansion, like those extra Motel rooms, usually FOLLOWS a smaller scale building. That theory however is nixed by the date of the Wiederman rendering being 1961. It is unlikely that the owner asked for an expansion the same year the place was built. Maybe they decided to scale the project DOWN.

That and the fact that the sign is more simple might make the Wiederman art work the original, and the postcard rendering the second version, which maybe was ordered AFTER the fact, after the place was built, with more effort spent on detail, for promotional purposes, since the Leilani owners had such big chain expansion plans for other locations.

I do spy with my little eye a copyright date in bottom right corner of the postcard above, which might clear up that question...but I don't have the postcard with me, someone who does please zoom in on that detail.

Whichever way, the find of that rendering is an incredible stroke of good luck, congrats Bail Tekey. Where did you find it? Do you have any info about where it came from, as in the person and location?


&nbsp


&nbsp