tobunga
Tiki Socialite

Joined: Apr 12, 2008
Posts: 1190

Posted:

2010-02-02 8:16 pm

&nbspPermalink

Aloha everybody!
I sort of made a new year's resolution to post more often, and look! It's only been a month since my last post and here I go with another one!

This is the first piece I completed this year, for the January mug swap. I was sending a package to Abstractiki, and I wanted to send David a something special to thank him for all the Urban Archaeology legwork he's been doing uncovering Stockton's tiki past. I painted him this 11x14 map of Stockton, highlighting all the tiki establishments on which he's uncovered information. The logos roughly approximate their establishment's locations in the city.


In fact, I could not have done this image if not for all of Abstractiki's hard work sleuthing away. I based the Luau and Minnie's logos off of phone ads he posted, and the Tahiti Iti logo was featured in a very grainy photo he posted.

The next project I tackled was a new pendant/card set for Valentine's Day. The set is based on a PNG tiki, since the faces of some of them are kinda heart shaped. The card measures 3.5 x 6.25 with an opening in the center for the pendant. The pendant is painted resin and measures 2" square.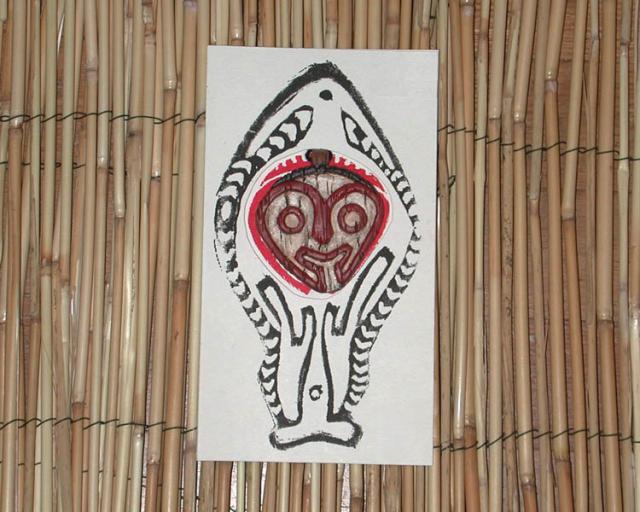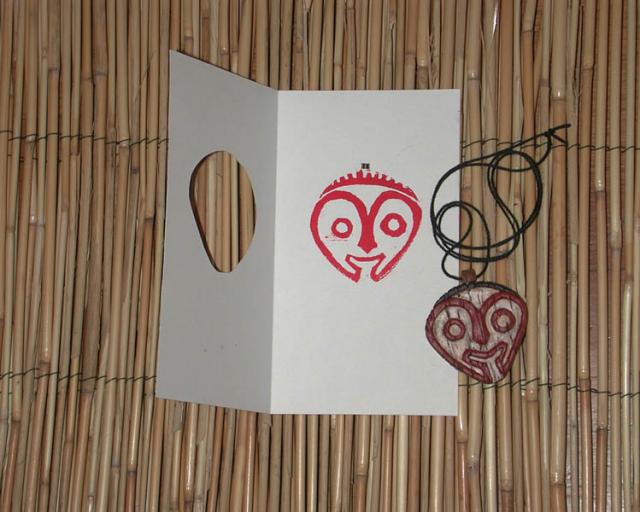 I continued the exotic tiki isle map series with this 11x14 map of Alameda. The last time Manuel and I were at Forbidden Island, we were talking to Suzanne about how Alameda is an island with tikis on it, and I scribbled down a quick drawing of this idea. I styled the tiki after the FI tiki, and put an "X" on the map where the bar is located!



I continued the vinyl wall hanging tiki series:


This Lono started out as a Ku, but the head seemed too tall. So I performed a little tiki brain surgery and removed the top of the Ku head and replaced it with a Lono headdress.

I also made two 15" diameter circular tiki heads, a Marq and a Ku: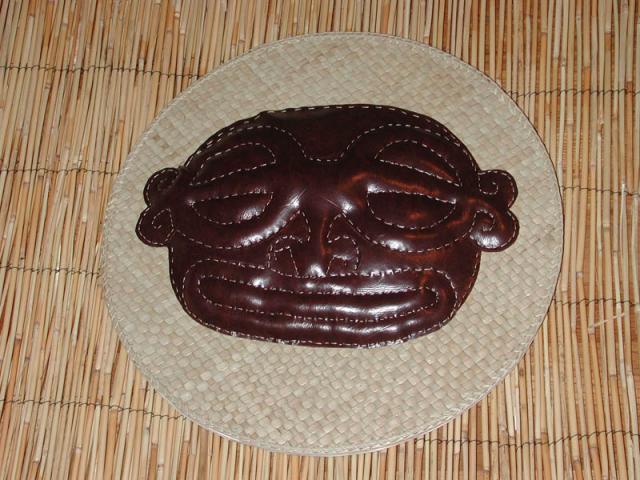 And I now have a tiki drum trilogy with the completion of these two 11x 14 acrylic on watercolor paper paintings:
Tiki Drum Playing Itself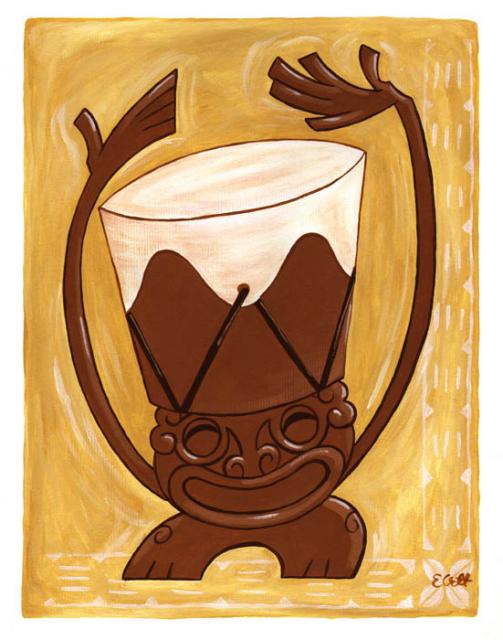 Bongo Beatdown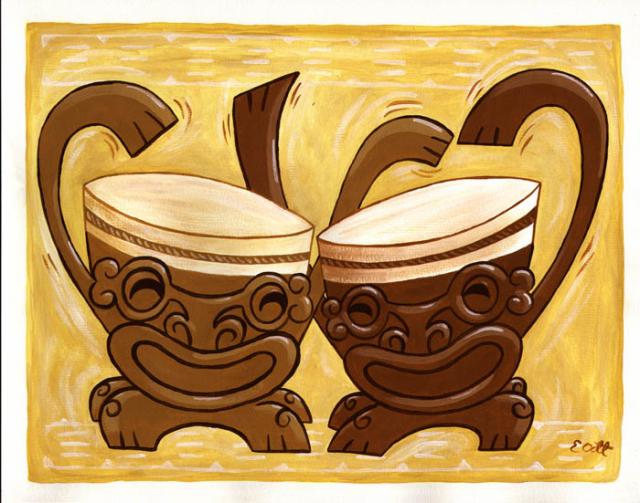 This last one is an homage to the Bongo Beatdown that the TIkiyaki Orchestra performs during live shows!

Beaky Tikis, 11x14 acrylic on watercolor paper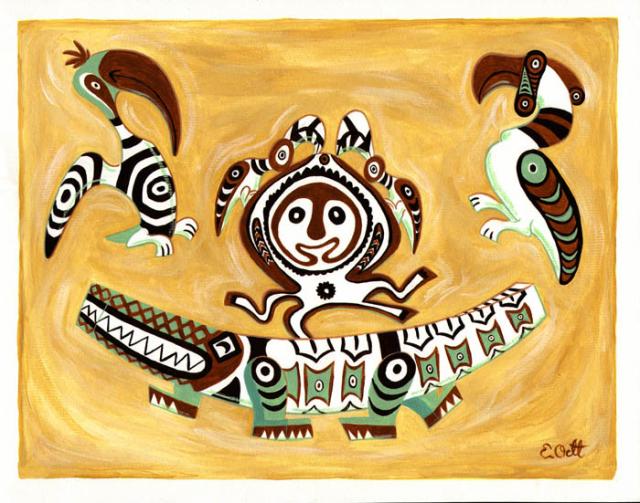 The Crocodile and the Hornbill are inspired by pieces from Aloha Jhoe's, and all the figures are based on PNG art.

This 11x14 piece was inspired by a song that was introduced to me by Tikiyaki's own Marty Lush, Hawaiian Cha Cha Cha: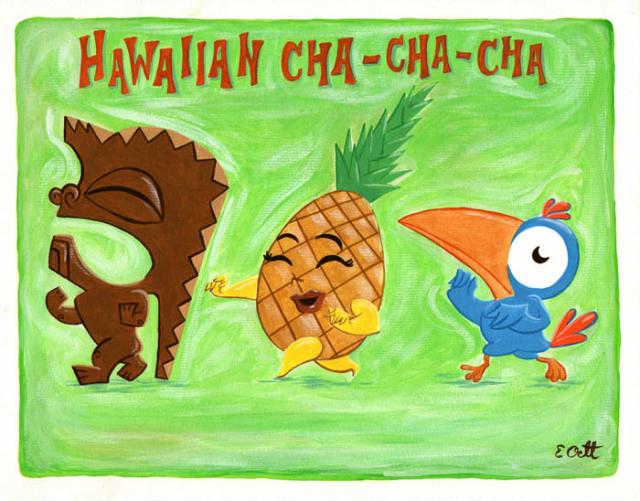 I also made some 8x10 prints of the Tiki Torch Song Trilogy paintings, and the Maori Racer painting. I hand painted tapa patterns on the frames.



I had wanted to do a Stockton Islander painting for some time, and receiving some Islander bamboo from Abstractiki was the impetus to complete this piece.
It's framed with Islander bamboo, and measures 15x22, sized to fit the pieces of bamboo. I was very pleased with the way it turned out, and the bamboo makes it extra-special!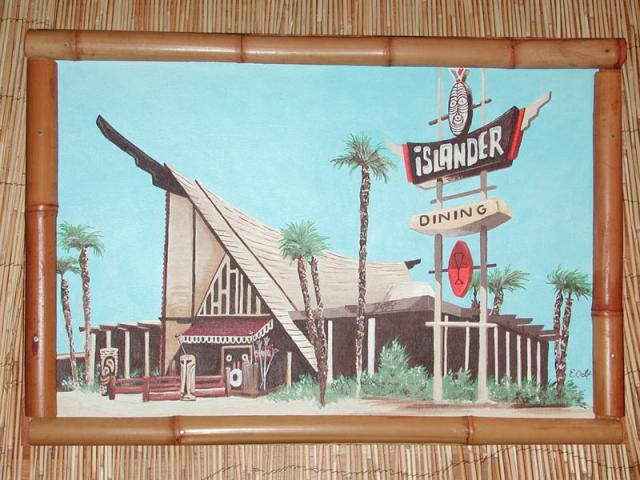 Well, that's it fer now, hope to be posting again soon!
Mahalo fer lookin'!
Yer pal,
Eric October



_________________



http://ericoctober.com

[ This Message was edited by: tobunga 2010-02-02 20:25 ]

&nbsp


&nbsp