TikiTres
Tiki Socialite

Joined: May 28, 2008
Posts: 263
From: Forney, TX


Posted:

2008-07-20 6:45 pm

&nbspPermalink

Thanks Blindy! I looked it up and apparently "Swamp Cedar" is the same thing as "Eastern White Cedar". Not sure what it's availability is in other parts of the country, but around here we mainly get Western Red Cedar.

I'm not done with my wood testing, but I decided to go ahead and finish up the sconce today as I hate half-finished project laying around
Here are some pics:

All the lights are candelabra bases. I drilled two holes in each of the metal supports and screwed them into a wood block. The wood block in turn was screwed to a plastic j-box (the thinnest profile box I could find). Eventually when I get my tiki patio remodel complete this will be mounted directly to a j-box in the wall, but for testing purposes I wired it up with a plugged cord. The mouth light was screwed to the back of the sconce and a notch was cut into the j-box to fit around that base. All the wires were wire-nutted together, pushed into the box and the box was screwed to the back of the sconce.



Closeup...



Back with box in place...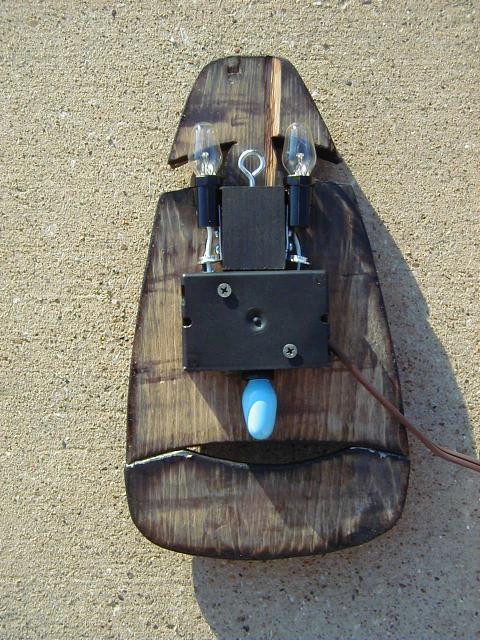 Front view...



Hanging in the garage over the shop bench for now...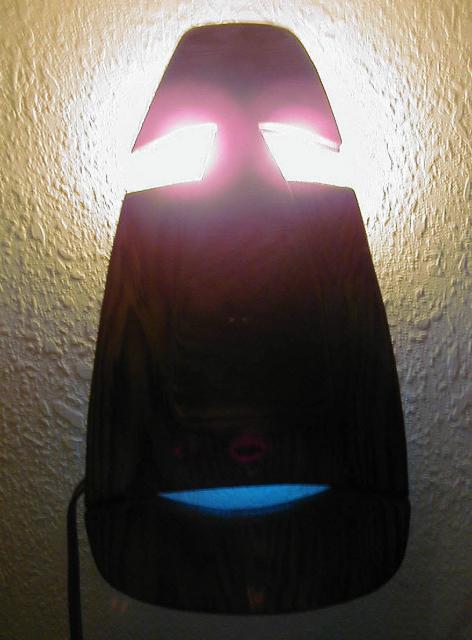 Bosko is carving me some columns and an A-frame beam, once those get here the patio remodel can get underway in ernest
Until then I'm going to try and do some more wood testing because I have another project to work on- a couple of moai supports to go under a wall-mounted bar countertop. I'll post more pics as I go!






&nbsp


&nbsp