bigbrotiki
Tiki Socialite

Joined: Mar 25, 2002
Posts: 11594
From: Tiki Island, above the Silverlake


Posted:

2009-07-19 01:33 am

&nbspPermalink

Ok, it is time to straighten this out:
Though I do spend a lot of time digging in Oceanic Art books and researching the origins of American Tiki icons, I am not immune to being led down the wrong path and making mistakes. This is especially painful when I know better (like stating in Tiki Modern that Martin Denny recorded at the Kaiser Dome) or I repeat a mistake. Now here is one of the latter:

Being a fan of Palm Springs modernism AND Tiki, I immediately fell in love with the whimsical design of Aloha Jhoe's when I found photos of it at Oceanic Arts. I researched the artist of the main sculptures (Jim Casey, --O.A. contributed wall masks and smaller decor) and I found out that South Pacific (the movie) art director Lyle Wheeler did the design. In a promotional book for the film I found some great cartoon drawings that I attributed to Wheeler, and I added them to the double page on Aloha Jhoe's in the Book of Tiki: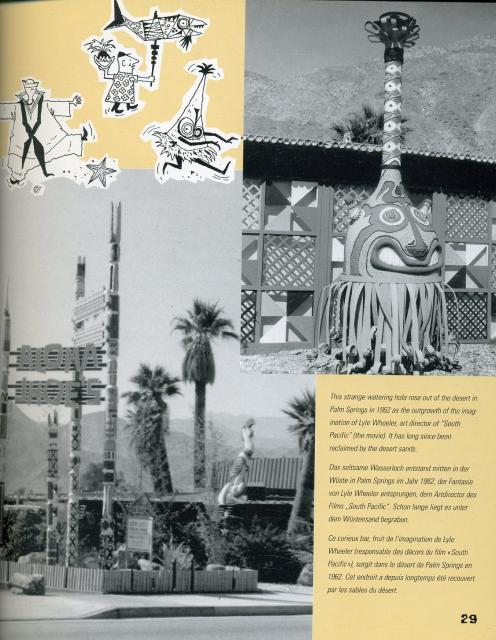 And it was from this point on where I went wrong: I saw the cartoon drawing of the dancer, compared it to the Aloha Jhoe's logo Tiki (palm frond skirt, conical shape, frilly stuff on top) and went looking for its origin. I immediately came up with Duk Duk images, because the Tolai people ( http://en.wikipedia.org/wiki/Duk-Duk ) live in what used to be a German colony, as the name Bismarck Archipelago still suggests.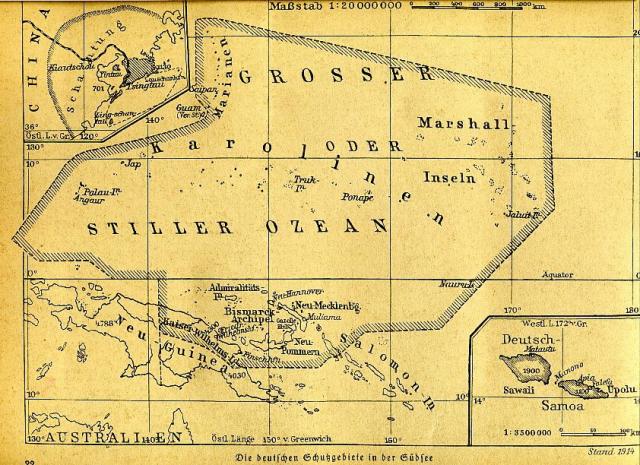 Here's the Kaiser at the opening of the German Colonial Museum in Berlin: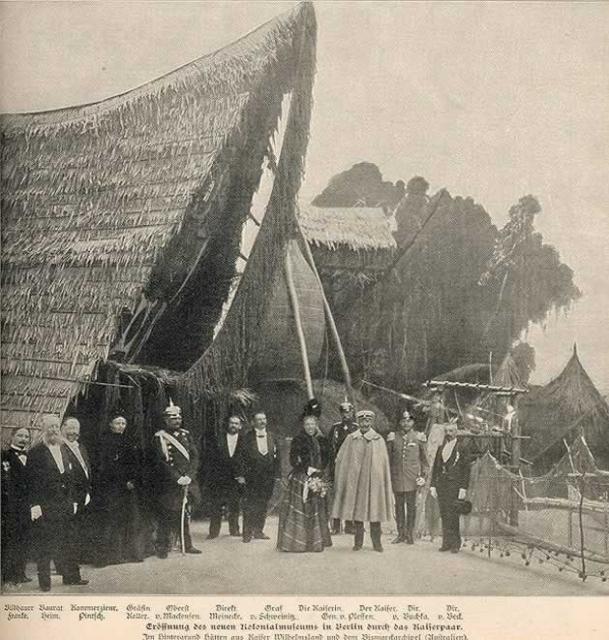 A third of my Oceanic art sources are German, and the Germans LOVED the Duk Duk, so I found ample imagery of their ritual outfits: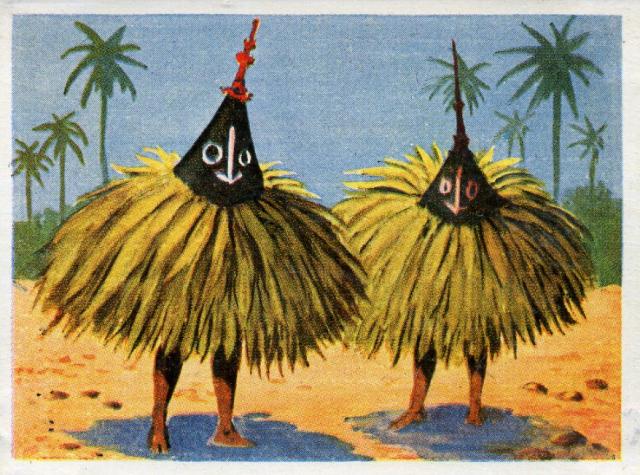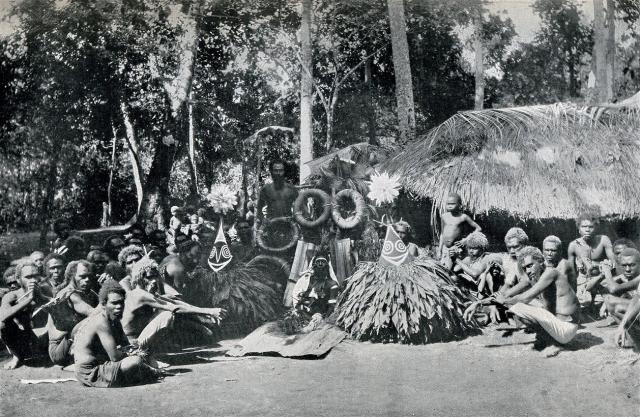 Here's an especially beautiful rendering:




Even their construction was explained: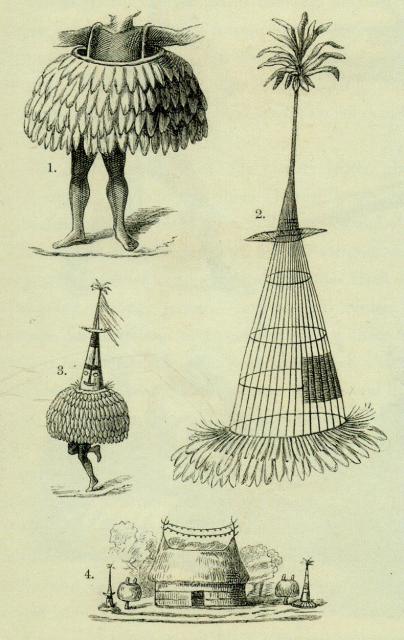 Note how at the bottom their set up in front of the ceremonial hut is shown

They toured from island to island to perform their dances: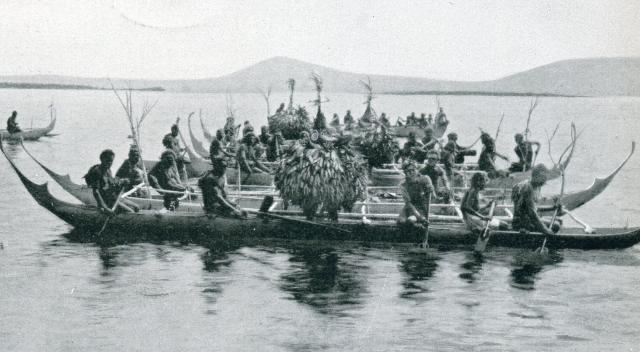 A Duk Duk beaching: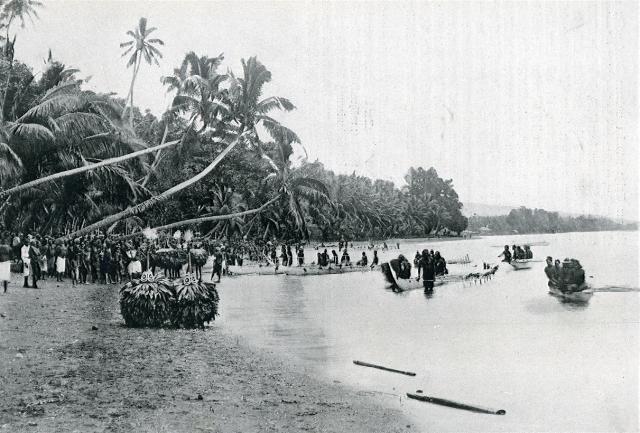 But as I began to amass more and more Duk Duk images, I couldn't help but notice that there really was no variance in their design: They were all STRAIGHT cones, and the facial features, found mainly on the female (Tubuan) masks, were very simplistic.

This Duk Duk group photo, and this great fabric design that popped up on TC, sealed my conviction that I had been wrong by calling the Aloha Jhoe's mask a Duk Duk: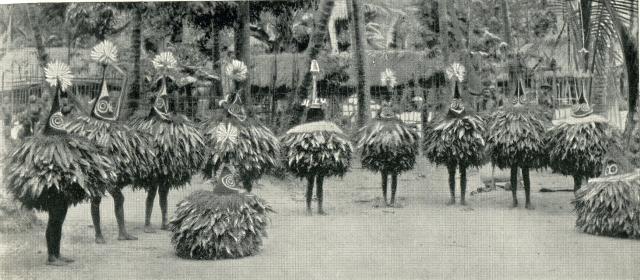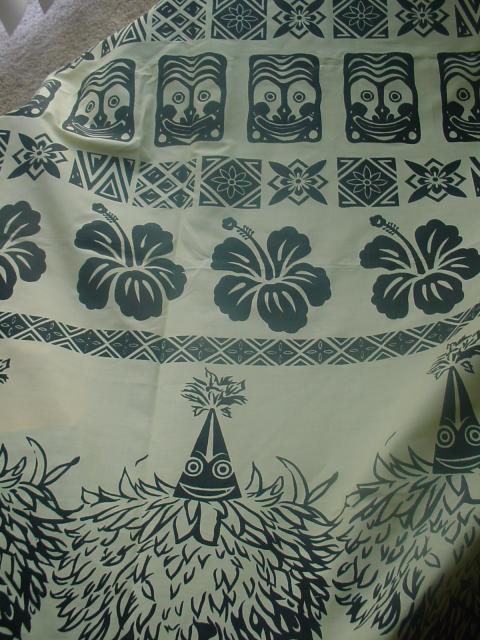 Too many of the same design, and not enough like my fave Palm Springs Tiki ! Damn...
Now the "basket mask with palm front skirt" concept was used by several Papua New Guines tribes, like the Sulka: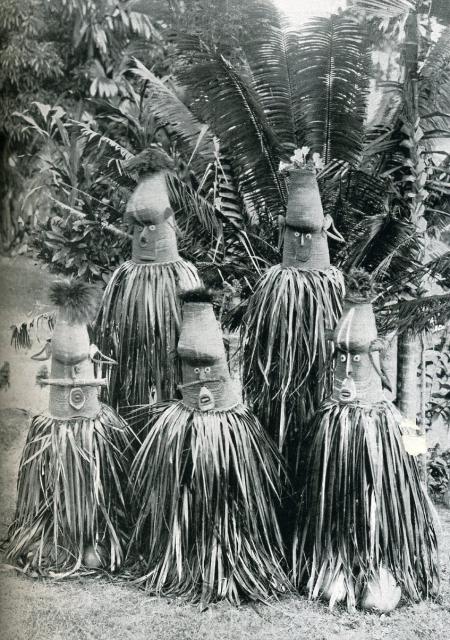 ...these constructions being among my favorite: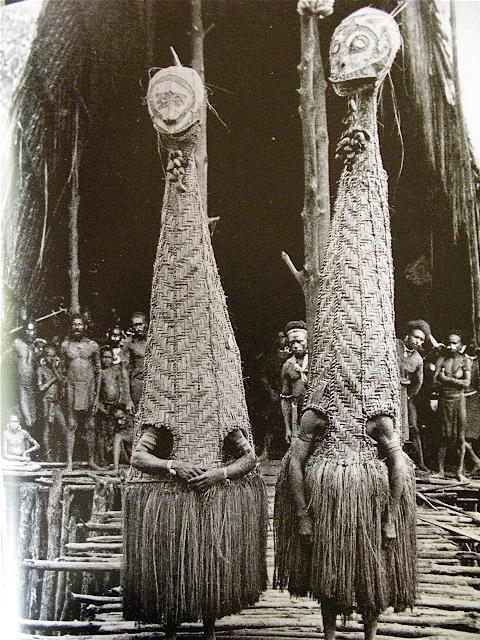 The closest costumes to Aloha Jhoe's I could find were these two: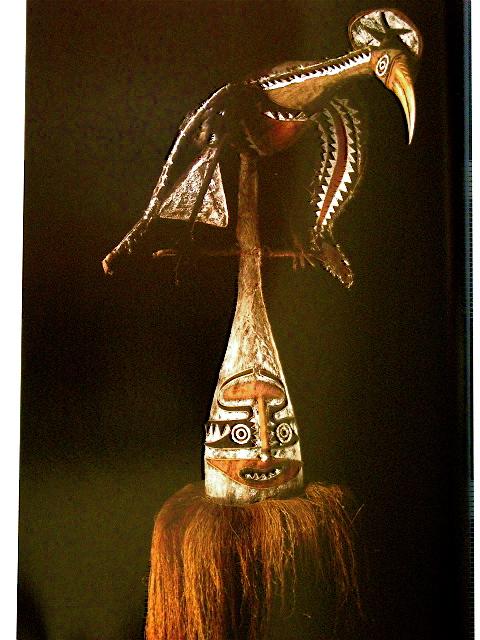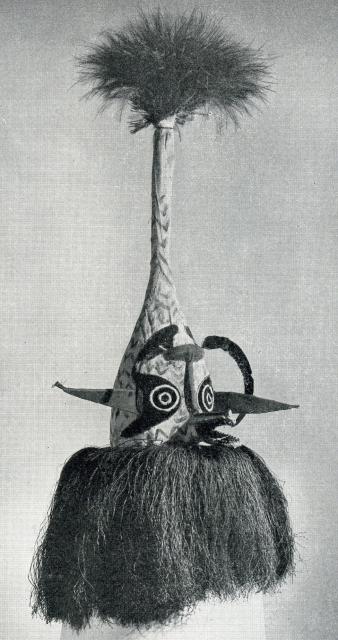 ..of which this mask from the PNG Gulf has the frilly top, and the forehead design and ears shown in some of the Aloha Jhoe's renderings (while the one above has the grinning mouth):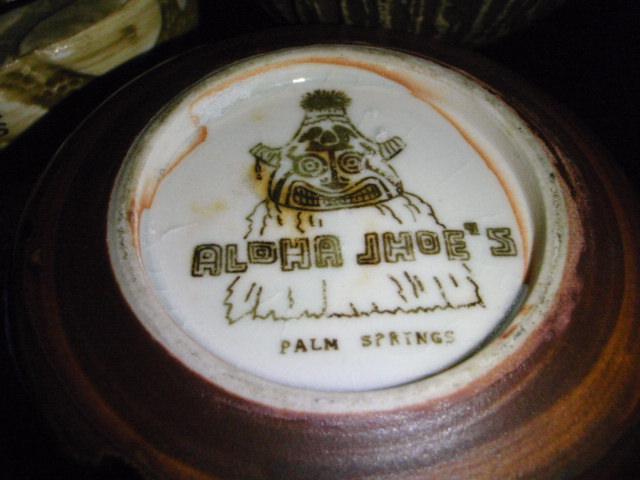 Unfortunately the origin and use of these masks are not as well documented as the Duk Duk ritual, so I can only call the Aloha Jhoe's Tiki a "Papua New Guinea Gulf mask" now -not as much fun as the "Duk Duk secret society"

Last not least a theory: I wonder if Alfred Jarry, like many modern artists in the earliest 20th century, was inspired by the Duk Duk in his original designs of Pere Ubu: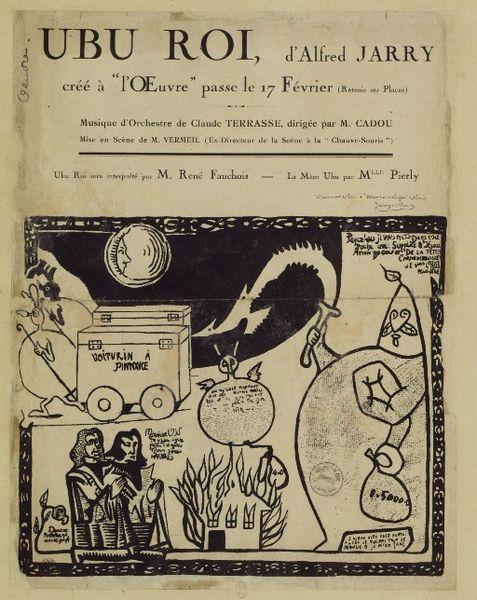 ...like these art students at the Hamburg Curio Haus in the 1920s: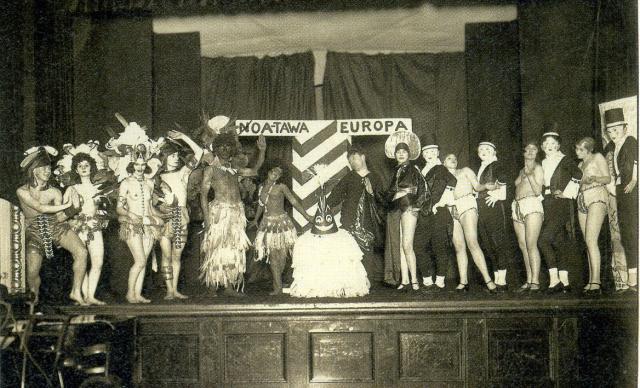 ..and I like to applaud those contemporary Tiki artists that have been inspired by Aloha Jhoe's...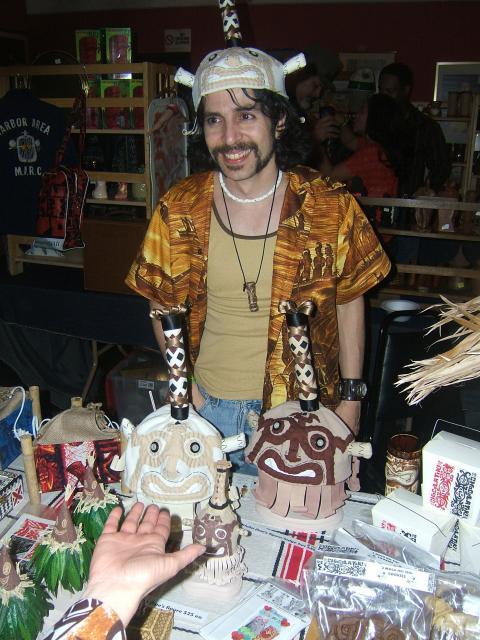 ...and the Duk Duk masks: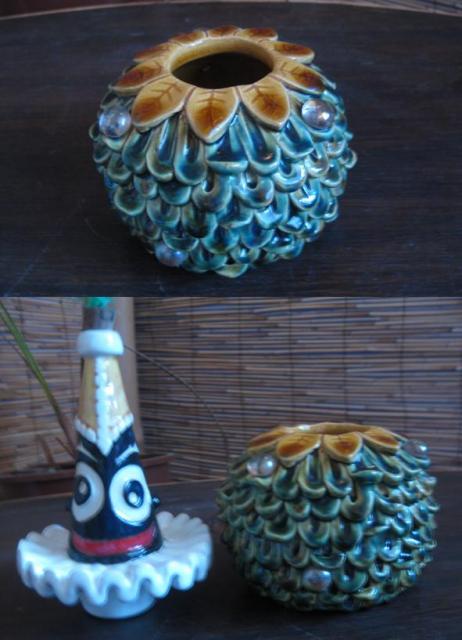 I apologize for having published shoddy research on this subject in BOTH of my books, and can only excuse it with the liberal attitude towards authenticity that prevailed in Polynesian pop and Tiki style.





[ This Message was edited by: bigbrotiki 2009-07-19 07:04 ]

&nbsp


&nbsp