BambooLodge
Tiki Socialite

Joined: Feb 09, 2003
Posts: 654
From: Just up the road from Chef Shangri-La


Posted:

2013-06-14 09:20 am

&nbspPermalink

Here are tomorrow's FREE Raffle items...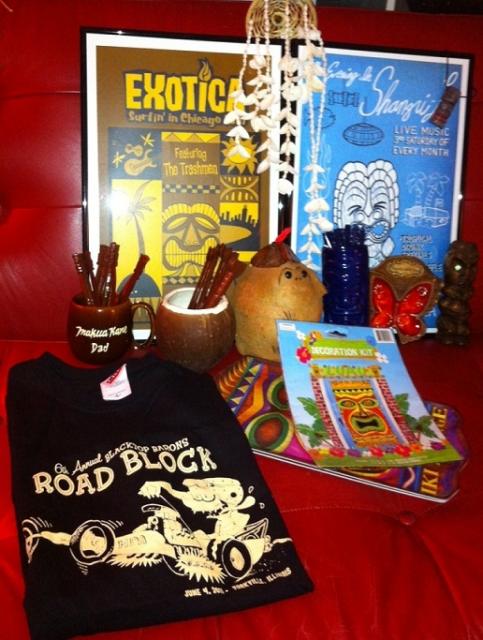 ...a very groovy Beatnik Coconut Monkey, framed 2007 Exotica poster (artwork by artist & Tiki Quest author Duke Carter), a 6th Annual Road Block t-shirt, Tiki Party decor kit & trays, one dozen FOM swizzles, Trader Vic Coconut mug, Sea Shell wind chimes, BambooLodge Tiki pendant (by Mojo of Suburban Savage), vintage Maori Teko Tiki, Blue Tiki mug from Las Vegas, one dozen CATT swizzles, vintage Treasure Craft Polynesian Village dish, framed "Evening in Shangri-La" poster (artwork by Ragbag Comics own Pete Klockau), one dozen Tiki paddle swizzles, and last but not least (in honor of Father's day) a vintage Hawaiian mug that reads "Makua Kani Dad".

This month is also the Chef's annual Wiki Waki Luau with 2 performances by Aloha Chicago (more info here http://chefshangrila.com) & the drink special is a $20 (lg) Dr. Fong with T-shirt, plus the usual (huge) selection of tropical drinks and Asian fusion cuisine to help everyone through the night. Why not come out early Saturday, catch the second Hula show, and then at 9:30 pm enjoy the "Dixiefried Garagabilly" sounds of Amazing Heeby Jeebies, plus the monthly FREE raffle!

See Ya at the Chef!



~D&C~



_________________
BaMbOoLoDgE...where the South Pacific meets the Great White North!

&nbsp


&nbsp