BeezleBug
Tiki Socialite

Joined: Oct 01, 2008
Posts: 213
From: Boulder City, Nevada


Posted:

2008-11-18 4:16 pm

&nbspPermalink

I began work on my third mug design, which I'm calling "Tiki Parade Vol. I." This will be a barrel style mug which features the faces of classic tiki mugs. More specifically, it will have little bass reliefs of Mr. Bali Hai, the Islander Smiley, Trader Vic's Suffering Bastard (sans legs and arms), Tiki Bob, Ren Clark's Severed Head (right side up), and the Islander Bumatay (head only). I figure it would be a way to own famous mugs without going completely broke obtaining them all.

I decided to try sculpting wax this time around. Plasticine is great, but I can never get it to hold fine detail or super-sharp corners. The local ceramics place in Las Vegas had 10.5 lb. slabs of "Victory Brown" microcrystalline wax for a reasonable $20. Microcrystalline wax differs from common waxes in that it has extremely small crystals. This makes the wax strong, yet suitably plaiable when warm. "Victory Brown" is a grade often used for maquettes and other small character sculptures. I read somewhere that it got its name in World War II. It certainly sounds like a patriotic wax!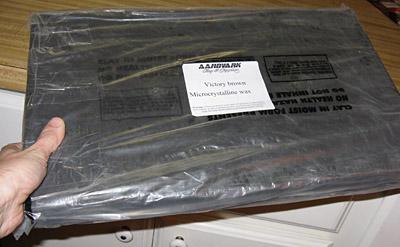 I started by printing out reference photos from Ooga-Mooga. I chiseled off a few chunks of the wax and warmed them up in an spare microwave. When warn, the wax is very maliable. I used an old Gatorade powder container as the base. Once the basic features of the first face (Mr. Bali Hai) were roughed in, I cooled the sculpt by setting it in the freezer.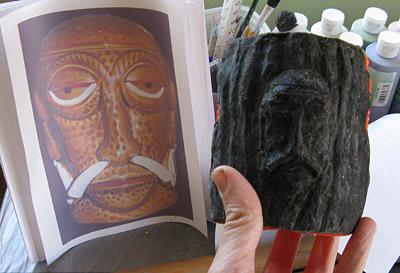 You can heat, re-heat, and cool the wax as many times as you want. When the wax is cold, you can carve it and, to some degree, sand it. To smooth out the cool wax even further, you can apply mineral oil. My regular clay sculpting tools worked fine, although I see why some model makers will use dental tools when working with wax. Not only are dental tools sharper, but they can be quickly heated to melt the wax in small areas. The faces on my mug will run 2" high, so sharp tools are a must.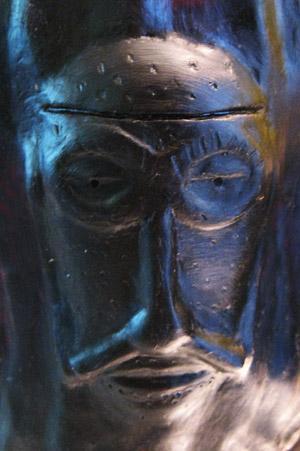 I would be curious to hear what other types or grades of wax are used in tiki mug making. Any wax sculptors out there? Tiki Farm guys?
_________________
www.BeezleBugBit.com



&nbsp


&nbsp