8FT Tiki
Tiki Socialite

Joined: Nov 30, 2003
Posts: 1402
From: Kansas City, MO


Posted:

2008-10-12 8:57 pm

&nbspPermalink

Name:Trader Vic's San Francisco - Cosmo Place
Type:restaurant
Street:20 Cosmo Place
City:San Francisco
State:CA
Zip:
country:USA
Phone:776-2232
Status:defunct

Description:
I don't think there is an existing thread dedicated to this SF Trader Vic's location. I would have added to one if it had already existed. Having never been to S.F. myself, I had to read up on things a bit to learn that there were 2 different locations. This one on Cosmo Place was open for approx. 4 decades (1951-the 1990's) while the second one lasted only about 3 years and closed in 2007.

At a neighbors yard sale I found an old travel magazine.
It is one of those free tourist type guide mags that are in hotel rooms for the out of town guests to use for locating places to shop and eat, etc. It is dated Nov. 24, 1979

On one page there is an ad for Trader Vic's. I think it is a clever ad for it's time.





After seeing this ad which measures 2 1/4" x 4 3/4" I began to wonder about the location of the restaurant featured on the cover.






After looking at a couple of pictures from this location on critiki, I would have to guess that this is not Trader Vic's but some other restaurant perhaps at Fisherman's Wharf?? The locals will probably know.

Anyway, then I started wondering about a sign that someone had pictured in their thread recently. I will try to find it and add it next.

OK, I found it. This is a sign still in place which is located where the TV's used to be.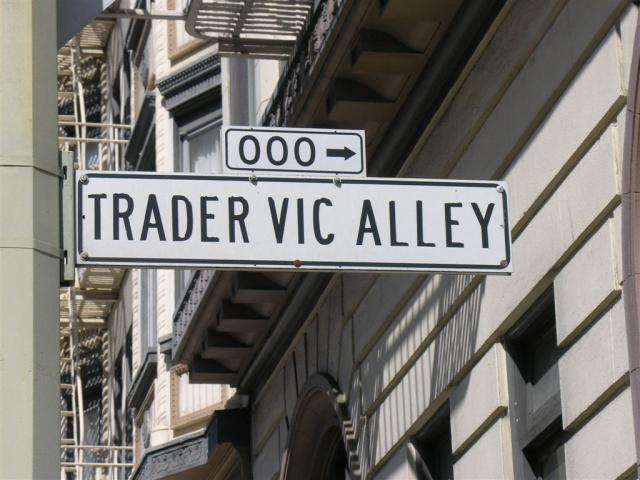 This is from Kingstyedie and TravelingJones' little adventure. What a great time they had here:


http://www.tikiroom.com/tikicentral/bb/viewtopic.php?topic=29550&forum=5&hilite=bottle water


If you have other photos from this location feel free to add them on tho this thread. I also put the ad photo on Critiki.

[ This Message was edited by: 8FT Tiki 2008-10-12 21:18 ]

[ This Message was edited by: 8FT Tiki 2008-10-12 21:22 ]

[ This Message was edited by: 8FT Tiki 2008-10-12 21:24 ]

[ This Message was edited by: 8FT Tiki 2008-10-12 21:31 ]

&nbsp


&nbsp