kiara
Tiki Socialite

Joined: Apr 06, 2005
Posts: 121
From: Wan Q


Posted:

2012-11-09 7:20 pm

&nbspPermalink



Quote:
---

On 2012-11-09 12:23, Dustycajun wrote:


Quote:

---


On 2012-10-14 12:44, kiara wrote:
Here's another Dons Waikiki image.




---



Kiara,


That is a great photo. I have never seen that Don the Beachcomber building before. I am a little confused as to which one it is.

There was the original facility designed by Wimberly with the three grass huts,


Then the second place seen in the postcard that became Dukes. Is this the same building as Kiara's photo?


Then the third place was the Colonels Plantation,

This is not the same location as shown in Kiara's photo

Then the last spot in the Beachcomber Hotel.



So is this a 5th location within the International Market Place area?

Maybe Phillip Roberts could elaborate some more info on this.

DC

---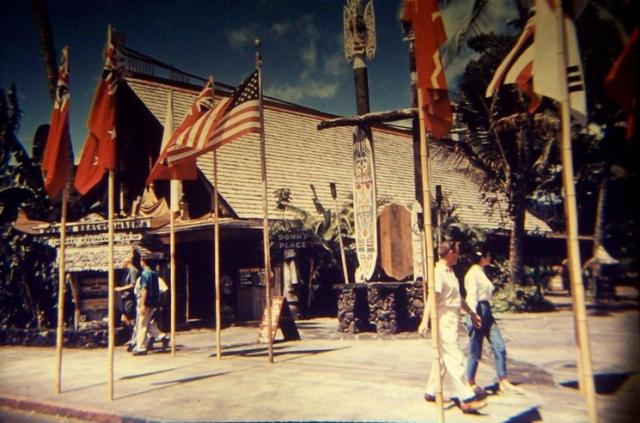 Thanks DC and thanks for the info Phillip. I didn't know there was a location where the quicksilver shop is now.
The last time I was on Oahu, I took photo's of the I.N.M.P. location. Or what's left. This photo is a little busy but you can still see a couple of artifacts from the above photo.



Look closer to see the tiki.




And does anyone remember this? I think the whole wall is gone. That's my wife in the foreground.



&nbsp


&nbsp