JOHN-O
Grand Member (first year)



Joined: May 16, 2008
Posts: 2459
From: Dogtown, USA


Posted:

5 days ago; 1:42 pm

&nbspPermalink



Quote:
---

On 2013-05-13 22:16, JOHN-O wrote:

...I promise my next post will be Tiki though. Kinda.

---

When it comes to first rate Tiki-style in Las Vegas you can't do better than Frankie's Tiki Room, every TC regular knows that. But what about Smuggler-style ? Where is Sin City's version of Smuggler's Cove ?

Look no further than the Smuggle Inn...





While not as nautically rich as Smuggler's Cove (consider it Smuggler's Lite), it does pre-date Martin Cate's temple of high-end rum mixology by a good quarter century !!

The base elements of rum barrels, skeletons, and bamboo are all there...




Ok so maybe you're not going to be able to get a classic 1934 Zombie but the Smuggle Inn is not without its merits. For one thing it caters to very exclusive clientele. At SC, they pretty much let anyone in through the front door. Not the case at the Smuggle Inn...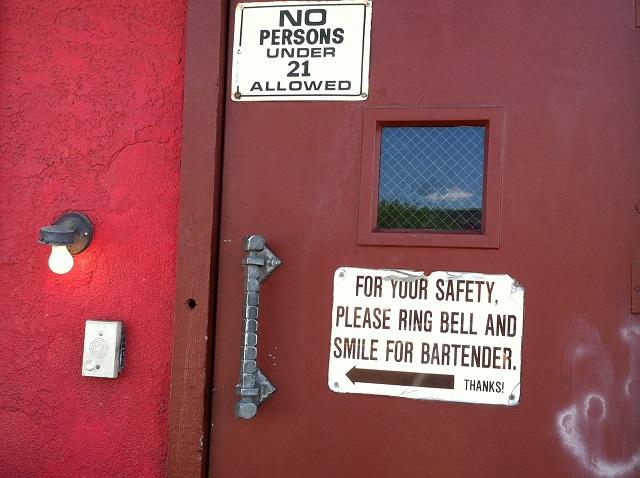 Also the Men's restroom provides various convenient sundries saving you that extra trip to the local drug store or sex shop...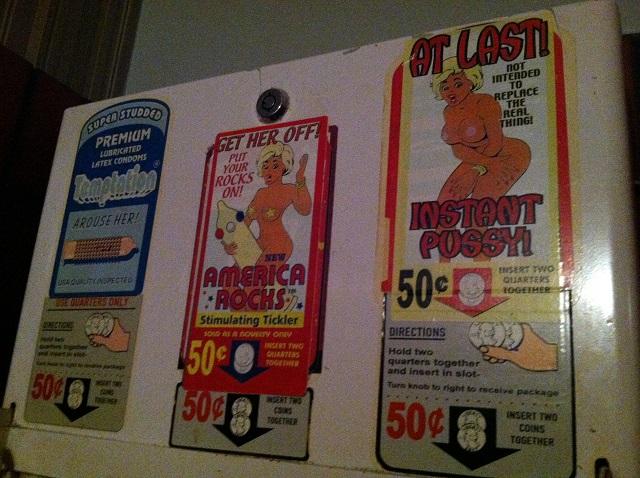 And in a city of increasing tourist douchebaggery, the Smuggle Inn provides a dark and quiet place to chat up long time locals. Was Las Vegas really a better place when it was run by organized crime? This is a good place to get first hand accounts.





So what's the latest status on the soon to be reopened Atomic Liquors?. I stopped by recently to take a peek through the window.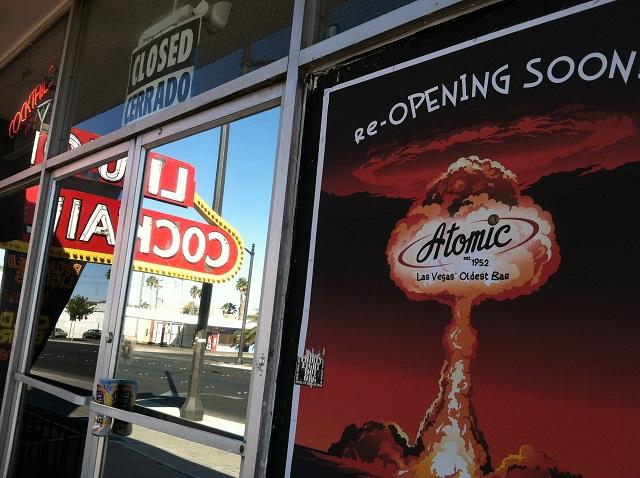 It was hard to see inside with a mid day's desert sun reflecting off the dark glass but it did still appear pretty stark inside.

Even with the revamp I think it's going to be challenging to attract the targeted demographic of big spending hipsters. For one thing even though it's only several blocks from the booming Fremont East bar district, the immediate area still seems pretty grim. The razed Ambassador East motel lot across the street is a reminder when LA Street gangs controlled the block to peddle dope.




And the nearby shuttered Western Casino makes the general desolation seem even more apparent.

Still I wish the new owners well, I just hope some of the old historic dumpy character is retained.

&nbsp


&nbsp