JOHN-O
Tiki Socialite

Joined: May 16, 2008
Posts: 2720
From: Dogtown, USA


Posted:

2010-11-11 11:05 pm

&nbspPermalink

"Honolulu Confidential" Part 1 of 10

Thanks to Atomic Tiki Punk for the title idea, may he RIP. (And no he's not dead, he just pulled a Bong)

First things first. I love mid-century Tiki-style. I love Hawaii. But... I never went in search of Tiki-style in Hawaii. To me Tiki was a separate thing, and in Hawaii it was twice removed. Tiki-style on the mainland was Hawaii "idealized". When jet travel to Hawaii first became popular, tourists were disappointed to find that Poly-Pop Primitive ideal really didn't exist. So what did the Hawaii tourist businesses do? They imported that fabricated aesthetic back to the islands. Like I said, Tiki twice removed.

To me, looking for mid-century Tiki-style in Hawaii was akin to flying to Japan to eat California roll, or traveling to Italy to eat CPK-style pizza. Why bother when unique and authentic experiences were to be had? There were volcanoes and tropical rain forests to backpack through. There were manta rays to scuba dive with. There were oceans to kayak. There was Hawaii "Local" culture to experience with it's polyglot of Hawaiian, Japanese, Chinese, Filipino, Portuguese, and Haole influences. Locals had their own food, dialect, and lifestyle. The real deal, only in Hawaii. Hawaii had history, a memorial to an infamous moment that shaped the 20th Century, and the only Royal family native to US culture (albeit overthrown by the same).

With all that, who needs (fake) Tiki? I would roll my eyes whenever the question "Where can I find Tiki in Hawaii" would come up on TC.

Yes La Marianna Sailing Club is a great Tiki-style destination, not to be missed by the TC rank and file. I always viewed it however as an anomaly, tucked away in a remote area far from everything else. It didn't help matters when local friends on Oahu would laugh when I would suggest meeting there for drinks.

I also didn't have much sentimentality for the International Market Place. No childhood memories for me when the place was in its prime, I only saw it as a place where Asian immigrants would give you the hard sell on Hawaiiana made in China. Buyers in the know asking "Is this made in Hawaii" would only be treated rudely. "Why you ask ?? YOU made in China !!"
Other than the good ethnic eats in the food court, I had no use for the place. It was merely a cheap tourist place that made me feel like a cheap tourist. Go ahead and bulldoze the place. I really didn't care.

This last trip however was different.

This time I met with one of our local TC ambassadors, Phillip Roberts. Phillip had written a book, "Waikiki Tiki", just released a few weeks earlier. I purchased my copy in the Borders Express in the Royal Hawaiian Shopping Center.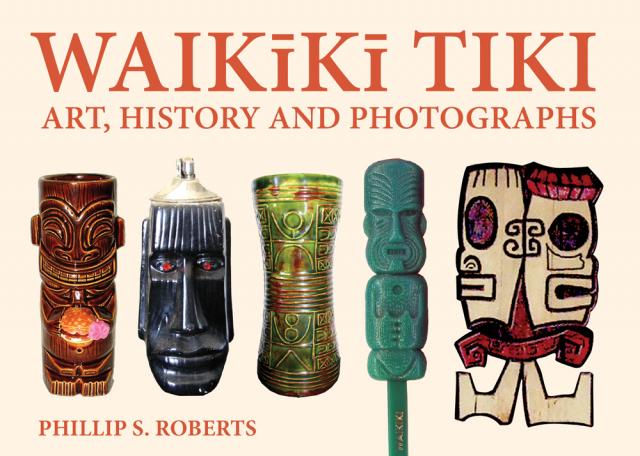 This book and a walking tour with Phillip made me see things in a new light.

It changed my perspective on Tiki-style and its significance in Hawaii.


Stay tuned for Part 2...

&nbsp


&nbsp