JOHN-O
Tiki Socialite

Joined: May 16, 2008
Posts: 2720
From: Dogtown, USA


Posted:

2010-11-19 12:08 am

&nbspPermalink

"Honolulu Confidential" Part 3 of 10

So are there any operational Tiki bars still in Waikiki ?? Well I was able to identify and visit 3 of them. I'll get to those in a later post.

First let me admit to something here. When traveling and seeking out bar crawl adventure, "Where's the Tiki?" isn't the primary thing on my mind. I always first ask "So where would Bukowski drink?"

Tiki is fun but a gritty (preferably mid-century) dive bar experience is what really appeals to my inner Film Noir sensibilities.

Honolulu did not let me down. Let's start off with...

The Hideaway




I read in a Honolulu Weekly poll that the Hideaway ranked as one of Hawaii's best dive bars. Polls like that usually make me suspicious because depending on the target audience, any bar that doesn't stock Belvedere vodka is considered a dive bar. Heck, even here in LA, many people consider the Tiki-Ti to be a dive bar. What kind of dive bar serves $17 cocktails? (Which the Ti does). I was a little skeptical but I tried to keep an open mind.

The Hideaway is located down a dingy alley behind a 7-11, just near the intersection of Kalakaua Ave and Ala Moana Blvd. That puts it on the outskirts of Waikiki. It's not something a casual tourist would ever stumble upon. I visited the place with 3 friends of mine, we all had hangovers from the night before and were looking for a "hair of the dog".

As we got out of the car and approached the place, my nose was overwhelmed by a horrible putrid smell emanating from the trash container next to the entrance. "Welcome to the Hideaway" I thought. As we entered and approached the bar, immediately the ethnic Hawaiian-looking bartender barks out "Let me see some IDs". I'm sorry but not only were we all clearly over 21, we all could have children of drinking age too. It was a pure power play against the "tourists". This was made even more evident when one friend flashed his California driver's license in his transparent wallet holder and was curtly ordered "TAKE IT OUT".

After our IDs were scrutinized like suspicious $100 bills, I ordered up 3 Bloody Mary's which I heard was the specialty of the place. Our designated driver asked for a club soda in which the bartender paused and gave him a glare of annoyance. Hey I was looking for a non-Tourist experience and that's exactly what we were getting. Oh, BTW what did the place look like ?? It looked like a DIVE.

Things started to get better when the bartender asked what kind of Vodka we wanted. I requested Stoli. He immediately mixed up the drinks with great care, giving us the excess from the shaker in separate shot glasses. As I sipped my cocktail, I realized it was one of the best Bloody Mary's I ever had. When I asked my friend who paid for the drinks what the cost was, he said about $3 each. !!!

I drank at the bar while my friends retreated to a remote table. At the U-shaped bar with me was a middle-aged Haole guy in an aloha shirt, a younger guy with full sleeves (that means tattoos), a biker couple (wearing colors !!) who must have been in their 60's, and a "local" guy who seemed to be staring at us.

I chatted with the very drunk middle-aged guy, who told me he was ex-Air Force stationed on Oahu. He talked (slurred actually) my ear off with what sounded like government conspiracy stories. The tatt'ed out guy was a German ex-pat who I learned used to live a few blocks away from me in Venice. While these conversations were going on, the local guy motions the bartender over and says some words to him while pointing directly at me and then my friends in the corner. At that point I wasn't sure if we were going to be asked to leave, but was instead shocked to learn "Michael's buying you guys your next round". I guess we passed the "Hideaway Test" (whatever it was).


The dive bar experience was made even more appropriately memorable by this imagery we saw when walking outů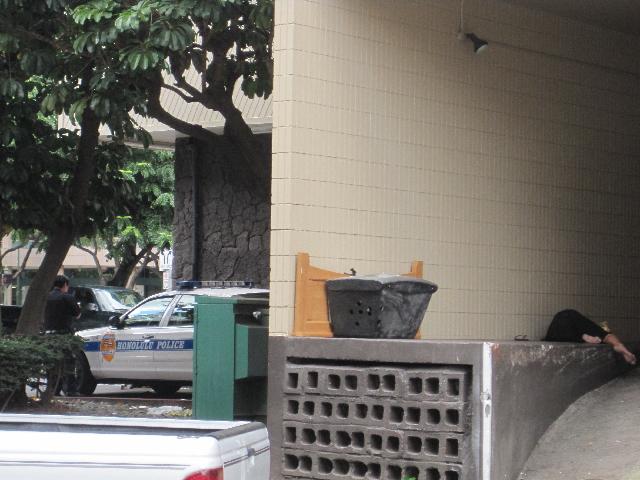 HPD (I refuse to use the term "5-0") on the left and a satisfied Hideaway customer sleeping (at least I hope she was sleeping) on the right.

The only thing that would have made it 100% perfect would have been an authentic mid-century vibe (the Hideaway only dates back to the early 1970's). For that experience, I had a handle on that night's drinking itinerary.

Next stopů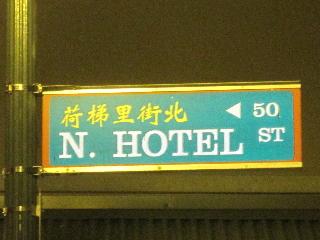 &nbsp


&nbsp