JOHN-O
Tiki Socialite

Joined: May 16, 2008
Posts: 2720
From: Dogtown, USA


Posted:

2010-11-23 8:42 pm

&nbspPermalink

"Honolulu Confidential" Part 5 of 10

OK, let's get back to the Tiki. So here's some great classic Waikiki places that you'll NEVER get to experience...

1. Don the Beachcomber - 1946-1987
2. Canlis' Charcoal Broiler 1954-1998
3. Tahitian Lanai (Waikikian Hotel) - 1956-1996
4. Trader Vic's - This one is confusing. There were 2 locations, none of which were "official" TV's.
5. Hawaiian Hut - 1970-2009

As you can tell by the dates, most of these places (except the Hawaiian Hut) were toast before the majority of us here were even "Tiki aware". I can't feel TOO bad about missing them. (Unlike the Kahiki that shut down the year BOT was published.
)

So what's left of the old-school Tiki-style ??

Only one place really... La Mariana Sailing Club. I'm not going to post on it since:

1. Most everyone here already knows about it.
2. I didn't go there on this recent trip anyway.

What I will post about however, are three 21st-century Waikiki Tiki bars. Let's start off with...


Tiki's Bar and Grill (2004)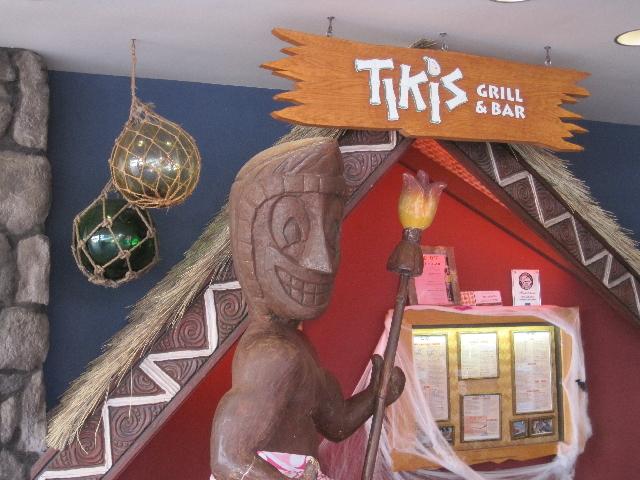 I know this place has been documented here on TC but it's hard to search on. You have to know to add the "Bar and Grill" otherwise searching just on "Tiki's" will bring back too many results to be useful.



This place probably has the best quality Tikis of the new joints. There were definite Bosko pieces and some I think Crazy Al did. I'm not sure however I can give this place a fair evaluation. To me, good Tiki-style atmosphere is all about an exotic windowless womb where you can't tell if it's night or day outside (like a Vegas casino). I think the power of Tiki loses something under the glaring brightness of the sun (like Superman losing his powers under a red sun). It's probably a much different vibe at night with Tiki torches illuminating the open-air space but the two times I've been there were during the day. Yes there were Tikis but it just didn't feel "Tiki". It was more like your typical beach-facing Kalakaua Ave tourist spot that just happened to have some Tikis in it. The shirtless Frat boys noisily watching football at the bar didn't help matters either.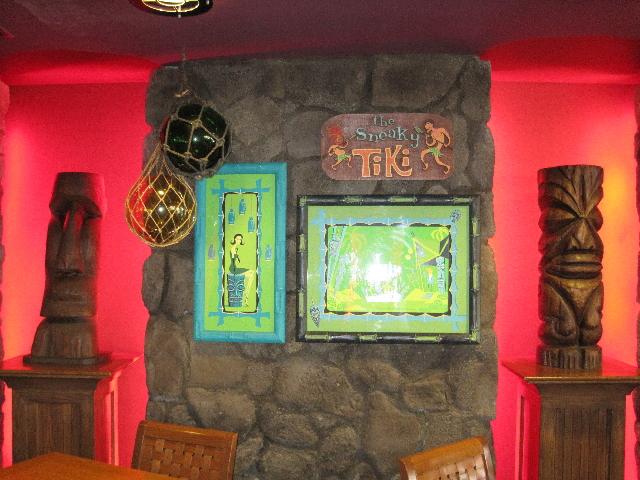 Just to give this place a fair shake, I encourage anyone who's visited at night to share their perspective.

I will give them credit however for having 2 kinds of of Mai Tais. One regular and one "top-shelf".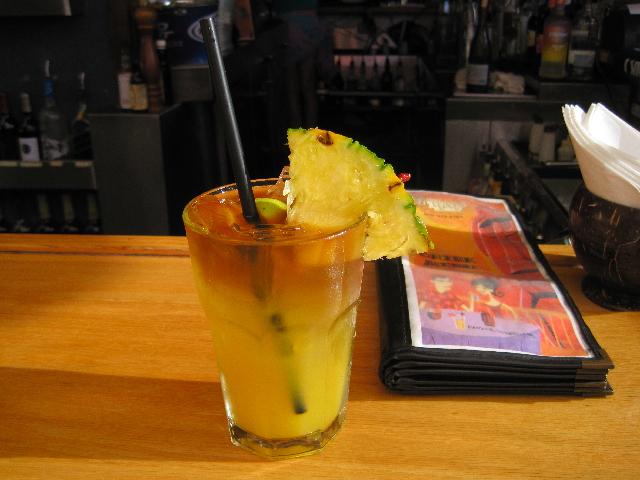 I tried the expensive one with Bacardi and Myers. It was.. OK, a little on the sweet side for me. And like 99% of the Mai Tais you're going to get in Hawaii, it had pineapple juice in it.

At one point I was going to try a Mai Tai at every bar I visited, but after too many disappointments I switched to Bourbon. I figured I'd save my liver only for those Mai Tais that had a good reputation. And to be honest, Mai Tais aren't my "go to" Tropical drink anyway. I'd rather have a Navy Grog or a Zombie, but those are pretty obscure in Hawaii.

The people who opened Tiki's also opened a second venture called the Holokai Grill. I vaguely recall it being featured in Tiki Magazine. It never made it long enough for me to get a chance to visit.

Let's move on to...


Da Big Kahuna (2006)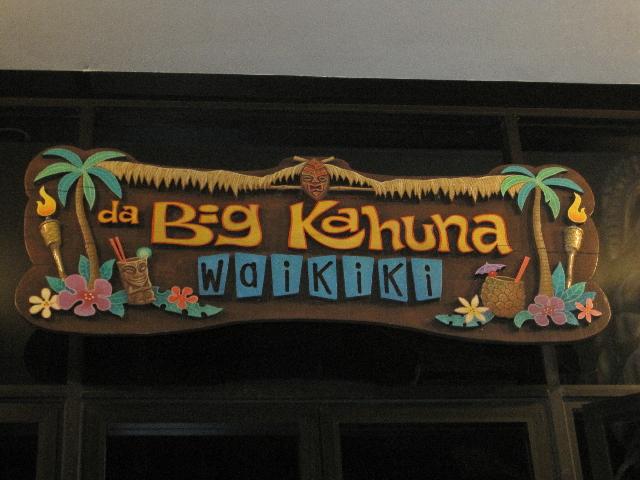 Not "The" Big Kahuna but "Da" Big Kahuna. Make sure you get that right.

The word "Big Kahuna" is pretty prevalent throughout Waikiki. It's the name of this bar, a 3D golf course, a pizza joint, it's on tourist junk everywhere like license plates, T-shirts, coffee mugs, etc. etc. Every time I saw it I thought of the Big Kahuna who posts here on TC and how initially proud he might be, but then regretful once he saw the quality of the stuff that bore his brand. Sorry Big Kahuna, but at least you can get a T-Shirt that has your TC name on it. I never did see any "JOHN-O" souvenirs.



Da Big Kahuna is located on Kuhio Ave towards the "rear" of Waikiki. Unlike the Kalakaua Ave with it's beach facing views, historic grand dames, and yes Ferrari brand logo, Prada, and Rolex stores, Kuhio Ave is a little more proletarian. The drinks are cheaper and unlike the other side of Waikiki, I didn't get the feeling someone was trying to hard sell me something expensive.

When I first experienced Da Big Kahuna, I was pretty horrified. This was definitely an example of Tiki "devolution". A lot of the Tikis were made of some kind of plaster, not the artfully carved pieces that are cherished so much here.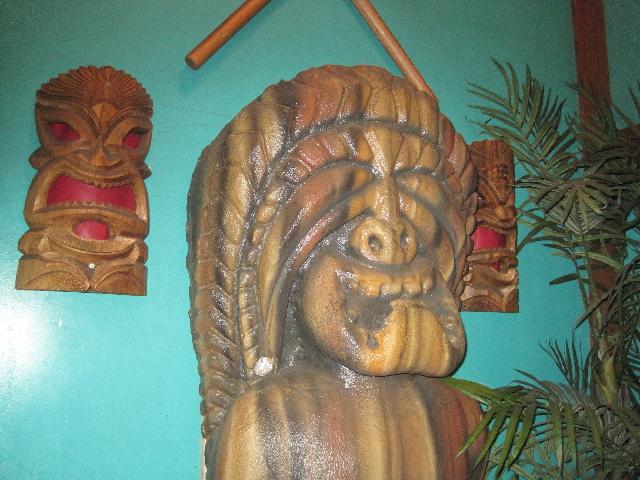 But you know what? The place kind of grew on me.

For one thing the drinks were pretty cheap. Also as the night got longer, and I got drunker, the scene seemed to grow more surreal. There was a pretty crazy mix of people in there.

You had your military guys getting drunk at the bar, young Japanese girls giggling uncontrollably as they communally shared the place's signature fish bowl drink (yes, it is a fish bowl), Midwestern tourists who were happy just to be in Hawaii (even in this cheesy bar), and slumming Locals singing Karaoke. Occasionally one of the strolling "working girls" outside (shockingly good looking) would come in to discretely cruise the bar. In my drunken state, it was like a Poly-Pop Fellini movie come to life all under the watchful eyes of a 10-foot Tiki. OUR TIKI !!




So for those of us who sometimes take our Tiki-style too seriously, we really need to visit this place. It's probably not good Tiki, but it is.. FUN !!
And did I mention it's important to be drunk?

Next...


Arnold's Beach Bar (2006)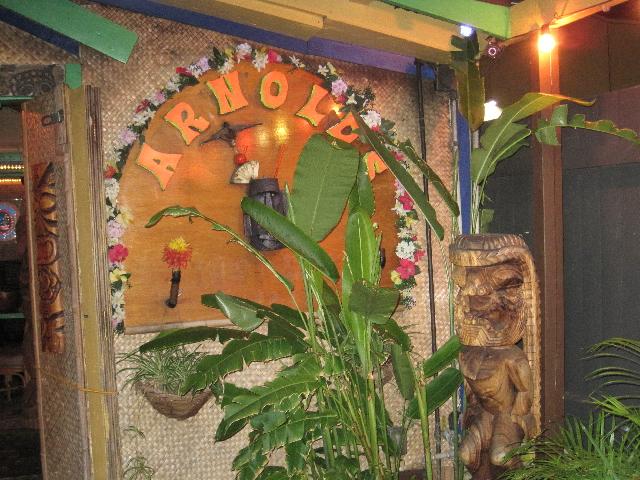 No not Arnold from "Happy Days", he passed away. This is some other guy. Arnold's is located just south of Kalakaua Ave on Saratoga Rd. It's a small place that's really not that distinctive from the street. That's probably its greatest charm. I understand at some point this place had the reputation of a dive bar with some wild happenings, but that's not the impression I got at all. I think the Tiki decor was added only a few years ago, so maybe that was part of the reinvention.

For Waikiki, this place almost had a neighborhood bar feel as apparent regulars stopped in for a quick beer and a chat with the bartender. If you're looking for a laid back and non-"tourist trap" experience in the company of some Tikis, check it out.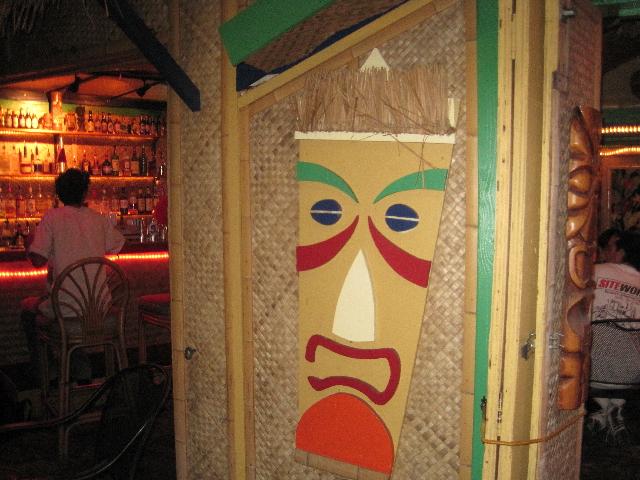 For musical entertainment, a guy on the guitar sang James Taylor and Eagles covers. Not very "Tiki" but hey my 3 friends really enjoyed it. (But they spent their teenage years in the San Fernando Valley during the late 1970's, so what do you expect ??)

Whew... I hope everyone paid attention so I can get my Tiki content credit for today. I'm probably going off-roading again in a few more posts.



[ This Message was edited by: JOHN-O 2010-11-24 09:53 ]

&nbsp


&nbsp