JOHN-O
Tiki Socialite

Joined: May 16, 2008
Posts: 2720
From: Dogtown, USA


Posted:

2010-12-06 6:54 pm

&nbspPermalink

Great intel !! Thank you. I will definitely check out those places on my next visit. Let's recap some of the places I did get to...


"Honolulu Confidential" Part 9 of 10

Several of these places have already been documented here on TC, but let me include them here for the sake of trip report completeness.

One major street just outside of Waikiki with lots of local flavor is Kapahulu Ave. Let's start with...

Rainbow Drive-in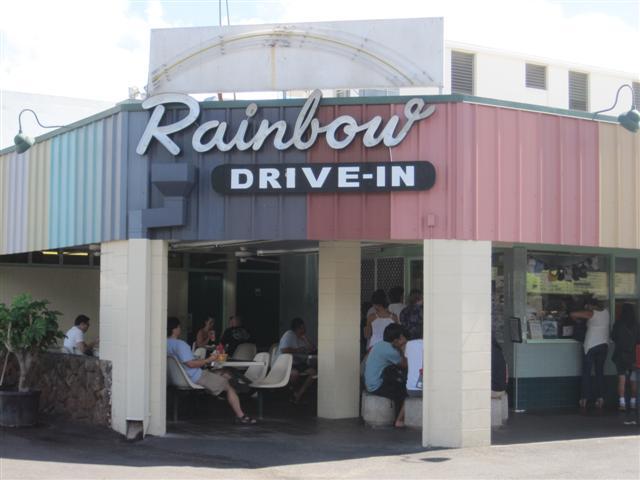 Anyone I know who grew up in the Honolulu area has nostalgic memories of this place (since 1961). The shoyu chicken appears to be the cult item. It's Honolulu's version of Original Tommy's or Pink's Hot Dogs (i.e. it's old-school and Teflon-proof). It's as good a place as any to experience the classic Hawaiian plate lunch (i.e. 1 entree + 2 scoops rice + 1 scoop macaroni).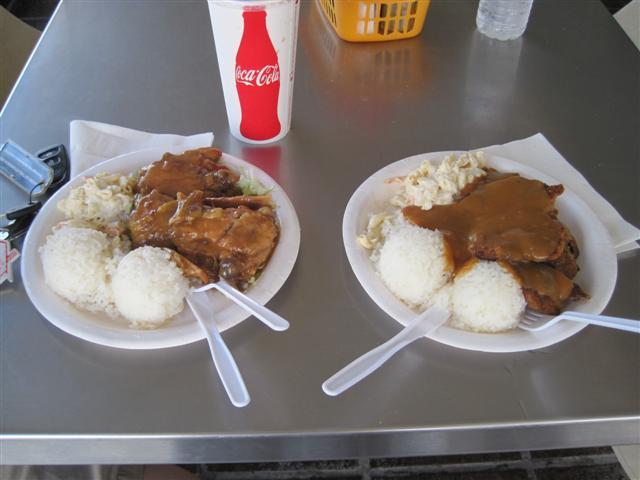 I like that it's right next door to...

Bailey's Antiques




This is the mecca of Aloha shirts. They have an inventory of over 15,000 shirts !!

I remember my first visit several years ago, I saw a super cool vintage shirt hanging from the ceiling whose price I inquired on. I was ready to spend $200 on it. They told me the price was $5000 !! I had to pass but they did point me towards a $60 reproduction that I bought instead. I figured if the start-up company I was working for at the time hit it big (it didn't), I'd go back and buy that shirt. On subsequent trips I would always pay a visit to see "my shirt". On the last trip however I was disappointed to see the shirt was gone. They told me a TV celebrity, Anthony Bourdain (???), bought it. They display a picture of him wearing the shirt in the store which mocks me to this day.



The owner (who could be a double for Lakers coach Phil Jackson) knows his inventory and it's priced accordingly. So if you're the type of person who likes the "thrill of the hunt" and wants to score a vintage shirt for just $2, this ain't the place. Me, I like "the ease of the purchase" with all my preferences arranged by decade, type, and size. I bought of bunch of shirts from the 1970's neon rack.


The nice thing about this place is they carry some local brands which I've haven't seen anywhere else. The Kalakaua label does some great vintage reproductions. Keep in mind however that some of the brands are sold cheaper in the International Market Place (along with the Chinese knock-offs). Some of friends thought I was stupid for paying $30-$60 for a shirt at Baileys when IMP had much better deals. I insisted these labels were "special" and probably not available there. They had the last laugh when they spotted the same shirt I bought at Baileys for $10 cheaper at IMP. Just remember though to always look for the tag "Made in Hawaii". "Designed in Hawaii" is code word for Chinese made (and those Commies have no Aloha
).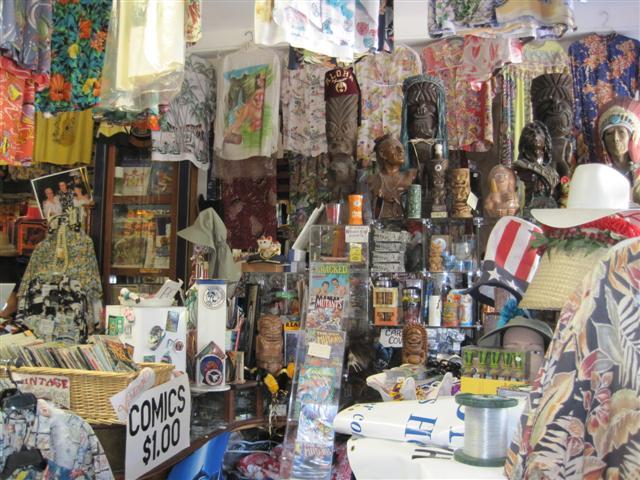 There used to be a really cool Shave Ice place down the street but now it's a taco joint



Further down Kapahulu (0.3 mi) however is...

Ono Hawaiian Food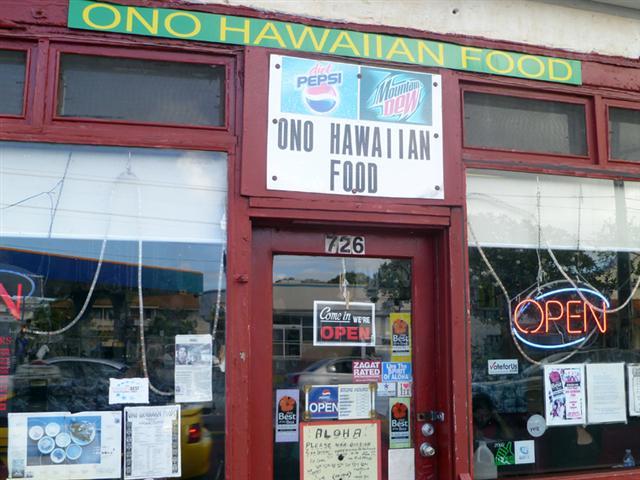 This is the "go to" place whenever you want to sample local grinds like kalua pork, lau lau, haupia, chicken long rice, lomi salmon, and poi. (FYI, real Tikiphiles eat poi.)

Want to piss them off when it's crowded? Don't wait outside like you're supposed to, just barge right through the front door. Damn tourists !!

Moving along we get to...

Leonard's Bakery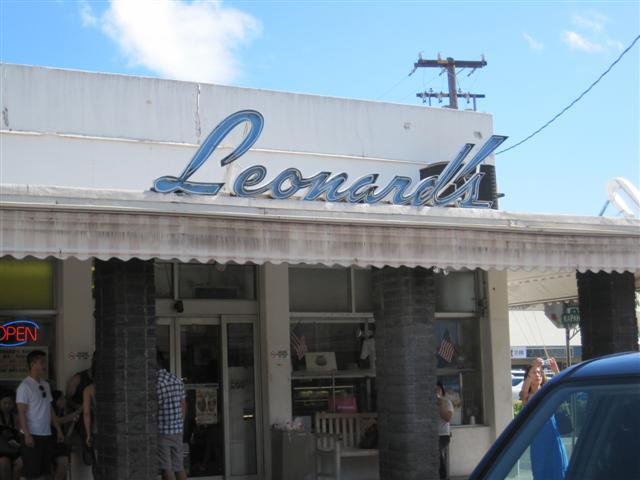 I like this place for it's cool mid-century signage (1952). They're famous for their malasadas which is a Portuguese doughnut or cream puff. They're fun to look at but don't eat them. Those things are bad for you !!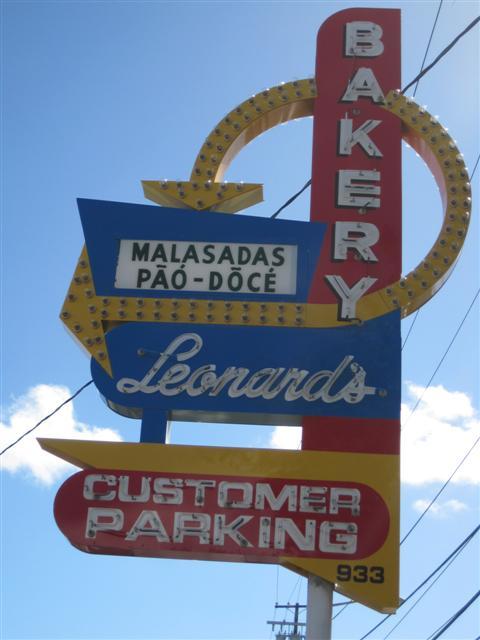 Let's return to Waikiki proper and visit a place that Phillip Roberts clued me in on...

So when you think of mid-century kitsch architecture, what comes to mind? Well Tiki of course and Googie, but what else?

How about a UFO-shaped bar/restaurant that actually rotates? !!! These places are a vanishing breed (only about 7 left in the U.S.) but Waikiki plays host to one. It's the Top of Waikiki, spinning since 1965.




Even the circular bar looks like the command center for invading aliens. I have to imagine this was a pretty posh place back in the day, when people dressed to the nines (even on a tropical vacation). That's not the case these days, but still I could appreciate its mid-60's cocktail culture coolness.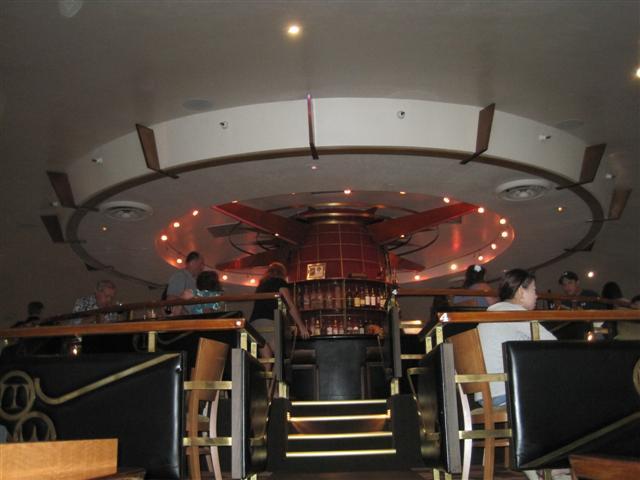 Oh no, only one chapter left to go. I don't want to leave Hawaii, but I do need to get back to Sin City to check out Mr. Smiley's recent Frank Bowers find.


&nbsp


&nbsp