JOHN-O
Tiki Socialite

Joined: May 16, 2008
Posts: 2720
From: Dogtown, USA


Posted:

2011-01-17 8:43 pm

&nbspPermalink

Back to Sin City...

I have some good news and bad news. First the bad news.

Atomic Liquor, one of Las Vegas's last remaining links to its Rat Pack Mondo Atomic past, has been closed since the beginning of the year !!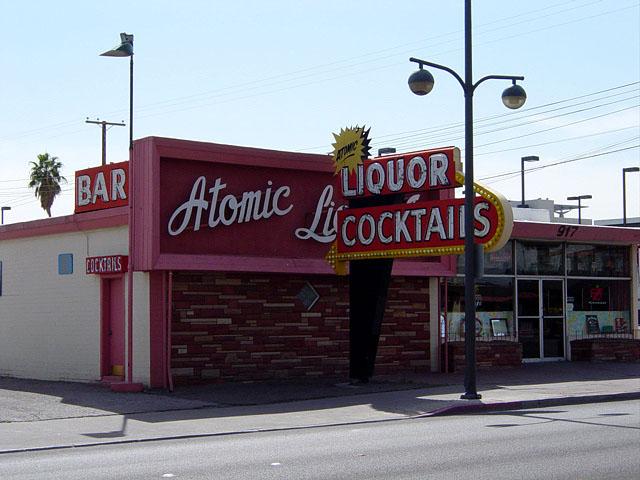 Stella Sobchick who ran the bar with her husband Joseph, passed away on Jan 15th at the age of 91. Joe passed away 3 months earlier also at 91 years. They had run the business for 55 years. I was glad to have met them one of the times they were both in the bar.

My understanding from talking to one of the bartenders at the El Cortez, is the Sobchick's son has no interest in running the place. Hopefully, he can lease out the bar to someone who understands its historic significance and will continue its legacy. In the meantime this is really really depressing news. I liked to think of the Atomic as the mid-century mirror image to Frankie's Tiki Room (much like the Aku Aku existed in primitive juxtaposition to the Stardust's original futuristic "cosmic ray" signage).

Now for the good news. I was finally able to pay a visit to the Hard Hat Lounge. A thousand mahalos to Mr Smiley for scouting out this mid-century dive bar and making a significant urban archeology discovery. They have a Frank Bowers mural !!

So for those of you asking "What does Frank Bowers have to do with Tiki?", please do your homework here…

In Search of Frank Bowers...

Now the Hard Hat meets several of my requirements for a great dive bar:

1. Opened in 1964 (maybe 1962), it has definite mid-century roots. (Although its concrete bunker appearance really doesn't vibe any particular decade).

2. It's an oasis of 24x7 alcoholic pleasure in an otherwise barren industrial neighborhood.

3. You have to be buzzed inside. This suggests an element of danger as it borders the notorious "Naked City".

4. The drinks are stiff and cheap. I was enjoying $5 Wild Turkey Sours.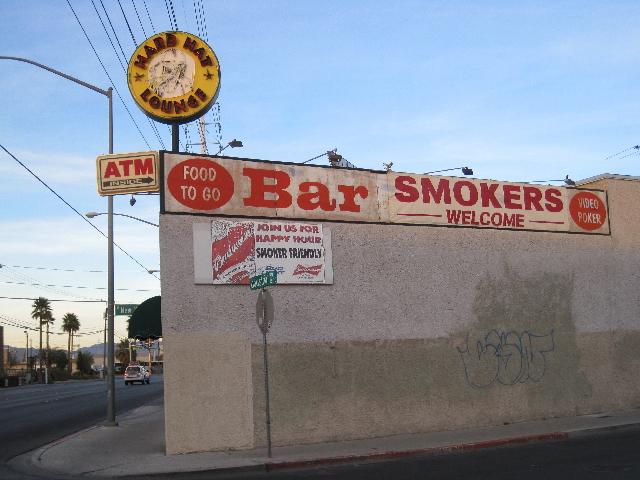 And the Bowers mural puts the place in a class above. Here's some snaps of my own in addition to the ones that Mr Smiley posted…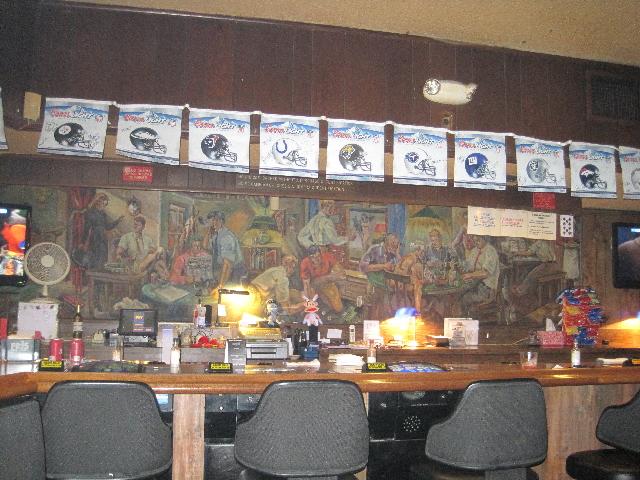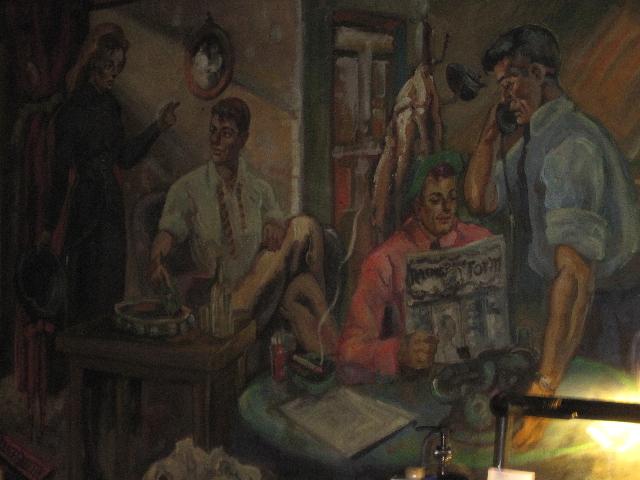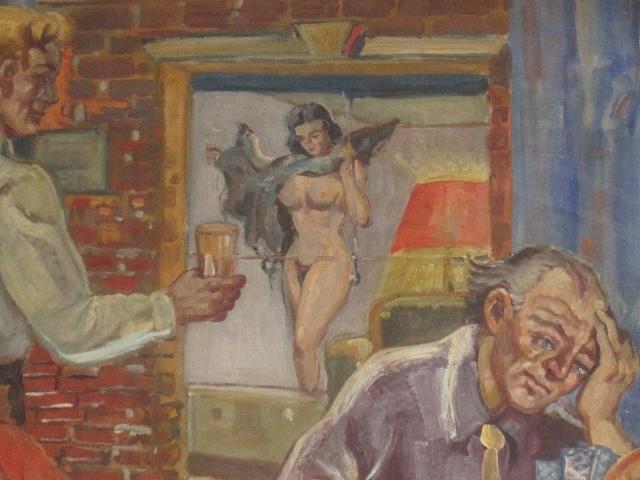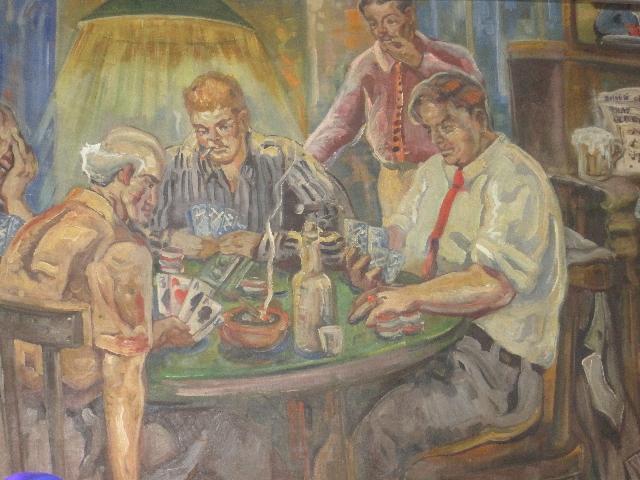 Note the wood paneling where the TV is mounted. That actually covers part of the mural depicting a kitchen. This adds hope that the Bowers Zamboanga murals (now a VFW hall) might exist in the same state.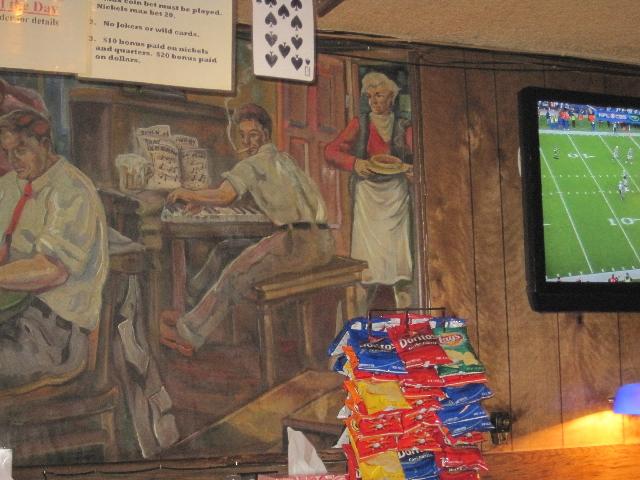 I also like how the Hard Hat sits in the shadow of the Stratosphere (much like the nearby "Golden Triangle" of Dino's Lounge, Olympic Garden, and White Cross Drugs).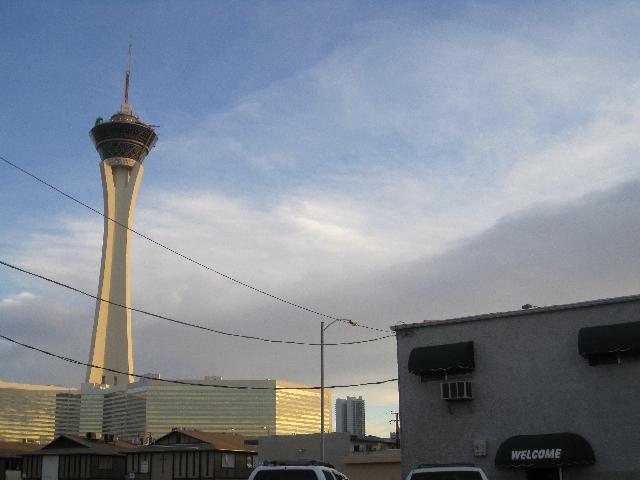 Talking to the bartender, Shannon, they are really proud of their mural but had no idea of its background.

Now I hope they do.



&nbsp


&nbsp