TabooDan
Tiki Socialite

Joined: Jul 18, 2004
Posts: 662
From: Tiki in a Crowsnest, AB., Canada


Posted:

2009-06-16 5:47 pm

&nbspPermalink

Okay, here's the left side with the first addition of the main bamboo: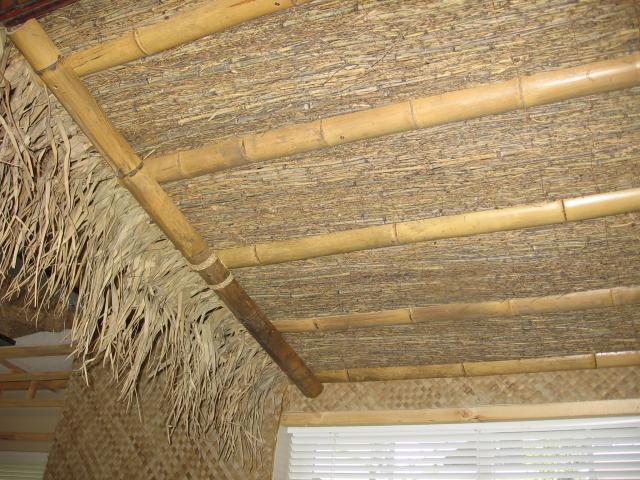 With the two outside pieces mounted:




You can see some of the seagrass cord that I was playing around with and would be eventually wrapping all the connections with.

The next few pieces going up: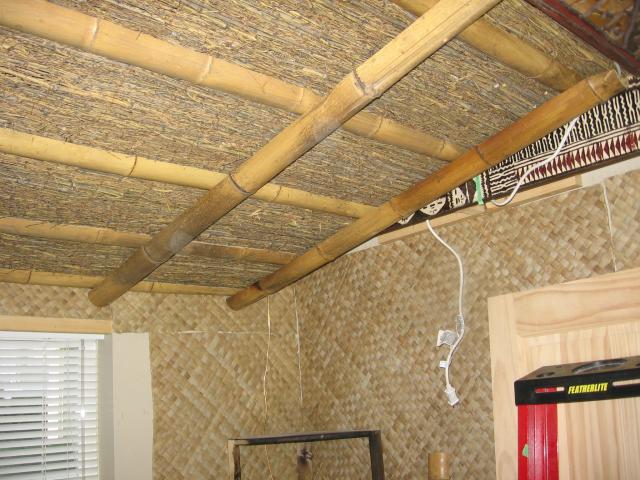 Once I started tying with seagrass cord: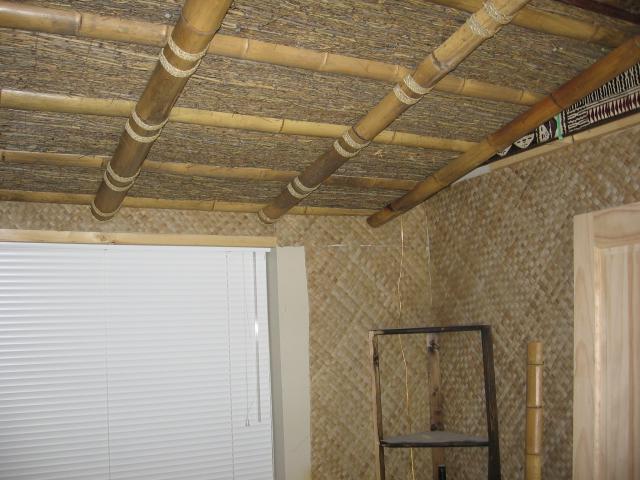 At first I wasn't going to split this section of bamboo but decided I should because of the distance down from the ceiling it would hang.
It turned out fine and looks pretty good split.

All four of my bigger pieces mounted and tied:




When completed, these will all have "X's" tied over the existing cord I tied.

Bamboo Ben must drink alot of beer to get through all his ceiling work! A real pain in the back but what a awesome look when it's all done!! This is a baby compared to the great work that he does!

I got through it with a little too much coffee! Not a pretty picture but I'll show it anyway: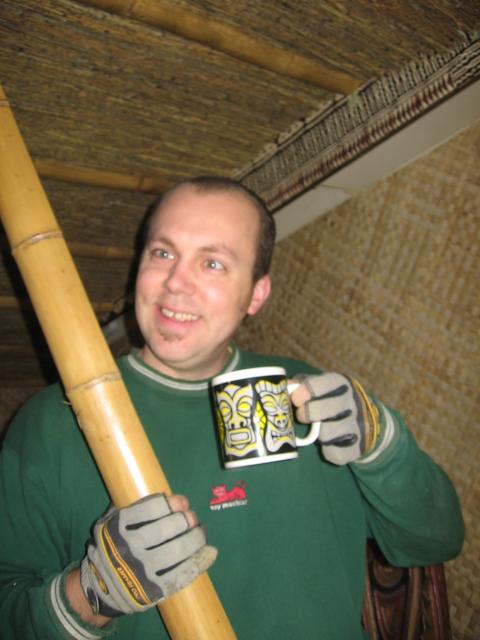 As long as I got my boy Bones helping me out, I'm good! Here he is working the chop saw and wearing his ear protection: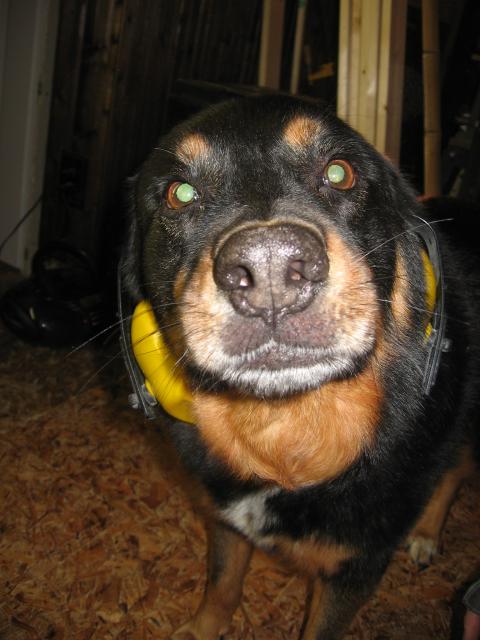 Here's the right side of the Hut looking at the wall with the bench on it: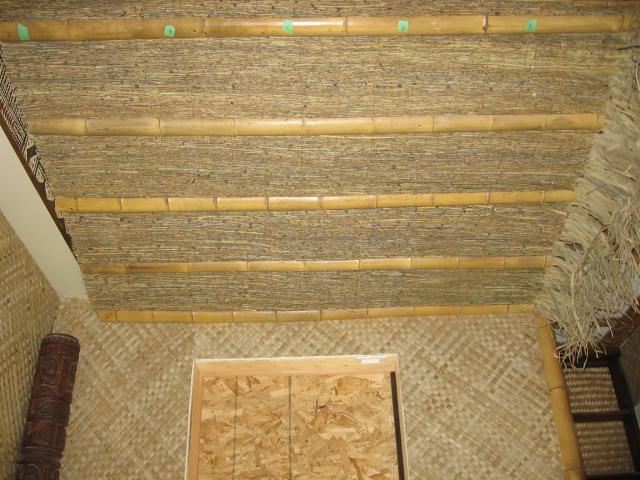 Here it is with the installed bamboo:







When I was in Seattle for the Trader Vic's auction, I saw this cool carved wall panel there on a table:




I was lucky enough to win the auction for this one! Pretty stoked!!
Here it is once I got home: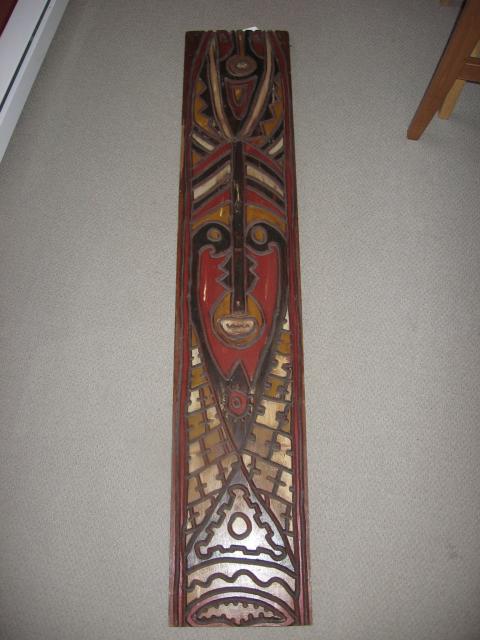 And here it is in a picture I had taken a year before at Trader Vic's with it hanging on the wall in the background: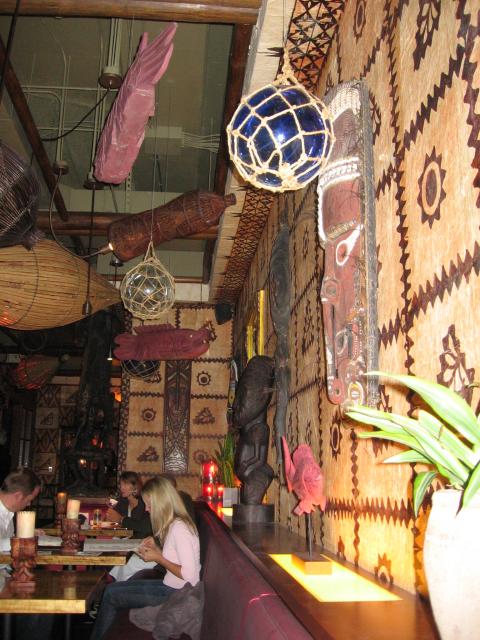 It's kind of cool to get a piece like this from a great Tiki Restaurant. Hopefully I can display it properly and do it proud!!


Well, that's where my problem with the center of the hut roof comes into play. Because I had pretty much divided all my walls in half (Top/Bottom) with either bamboo, matting or wood, I do not really have any where to hang a large piece like this. This panel is about 5' in length so it's a bit tricky to deal with.
I can't take the credit for this but my fiance suggested hanging it in the center on the ceiling. Hell....what a great idea!!!

I decided to take it a bit further and drop it down a little to meet with the specifically cut bamboo and also so I could put some lighting behind it. I wanted to give the panel a look of it floating there. There won't be any light on the face of the panel just indirect behind it.

Here's a shot of figuring it out and cutting the bamboo specifically to meet up with it tight:




Looking at left side, once mounted:




Here it is right from underneath: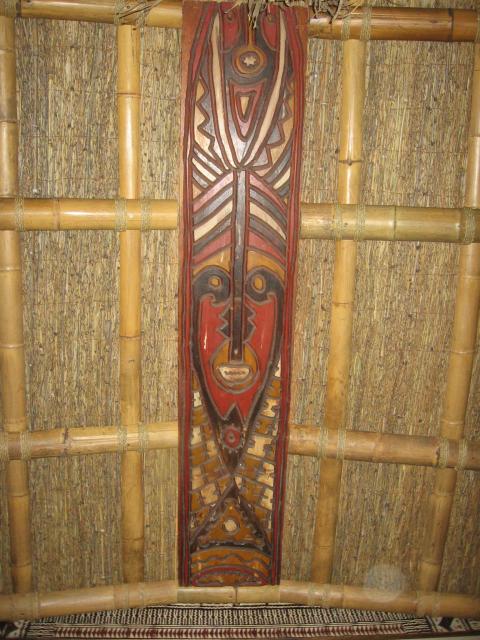 Looking from the doorway:




Here you can just make out some of the light coming from above the carving. Much better at nighttime!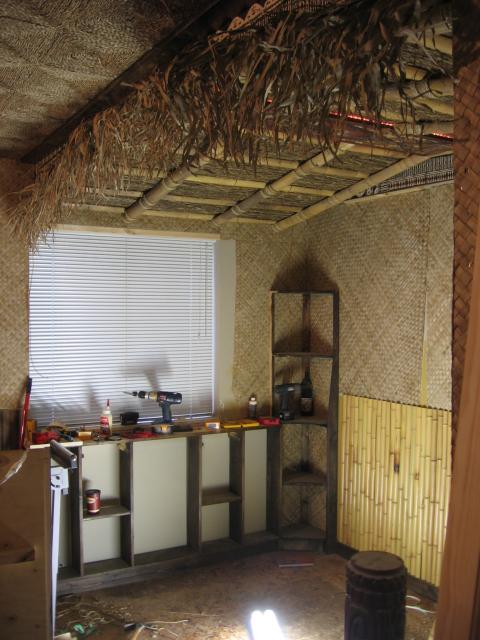 It's kind of hard to get the whole roof pictured and show the details but I am hoping in the final pictures to get some good shots. There is just so much stuff in there and tight angles to get some revealing shots.

Thanks for looking and for all your responses so far!!
Mahalo, TabooDan







&nbsp


&nbsp