BUFFBAD
Tiki Centralite

Joined: Aug 11, 2007
Posts: 54
From: Boca Raton, FLA


Posted:

2008-12-23 3:55 pm

&nbspPermalink

Hi All !!! I have been busy this year, doing more working than carving. These past few weeks a neighbors coconut palm got lethal yellowing and was dying. So I volunteered to cut it down and guess what -- lots of palm wood for projects. The biggest cut, at the bottom of the tree, was my first choice to start carving. This is still work in progess (especially the nose) and I will have to let it dry for several months before the finishing touches. So MERRY CHRISTMAS --HAPPY HOLIDAYS and HAPPY NEW YEAR. KEEP YOUR CHISELS SHARP AND BANDAIDS CLOSE. BUFF




For past projects do search for author BUFFBAD. (I never learned how to do a thread.)

More pics to come on this big tiki.
---------------------

The big tiki was a challenge in many ways but the curve of the palm blank was a problem in the correct angel to cut it and keep good balance.

_________________




More progress has been made on his nose and teeth in this picuture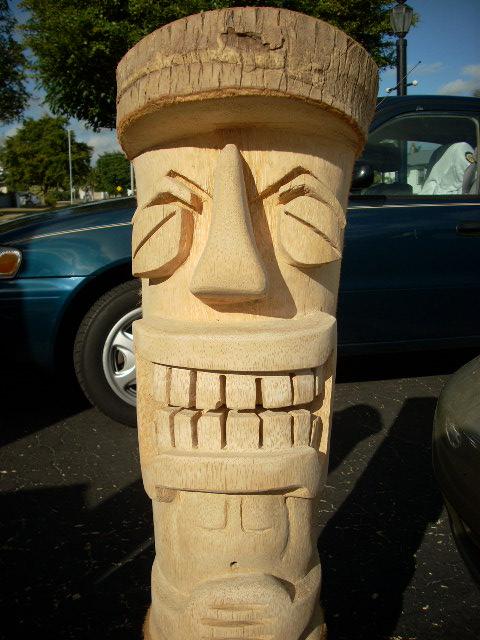 Still more sanding and more sanding. The eye slits have a basswood insert which will be removed--painted black or white and reinserted.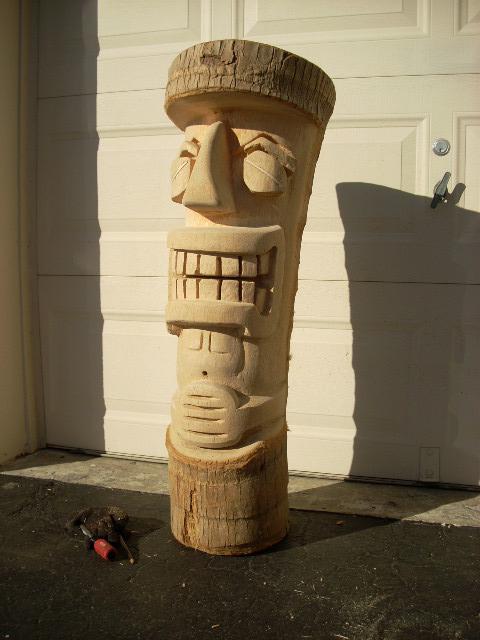 --------- SIDE PROJECT INTERMISSION ----------
Another project is this unique design for a Tiki found somewhere in the Tiki Central Forums. This is one of those projects where you are not to sure of the outcome and you set it aside waiting for some kind of inspiration or new idea to pop in. Well nothing happened for many months. But since I was carving the big Tike and had all the tools out, I might as well work on it. This picture is kind of a test staining of the upper part of the Tiki. It was very dry and sucked up all the stain so I planned to use a darker color stain.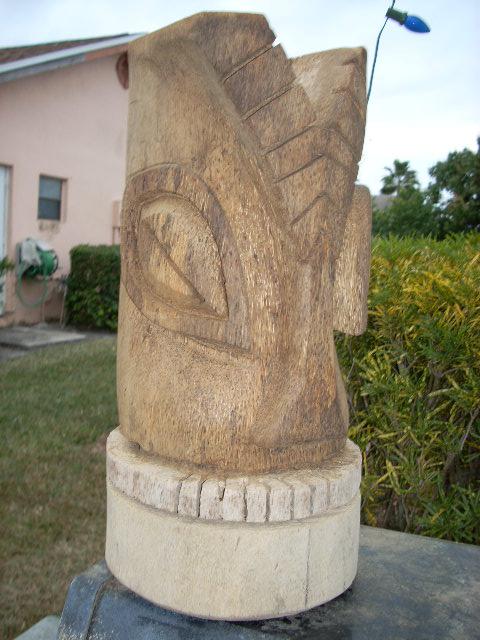 The teeth where painted white and the eyes painted with a metalflake blue paint. I discovered later the teeth where too white (since in Tiki times there were no Dentist) so some stain was wiped on then quickly wiped off for that dingy effect. Photographers note: Watch for your shadow in all pictures.



Then come the final touches with clear glossy polyurathane and that final "POP" of inspiration with the addition of feathers that I had collected over the years. The Bluejay feathers matched his eyes and the feathers fill that big empty space on his head.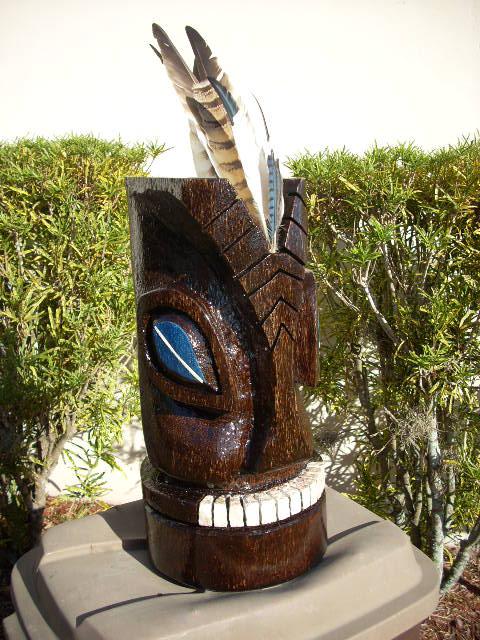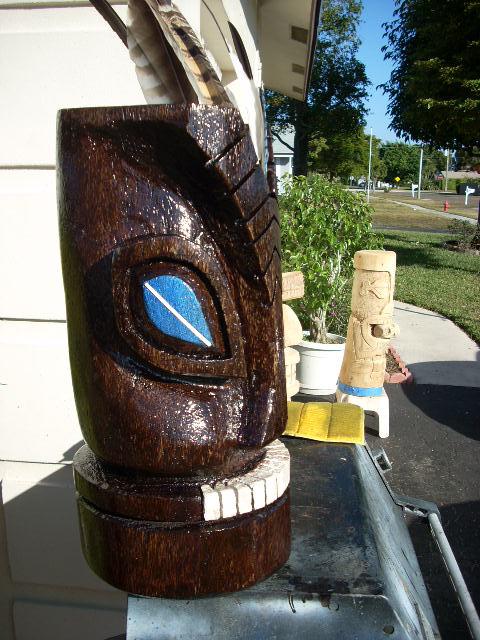 And a final by the pool photo.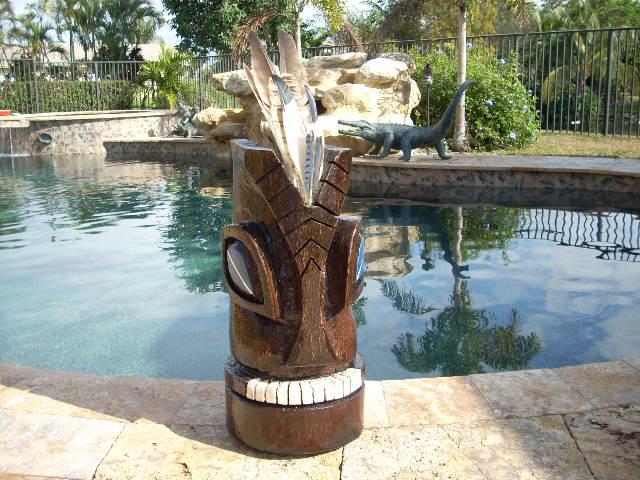 --------- INTERMISSION OVER ---------

Back to the big Tiki. This big guy got a all over stain with Minwax Special Walnut stain. Both blanks are from the same coconut palm. Also, to the left, from another Tiki Central post is my cannible Tiki.



The big Tiki gets a big whit bone for his nose. This was not in the original plan but it works for this big guy. Next step is to polyurathane the whole thing but still waiting for the inside core wood to dry a little more. More pics to come.



Final pics by the pool. This tiki has an optional cigar which fits into the gap in his teeth.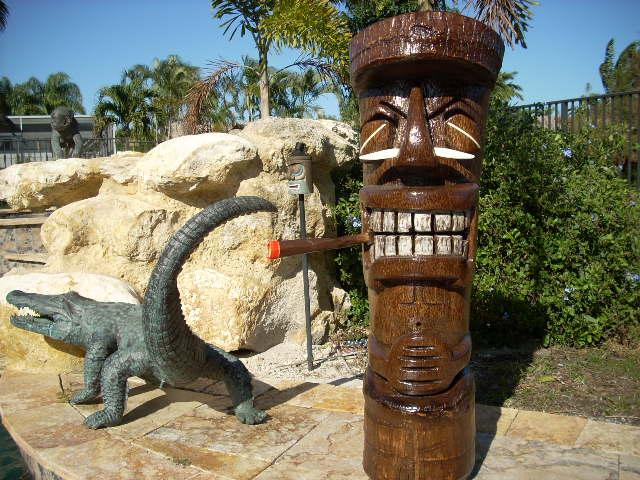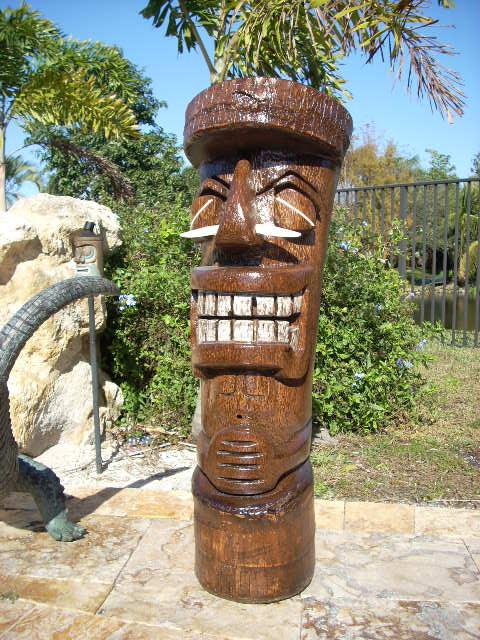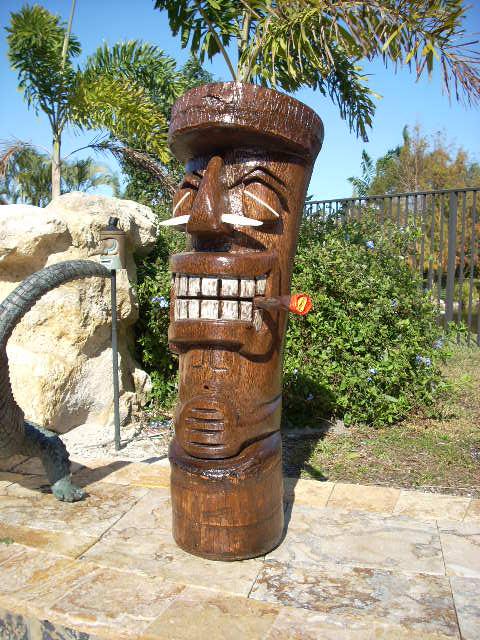 That all folks for this thread. Thanks for looking. CYA later -- BUFFBAD.





[ This Message was edited by: BUFFBAD 2009-02-03 17:52 ]

[ This Message was edited by: BUFFBAD 2009-02-04 15:04 ]

&nbsp


&nbsp