MadDogMike
Grand Member (8 years)


Joined: Mar 30, 2008
Posts: 9129
From: The Anvil of the Sun


Posted:

2009-01-24 08:57 am

&nbspPermalink

To those familiar with the characteristics and limitations of regulsr clay, paperclay seems like a mythical beast. It's fabled advantages over regular clay include;
Increased strength in greenware
Dramatically decreased shrinkage
Decreased fired weight
Decreased cost if your make it yourself since you extend your clay with free paper
And most incredible, the ability to mix wet, dry, and fired clay all together

My "local" (130 miles away) clay shop doesn't sell any paper clay and I'm too cheap to pay shipping so I decided to try my hand at making some. I looked at a few methods and decided on the one listed at http://www.ceramicstoday.com/howto/htpaperclay.com It called for 200 grams of newspaper per kilo (2 lbs) of clay. I weight out the paper in folded sheets (should have counted how many sheets make 200 gm) then fed it through a shredder.



I put the shreds into a stockpot and boiled it for about half an hour. I read in another recipe to add a couple drops of dish soap to the pot but I hear some people say that clay and soap don't mix so you might not want to do that. I can say that the paper strips really started to break down after the addition of the soap. I boiled and stired the paper until it turned into a grey gruel and set it off to cool.



In the meantime I measured out 2 lbs of clay, broke it up into little pieces, and put it in a bucket with just enough water to cover.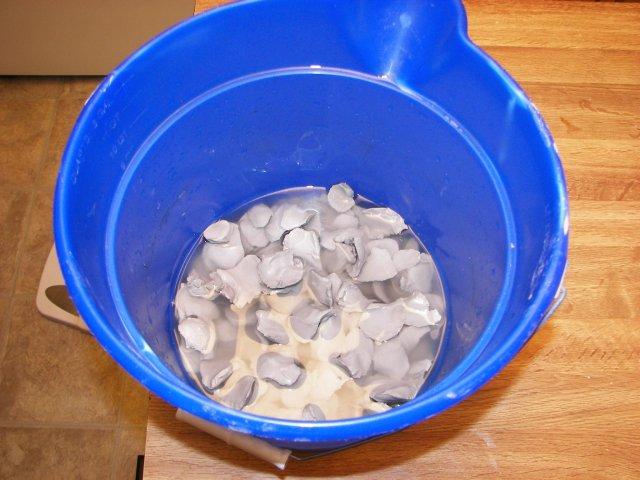 After the paper pulp and the clay slip had set overnight, I mixed the clay into the water well to make a slip and poured the paper pulp into a collander to drain. Here's where the story unravels… I had chosen this recipe because it had clearcut weights: 200 gms of paper per kilo of clay. But 200 grams of newspaper makes a whole buttload of paper pulp! Much more volume than the original 2 lbs of clay. That just didn't seem right.



So I just grabbed up a big handful of pulp, dumped it into my clap slip and mixed it well using my hands and a wire whisk. So much for science and ratios!

Now to dry off the excess water, wedge it, and see what I've got.

Anyone out there have any experience making or using paperclay?

_________________


I'm gonna sit right here, I'm gonna watch the sun
Disappear into the ocean, it's been years since I smelled this salty sea.

[ This Message was edited by: MadDogMike 2009-05-20 19:08 ]

[ This Message was edited by: MadDogMike 2010-07-29 12:10 ]

&nbsp


&nbsp