MadDogMike
Grand Member (8 years)


Joined: Mar 30, 2008
Posts: 9209
From: The Anvil of the Sun


Posted:

2009-05-20 7:07 pm

&nbspPermalink

I wanted to put paperclay "through the gauntlet" so to speak, I am made a ceramic gauntlet sword holder (sorry, it's not even remotely tiki). I think I have violated all of the potter's rules and maybe even some of the Geneva Conventions. It varies in thickness with about 1 inch being the thickest. Here are the laws I flaunted:

I added wet clay to dry clay

I force dried it in 48 hours (1 inch thick, from bag to kiln in 2 days!)

I transported it, unprotected, when bone dry

I glazed it unfired, combining the bisque and glaze firings (not the hand, another piece of paperclay) Glaze was glossy with no pits, craters, etc.

The only torture I didn't try was putting partially dried clay in the kiln, maybe I'll try that next.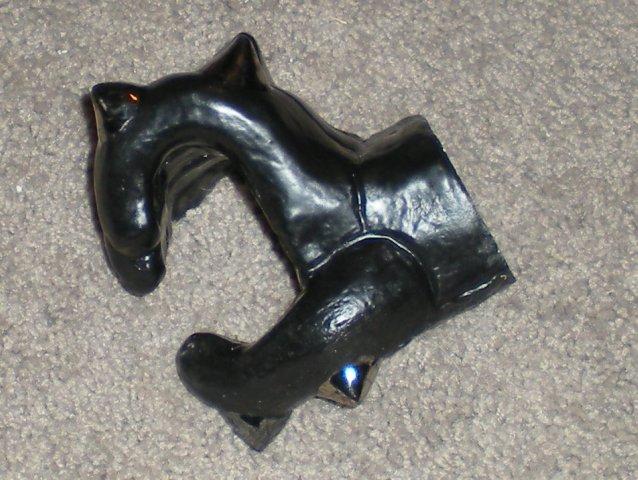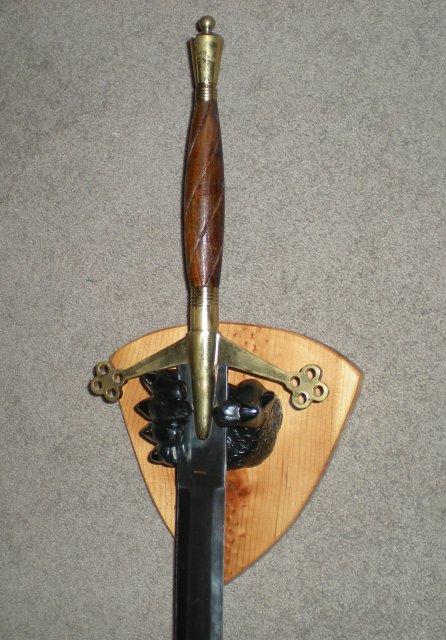 This is Laguna WC953 "Max's Paperclay". It is a high fire clay but they say it can be low fired, I chose it over the other paperclays they had because it fires white. I wish I had the background and education to describe it's characteristics but I don't. So instead I'll compare and contrast it to the EM347 I usually use. The EM347 contains quite a bit of talc and feels silky, the paperclay has fine and coarse grog along with the paper fibers, it feels much grittier. I love the way the EM347 works when it's leatherhard, it carves beautifully into tiny chips and allows you to carve fine details. The paperclay's fibers grab and clog your tools, pulling away little bits of clay instead of carving cleanly. It also seems that the paperclay dries up faster while you're trying to work with it. In addition to paperclay's "rule breaking" abilities, it allegedly fires lighter. But I made 2 pedants as identical as I could, the paperclay ended up weighing about 3% more than the EM347.

So I guess, just like any project, you pick the material that best suits the job. If you want fine detail, paper clay is out. If you need a quick project, need a wet on dry technique, or need unfired strength then paperclay is great.

_________________
I just found out that MD 20/20 stands for Mogen David and not for Mad Dog. My TC name AND my teenage years are a sham :(

&nbsp


&nbsp