LuauHut
Tiki Centralite

Joined: Feb 27, 2010
Posts: 13

Posted:

2010-02-27 10:02 pm

&nbspPermalink

I will be happy to try to dig through our old photos to see what I can find. In the meantime, I do have some scanned images of a few print ads. My mother was very good about buying ad space when I worked on my high school newspaper, so I have some of those. You can see the 3 locations listed in the ad below. The Luau Huts were always a family operation: the band that is pictured was led by my very talented older brother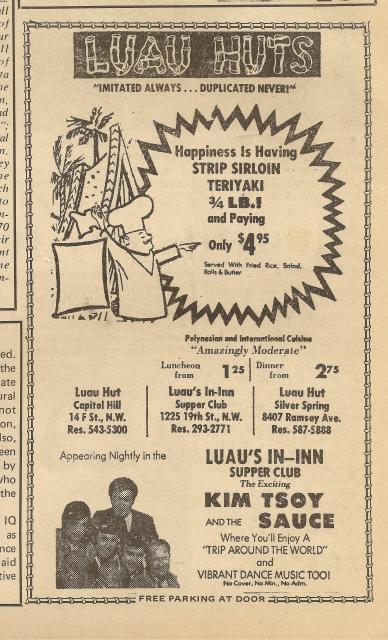 At first he performed in the basement lounge of the F Street location, but soon after he moved over to the 19th Street location he decided to have more of a big band sound, so in the next ad you can see the change in advertising.




Both the F Street basement lounge and the 19th Street location were really cool places to be - they attracted many politicians and other influential folks in the DC area. I remember all the restaurants were very dark, with those old school red fishnet candles on the tables. The F Street lounge had images of topless Polynesian girls hung on the walls throughout - very controversial at the time. Everyone loved to wear their plastic leis, and everyone always wanted to sit in the big wicker chairs that were scattered around the dining room at special tables. Funny how things are so common today, but back then they were so new!

The last thing I wanted to point out is that I always thought it was funny how some of the ads (such as the 2 above) had the French-looking chef instead of the traditional hula girl, as seen in the ad below.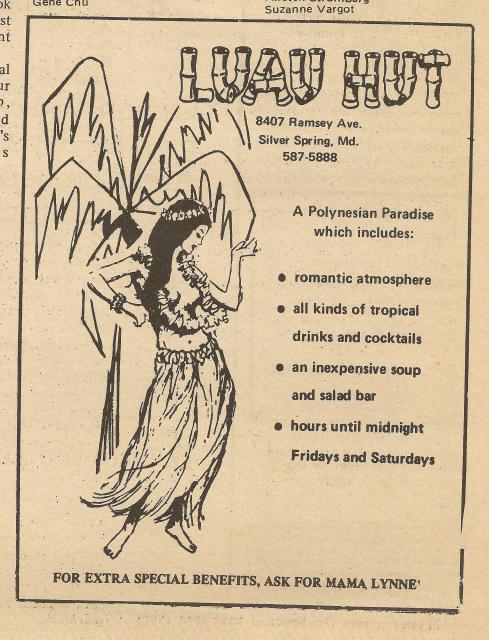 (Actually, I drew the palm tree in the background of this ad, because for some reason we only had the hula girl image when we were laying out the ad and we needed to put something in the background!)

Also, someone asked about how the servers dressed. Actually, they wore traditional outfits: black pants, white button down shirts, bow ties, and jackets. The uniforms were not Polynesian looking at all, although nearly all of the servers were Asian men (predominantly Korean, our heritage). The idea was to give the restaurant a more formal, high class feel. The hostess wore a more typical bright floral long dress. Taped traditional Hawaiian music played on a continuous loop. During the peak of the restaurants' popularity in the mid-60s, it was not unusual to have to wait over an hour for a table, even if you had a reservation. In the Silver Spring restaurant, the waiting area was a small space on the first floor, while the dining room was on the second floor.

The Luau Hut popularized the po-po platter - I remember twisting specially marinated beef strips onto the "cho-cho" sticks that diners cooked themselves at their tables over a blue crackling flame. Once again, it was special - no one had seen anything like it at the time.

Hope this is interesting to you - I will try to post more later.

&nbsp


&nbsp