Atomic Tiki Punk
Tiki Socialite

Joined: Jul 19, 2009
Posts: 7048
From: Costa Misery


Posted:

2012-08-12 03:44 am

&nbspPermalink

So you have a vintage piece of furniture you want to restore?
Well here is how.....

I got this "Broyhill Brasilia Triple Dresser" from my good friend Brent "CalTiki"
but it was not in the best condition.




So what do you need to get started:

Stripper- I recommend " Citristrip" does not have the toxic chemicals other strippers use, nor the bad smell.
Paint Thinner/Mineral Spirits for cleanup, you can also use denatured alcohol
cheap Paint Brush
container to pour stripper in to.
Steal wool Med. Grade
Heavy duty rubber gloves
Small set of wire brushes
Metal or plastic Scraper
Clean rags or cheesecloth

Do this outside! put down a plastic sheet or groundcloth

Step 1: Remove all drawer pulls, Hinges, Hardware, doors & drawers etc.

Step 2: Put on the rubber gloves as these chemicals can damage your skin
Apply a thick coat of stripper to the wood surfaces you are working on
In most cases 15 to 30 Minutes will let the stripper do it's thing, Don't let it dry completely
But you can always apply another coat of stripper to soften up the first coat
Remove as much paint or vanish as you can with a scraper
Edges,Corners,Bevels & hard to get to places require you to dip steel-wool into the stripper & work it with your hands
(Like the ornate doors on this dresser, See third photo) you may have to repeat the process for full removal of varnish etc.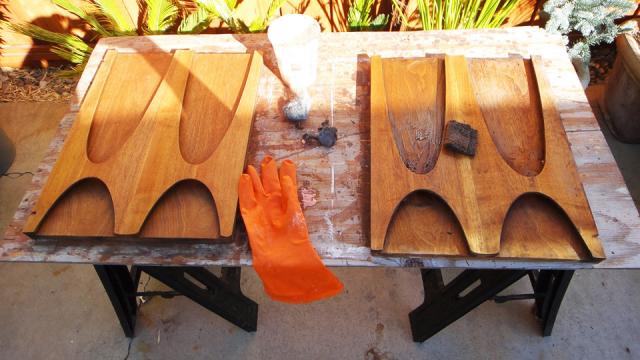 Using a clean rag & the Paint Thinner/Mineral Spirits to wipe down & remove any residual stripper from the furniture.
You may need the wire brushes, Toothpicks etc. to cleanup those small crevices, cracks etc.
Let dry for 24 hours before the next stage

Now we are ready for the refinishing part.
You will need:

Sand paper 120 & 220 grit
A Finishing sander is ideal for this job
Fine steel wool
Clean cloth for wiping down wood after sanding

With this particular piece of furniture I ran into a unique problem as the Broyhill Dresser is constructed out of
Plywood covered with walnut veneer,So I had to be very careful sanding this & would have limited ways to repair gouges etc.
if at all.

Step 3: First sand with 120 grit sandpaper to smooth scratches & dents etc.
Then sand again with 220 grit sandpaper to get a fine smooth finish.
wipe down with a clean dry cloth to remove wood dust etc.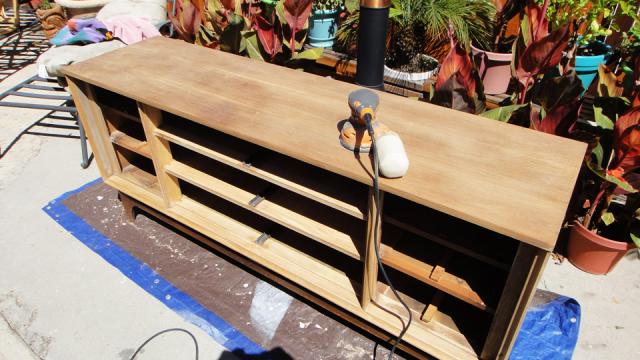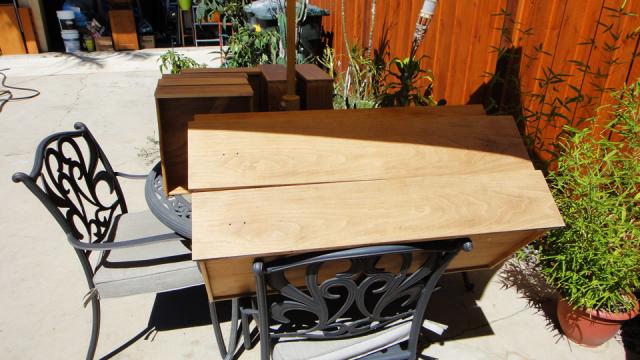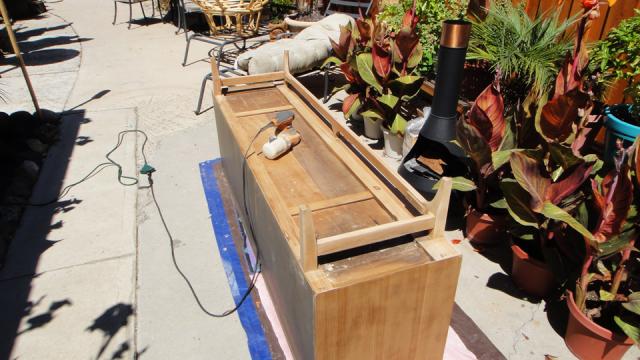 Now we are ready to stain the furniture if you want to at this stage
You will need:

Cheap brushes
A wood stain of your choice, I recommend an oil stain for a better even finish,but you can use water base if that is your preference.
I used Minwax "Gunstock" color oil stain for this project.
Clean dry rags for wiping down thick areas etc.

Step 4: Apply a coat of wood stain to surfaces,wipe down with a clean rag to remove uneven areas of stain etc.
You can apply a second coat if you choose for a darker stain, Let dry over night.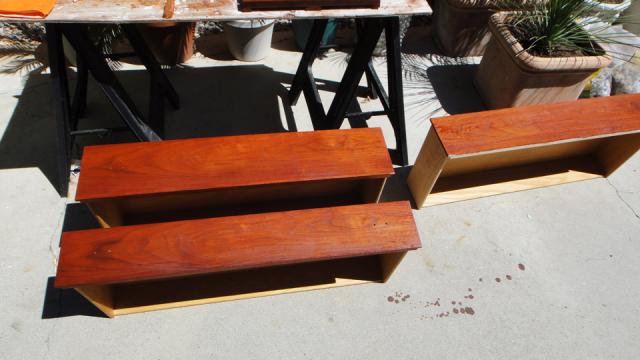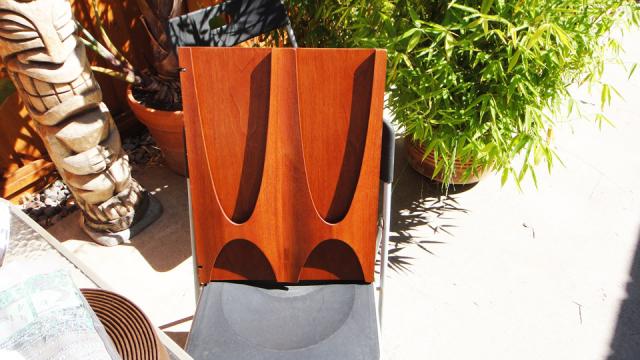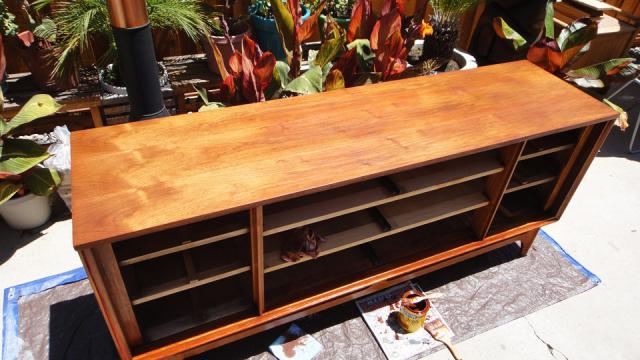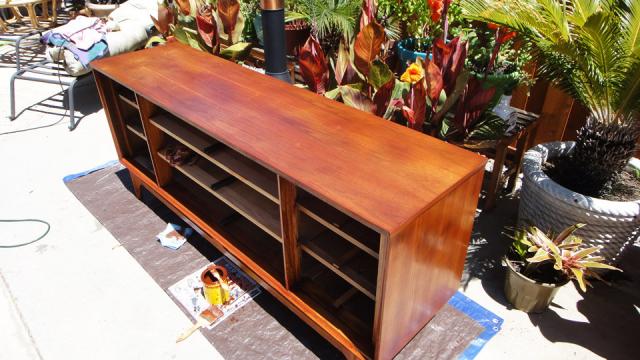 Last stage: Finish & seal wood

You will need:
Your choice of wood seal, Varnish, Wood oil, Polyurethane coating etc.
I used Minwax Fast-Drying Polyurethane satin finish as this was my only option with the wood veneer finish on the Broyhill Dresser
A top quality "fine Bristle" finishing brush, Don't scrimp here as this is how you get a clean finish
Very fine steel wool
Clean rags

Time to apply that finishing coat, I started with one coat of "Minwax Fast-Drying Polyurethane satin finish"
I let it dry for 2 hours, gave it a light sanding with the steel wool, Wiped down with a clean cloth
then gave it a second coat, Then I let dry overnight and repeated the next day for a total of 4 coats of finish.

I reassembled the dresser (The door pulls are missing as they are still getting a new copper plate finish)
And here is how it looks now.....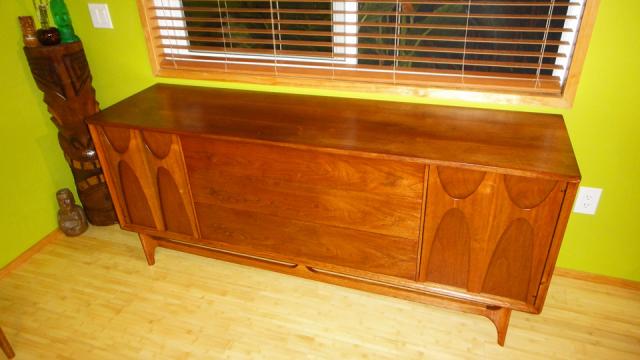 I will post a final picture when I get the door pulls back.








&nbsp


&nbsp