Dustycajun
Tiki Socialite

Joined: Nov 16, 2007
Posts: 5155
From: Santa Barbara, CA


Posted:

2009-10-30 11:43 pm

&nbspPermalink

Name:The Lahala House
Type:restaurant
Street:4922 1/2 Avenue B
City:Corpus Christi
State:TX
Zip:
country:USA
Phone:
Status:unknown

Description:
Located on the water in Corpus Christi, owned and operated by Harry Porter, this was a classic Polynesian style restaurant run by a WW II veteran from the South Pacific. Destroyed by Hurricane Beulah in 1967.

Here is the postcard showing the interior.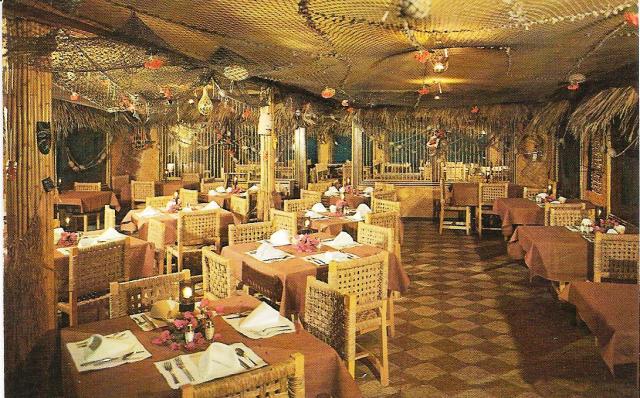 The back of the card.





And here is a story from William J. Chriss on the internet providing some flavor to the history of this place.

\"The Lahala House sat at the north end of Corpus Christi Beach. It was way, way out, or so it seemed to me. Gliding down the Harbor Bridge in our 1964 Oldsmobile station wagon towards a South Sea island paradise under the stars was just the beginning. After parking the wagon, we'd walk down a slippery wooden pier to the cozy little thatched hut that was the Lahala House. Once inside, I never ceased to be amazed.

We were met at the door by the ubiquitous and venerable proprietor, Harry Porter, perhaps the most colorful of Corpus Christi's many able restaurateurs. He was a big, white-haired fellow, in a tropical Hawaiian shirt and pastel pants, and he was always happy to see you. It was this man who invented both the LaHala House and the dressing of the same name.
Harry Porter, who was in the Navy in World War II, at some point must have served in the South Pacific because any veteran of that theater knows the indelible mark it leaves upon your psyche. Movies like \"Mutiny on the Bounty\" and \"South Pacific\" keep the dream alive. No one who has spent any time in the islands can ever leave them totally behind, and later, the real world never quite measures up, nor could it, to paradise.

\"Hello, Doc,\" Harry would say to my Dad, \"Come on in.\" The hairy forearms sticking out from his sleeves waved us towards a table that we thought he'd set especially for us. On past the bamboo bar my brother and I would saunter behind our host, knowing that a couple of complimentary \"Roy Rogers\" or \"Shirley Temples\" with little umbrellas in them would soon be sent our way. Grown-up stuff was everywhere, just like in a James Bond movie.

We would navigate through the waitresses bustling between tables, dressed up to look like Dorothy Lamour, barefooted and saronged, all lipstick and leis and red nail polish. Va va va voom! The aquariums everywhere, full of tropical fish, indirectly illuminated the smoky, intimate surroundings. This was the '60s, and men had wet hair, women tried to dress like Jackie Kennedy, and almost everybody smoked.

Hurricane Beulah came along in 1967 and wiped out the Lahala House, but Harry Porter just picked up his salad dressing, his original toasty croutons and cheese spread, and his little drink umbrellas, and moved them over to the Torch, his new restaurant on Alameda. Like everyone else, we followed him. Soon, he, too, was gone\"


Would be nice to find out more.

DC




&nbsp


&nbsp