Humuhumu
Tiki Socialite

Joined: Aug 22, 2002
Posts: 3691
From: San Francisco


Posted:

2009-11-14 12:16 am

&nbspPermalink

(Apologies if I missed an extant thread that covers this territory.)

Papua New Guinea pieces are some of my favorite Oceanic Art, and inspired some of the best Polynesian Pop graphic design of the '50s and '60s (especially Lyle Wheeler's stuff for Aloha Jhoe's & South Pacific). I've always been enchanted by the great pieces my friends have scored over the years, and recently I finally got some of my own.

As you probably heard, the owner of the Palo Alto Trader Vic's passed away recently after a long illness. He also owned an art gallery near my work in Menlo Park that had many old PNG pieces on offer. The pieces were very cool, and were ones he'd often personally collected on trips there over many decades of loving PNG art. But they were priced well out of the range of what I could afford, so it was only window shopping for me.

His wife (now widow) doesn't groove quite so much on the PNG stuff, preferring mainland Asian art instead. Once he passed on, she cleared out the inventory. 70% off. Whoa. Nelly.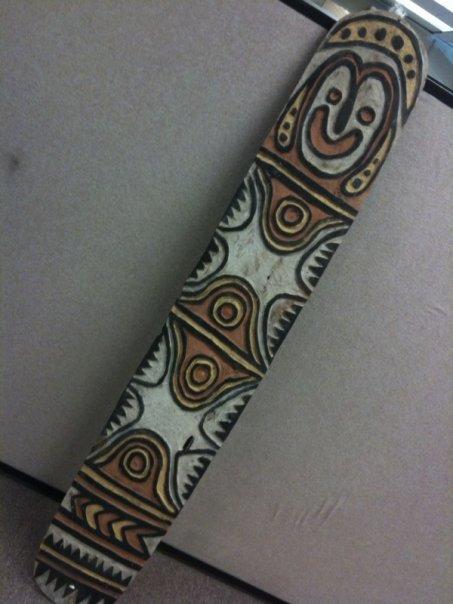 I've wanted one of these for so, so long. It's a gope board. There are a few of them at the Palo Alto Trader Vic's. They're just so cheerful. Until you consider that their purpose was to enlist your ancestors to torment your enemies. But maybe they tormented with irrepressible cheer! Take that!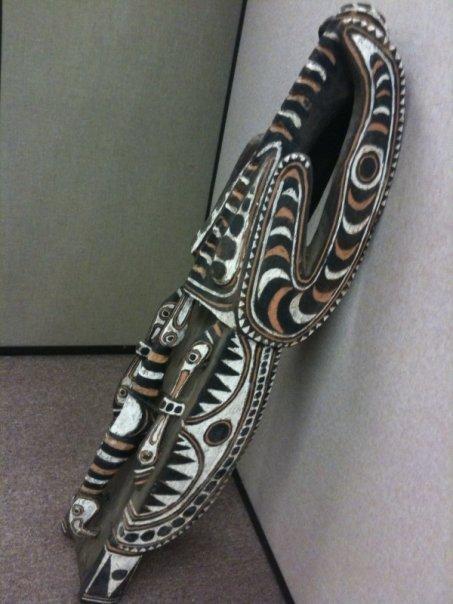 This is a canoe prow. It has birds on it. And black dye that is getting everywhere.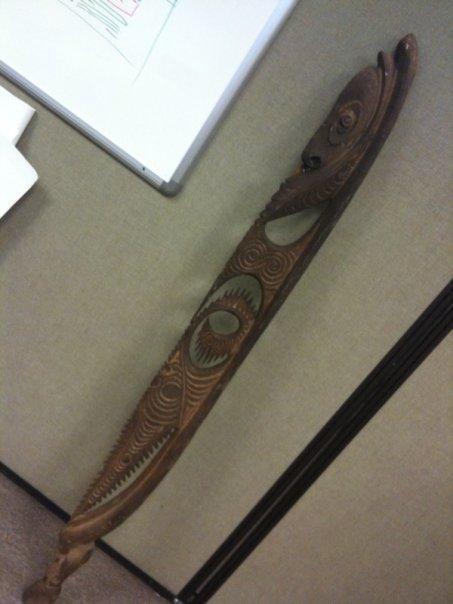 This sort of has to be seen in person to really get all the detail. I'm going to have to rig up some sort of special light on it in the bar, maybe. It's a yipwon/wanleg/kamangabi, depending on who you're talking to.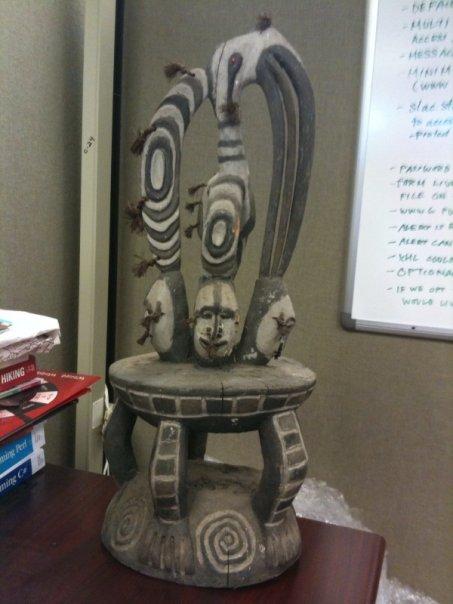 This is a... uh... a... well, it's a bird, standing on some skulls, which are sitting on a stool that has actual feet for feet. Yeah, I don't get it either. But it reminds me of Tiki tOny.

So, that's what I've got! I'm going to try to hold my PNG acquisitions to just this stuff, because I want to keep the bar balanced, and a little PNG goes a long ways. But boy howdy, do I love it.

_________________


Critiki - Critiki News - Ooga-Mooga

&nbsp


&nbsp