bigbrotiki
Tiki Socialite

Joined: Mar 25, 2002
Posts: 11594
From: Tiki Island, above the Silverlake


Posted:

2010-02-01 2:14 pm

&nbspPermalink

Good catch, Mr. N. I have one of these (from when I found them with above seller at a store in Hilo) and I did not see that connection. Note that they had it set upside down in their screen doors at the Waikikian.


TA- DAAAH ! So finally, here it is, Big Bro post Nr 7000 ! I decided to make it the long-promised WITCO AFRICANA post, since Witco is one of my specialties, and this is a juicy one, lotsa work:

I briefly touched on Witco's African influence in my "History and Meaning of the Leopard Print" chapter in Tiki Modern, but there is much more. While Witco obviously aimed to avoid to become too culturally specific with their statues and wall masks and more often than not gave them generic names like "Gnomie" and "Primitic"....




...there were a few exceptions, like the "African God" and "Pygmy Ruth" above, and the "Mbulu Ugulu" mask below...




...a version of which to this day graces the main A-frame at the Tiki Resort in Lake George: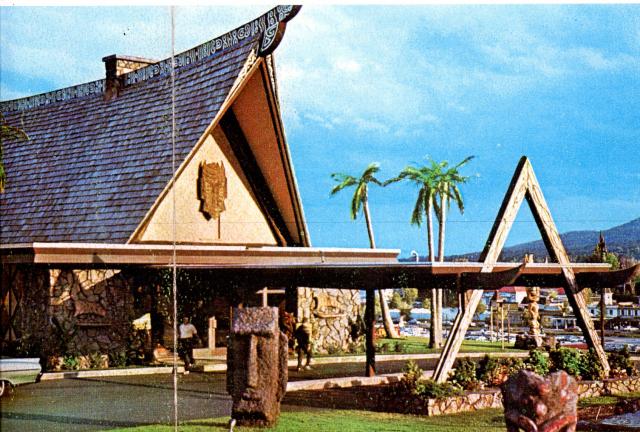 (I sure hope I will get to photograph this mask this year!)

An African mask on a TIKI Motel- the ultimate proof of African pop primitivism playing a part in the cultural chaos of Tiki Modern.



But while cultural definition was kept unclear in the wall hangings and statuary, Witco went wild in the home bar sector:
Early examples such as the NAIROBI GROUP...




...were introduced with "The atmosphere of Africa dominates the room..."
All this was motivated by "The Voyager Collection" concept, which was fitting for all kinds of exotic ports of call
(also see p.238 of TIKI MODERN):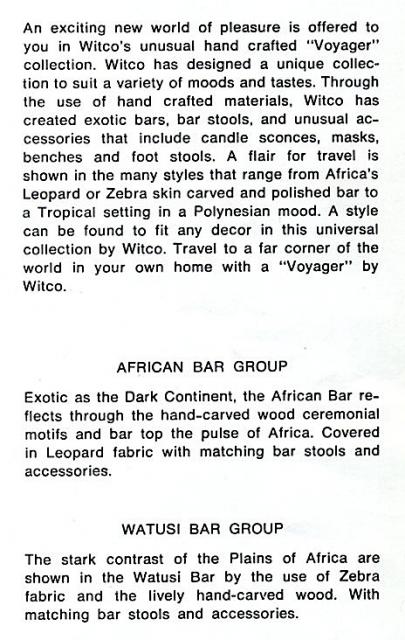 ...of which perhaps the "African Bar Group" (which is gracing the opening pages of the Book of Tiki) is a prime example of multi culti mixing: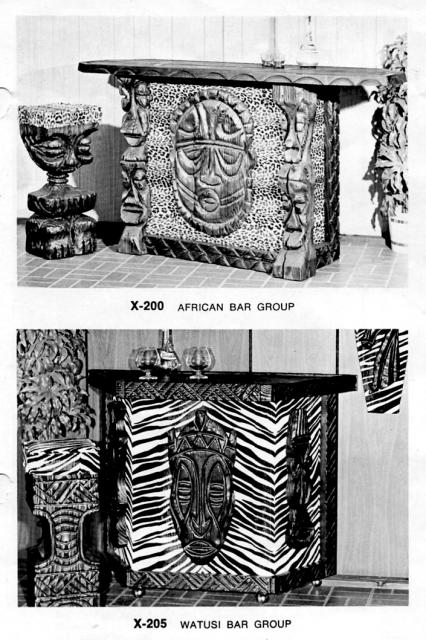 Despite its name, the center piece of that "African" bar is a Papua New Guinea mask, actually the very mask that Trader Vic's created their logo from, based on a rendering by Covarrrubias:





The trend continued with the clunky "Safari Bar"...




...and went on into the golden age of the Witco bar, the 70s, with such fine pieces as the "Kenya Bar":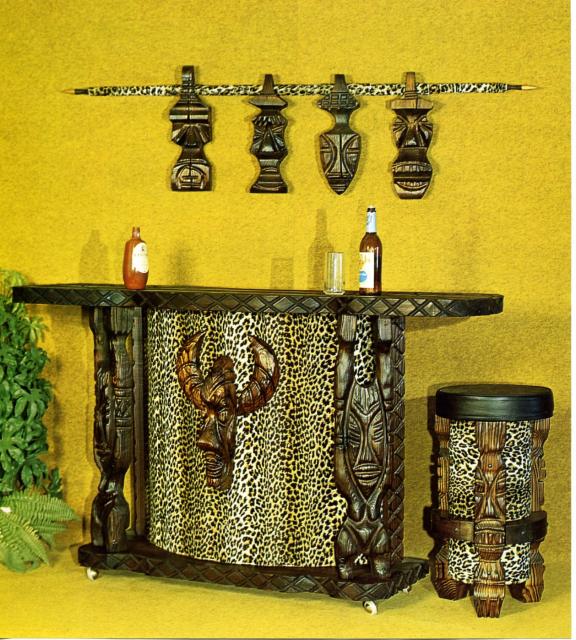 The 70s also saw the "African Tiger Skin shield" with spears and hassock...




...and one of my personal faves, the "Witch doctor Magazine rack". Which brings to mind another modern primitive classic, the Witchdoctor lamp: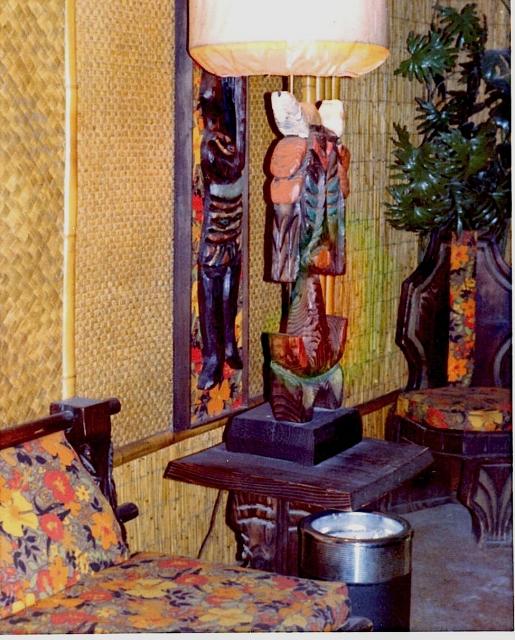 Last not least the much-coveted "African Shield Lamp":




...here flanked by "Polynesian Male" and female.
Some designs, like this dynamic Ron Hovde rendering, never made it past the drawing board: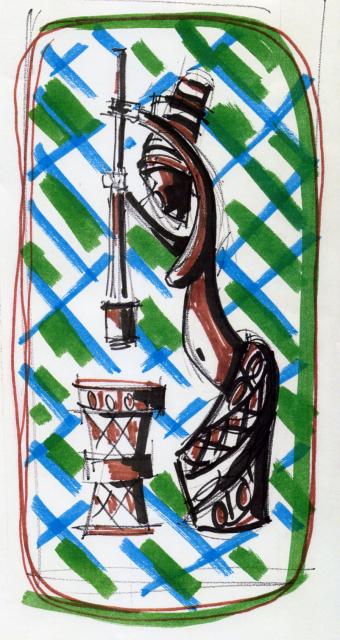 Which brings me to this piece, a real Rosebud of modernist Africana: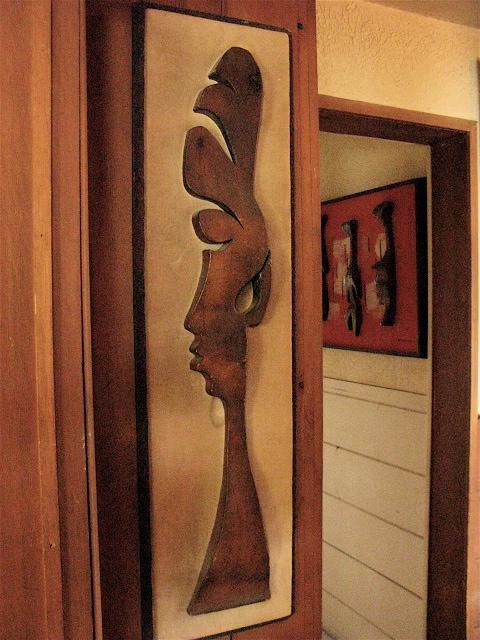 I found this obscure wall hanging on its stained fabric at an antique mall in Palm Springs. With its lack of characteristic wood grain, I would have never pegged this for a Witco. But at that time I already had the advantage of my research, and dimly remembered the shape of this carving, so I bought it.

I am glad I did: Despite its aesthetic value being in question, what we have here is perhaps the EARLIEST Witco carving still in existence, a "P-2" from Witco International's very first catalog sheet ! :




So, now that I have got you with your mouth hanging open in astonishment at such a rare artifact, I will hoist a glass to the next 7000 posts...




...and all the undiscovered marvels yet to come!


&nbsp


&nbsp